12 High-Protein Salad Recipes to Keep You Full Until Dinner
While I love a good salad, there's nothing worse than feeling like you ate a whole meal only to be hungry again an hour later. Summer is in full swing, and while I'm doing my best to eat healthy, I'm also working out and craving some hearty foods. High-protein salad recipes to the rescue! I've been on the hunt for delicious salads that draw on both plant-based and animal protein to keep me satisfied until dinner or that even work as dinner themselves.
Luckily, the internet is full of salad recipes that utilize white beans, lentils, turkey, chicken, and avocado to give my body the protein push it needs. Read on for the best high-protein salad recipes to get you through the day. 
Featured image by Suruchi Avasthi.
The Best High-Protein Salad Recipes
Salad can be a super nutritious tool to help you reach your daily protein intake. Grilled chicken is my go-to, as it provides lean protein and an accommodating base for almost any flavor profile or cuisine. Another great option is hard-boiled eggs, which also offer essential vitamins and minerals in addition to their high protein levels.
For plant-based protein, you can include ingredients like chickpeas, black beans, or tofu—all of which can be grilled, baked, or sautéed to accommodate your salad. Nuts and seeds such as almonds, walnuts, sunflower seeds, or chia seeds are good toppings to accompany your major protein players in your vibrant, high-protein salad recipes.
1 of 12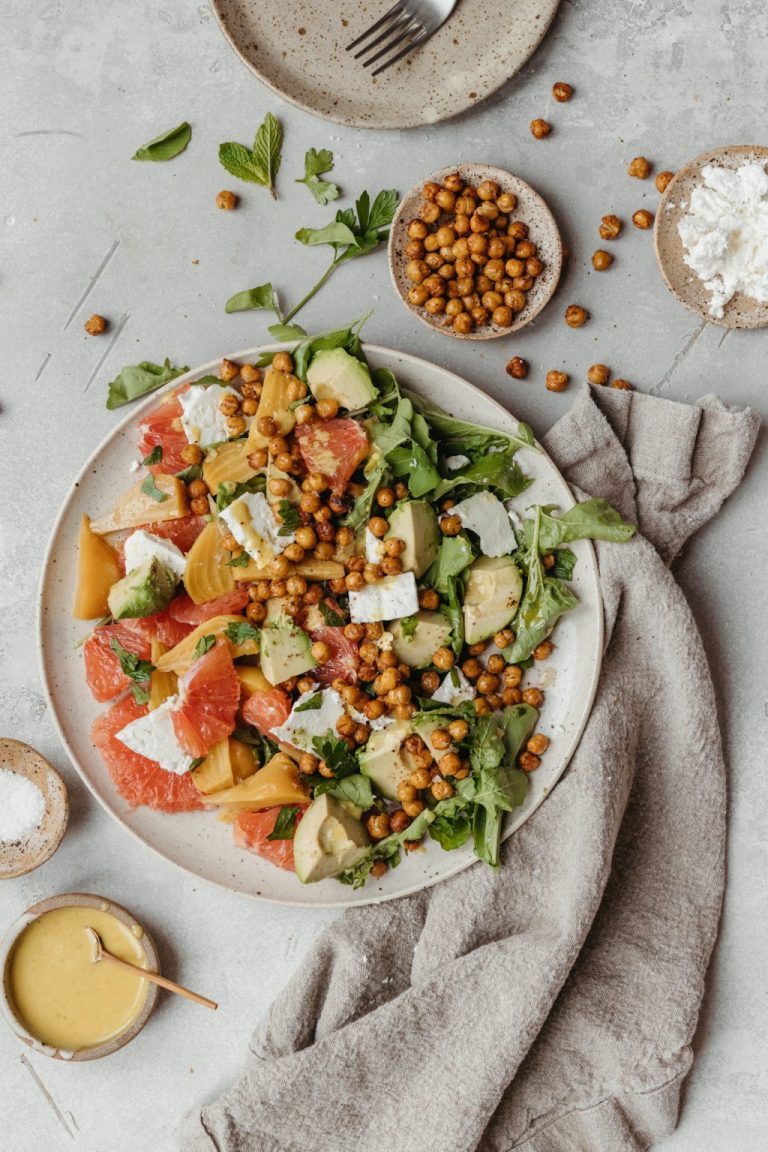 Grapefruit Avocado Salad
Why We Love It: Chickpeas are always a high-protein winner. Depending on how you prepare them, they can be crunchy or creamy—but always filling. In this salad, they play up the fresh flavors of avocado, grapefruit, and golden beets beautifully. Roasted and seasoned to perfection, they're always an excellent complement to your fresh greens.
Hero Ingredient: The golden turmeric honey dressing is to die for. Be sure to make extra, because you'll be drizzling it on everything this week and beyond.
Shredded Kale & Cranberry Salad With Crispy Tofu
Why we love it: I never liked tofu until I tried it in this salad. Camille shares her technique to turn this plant-based protein into the crispy star of this recipe. The key lies in pressing the tofu to get all of the water out, allowing the flavor to get in. The shredded kale, cranberries, and peanuts transform this salad into a crave-worthy vegetarian dinner.
Hero ingredient: Don't knock the tofu 'til you try it.
3 of 12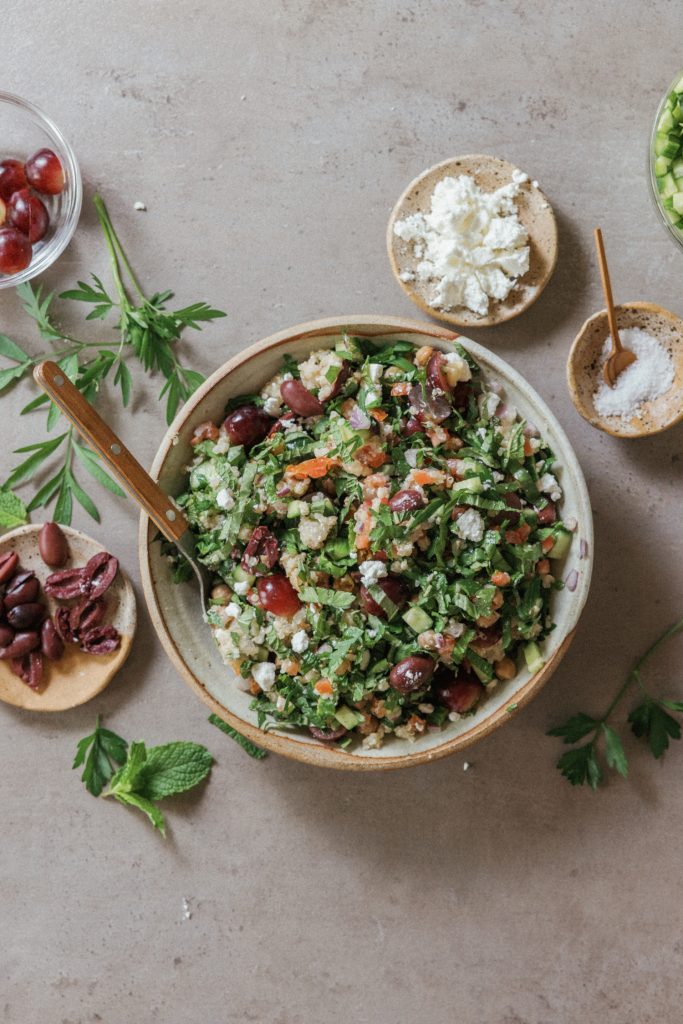 Mediterranean Grain Bowl
Why We Love It: I typically have grain bowls for almost every dinner during the week—this recipe included. Quinoa is such a versatile base for any bowl and an even better source of protein. Juicy fruit like cherry tomatoes and grapes are the perfect addition to the fresh herbs in this well-rounded bowl.
Hero Ingredient: Greek yogurt—a crucial ingredient in this bowl's homemade dressing—is another added bit of protein.
Black Lentil Salad with Roasted Vegetables & Goat Cheese
Why we love it: This salad is the phrase "eat the rainbow," embodied. It uses sweet, roasted carrots and crispy, semi-spicy Brussels sprouts to make it a hearty meal that will satisfy you until dinner. The lentils do double-time as little bursts of flavor and a big source of protein. You can marinate your lentils as part of your weekly meal prep to make this salad even easier to assemble. 
Hero ingredient: Any veggie prepped this way is a hero in my book.
Feta Salad With White Beans and Lemon
Why we love it: Who doesn't love feta cheese? Any salad with feta in the ingredient list, let alone the title, immediately catches my attention. Its flavor blends perfectly with this recipe's lemon relish to create one of the most unique salads I've ever tasted. Both the feta and white beans make this salad protein-packed and filling. Plus, it's a no-recipe recipe that originated from a pantry dive. Chances are, you have all the ingredients on hand. 
Hero ingredient: Can't get betta than feta. 
6 of 12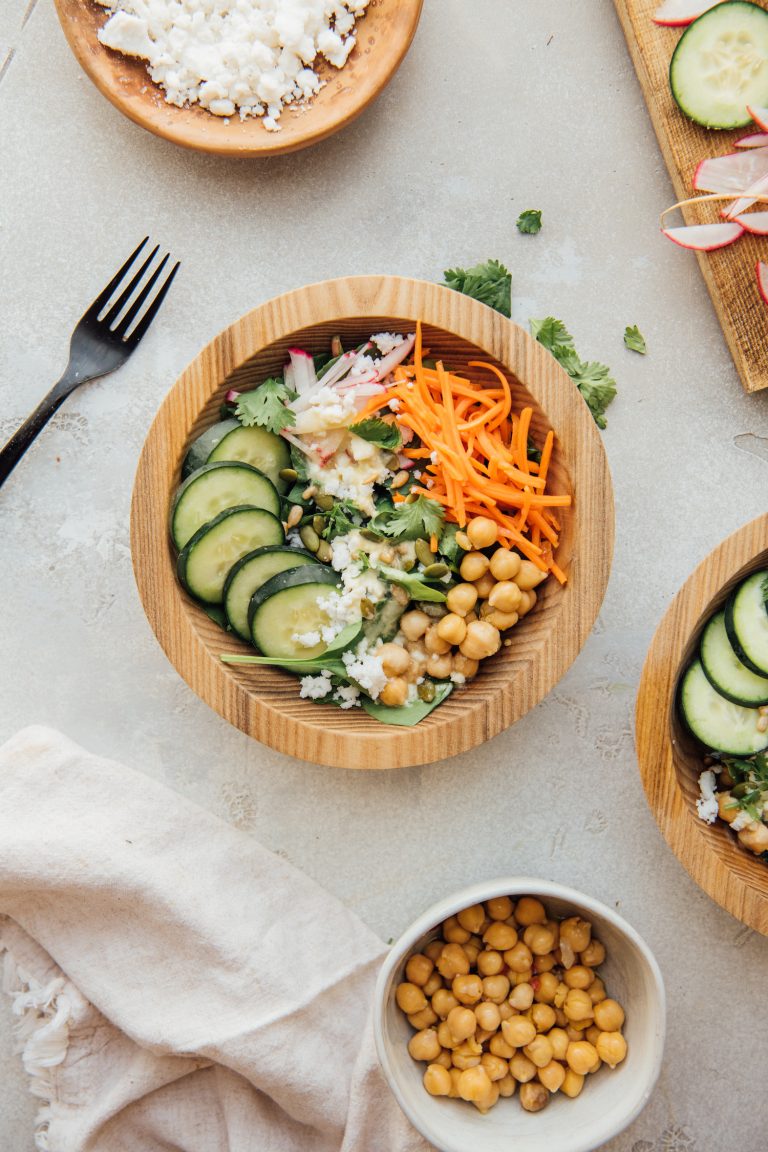 Mexican Chopped Salad
Why We Love It: I love a salad with a prominent crunch, and this Mexican chopped salad does just the trick. Chickpeas plus the mix of sunflower and pumpkin seeds boost this fresh, colorful salad with enough protein to keep you going strong.
Hero Ingredient: A bit of queso fresco is the ultimate topping for the best Mexican-inspired dishes.
7 of 12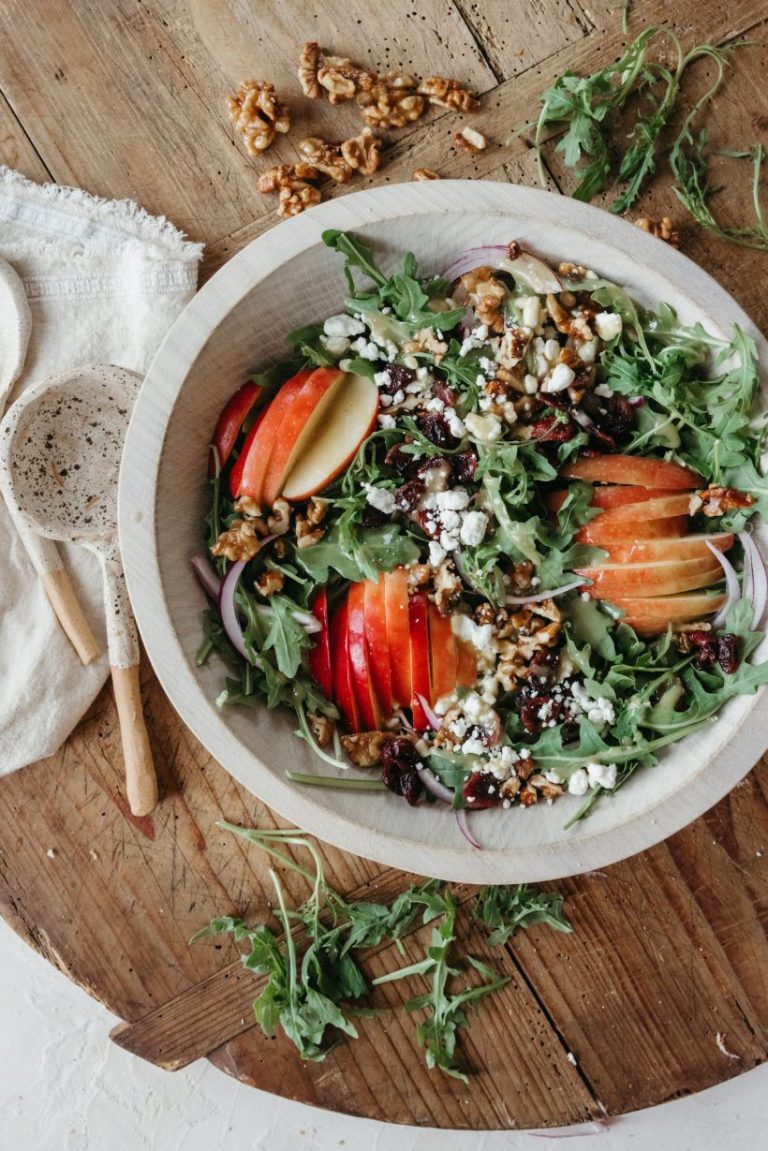 Apple Walnut Salad
Why We Love It: If you're looking for protein from nuts, walnuts will be your new BFF. This salad is autumn in a bowl and keeps things healthy and nutritious when we might want to lean toward cozy comfort foods (we're looking at you, pumpkin spice).
Hero Ingredient: Goat cheese crumbles make any salad a winner.
8 of 12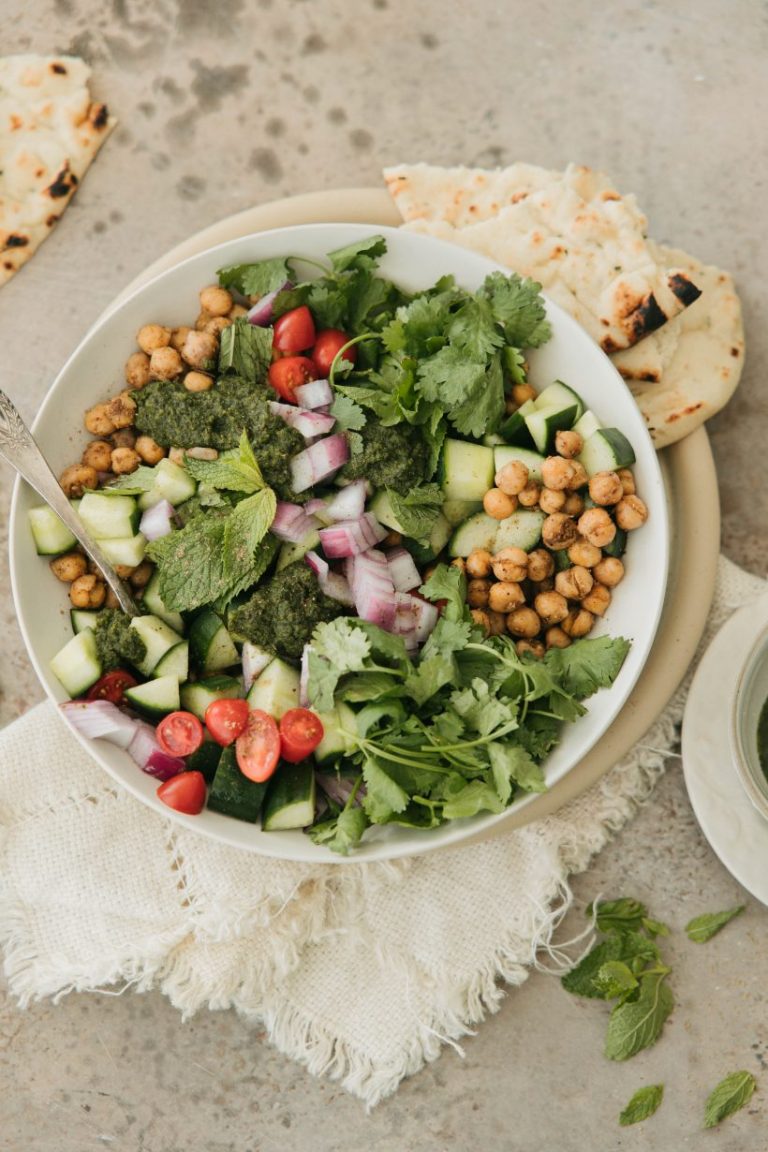 Cumin Chickpea Salad with Mint Chutney
Why We Love It: Besides being stunning, this chickpea-based salad is so simple to throw together for a protein-packed meal prep recipe. A tip I learned from this recipe as a not-so-big fan of red onion is to chop your onion in half and soak it in water for about an hour, which cuts the raw red onion's bite.
Hero Ingredient: Garam masala is necessary for a well-seasoned bowl.
9 of 12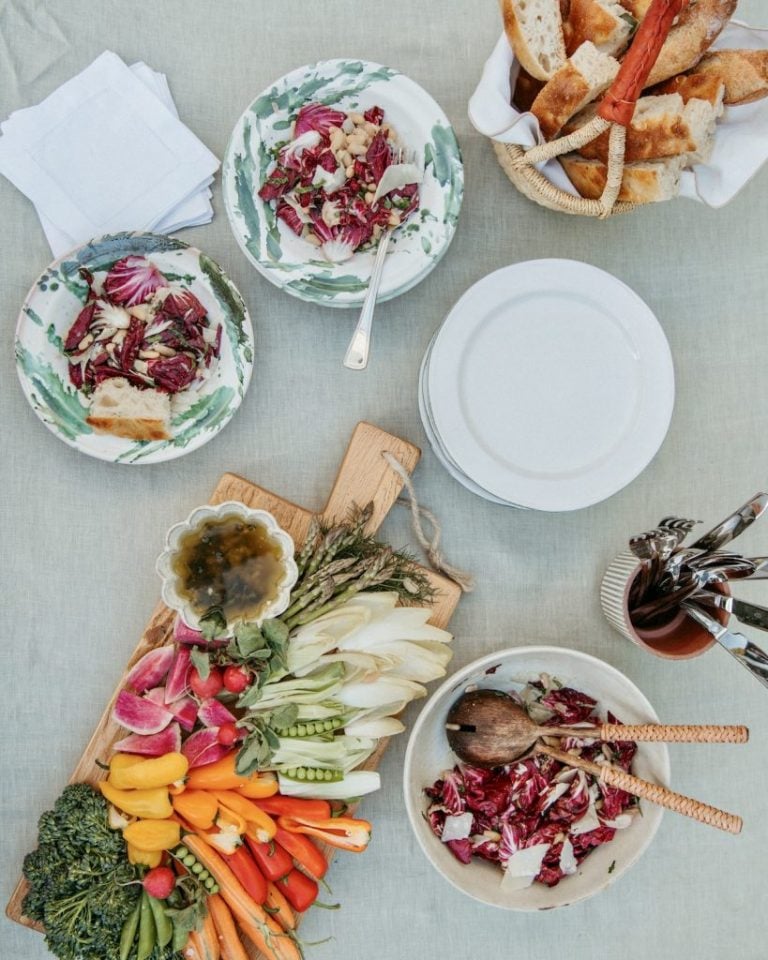 White Bean Raddicihio Salad
Why We Love It: Raddichio—a summer staple ingredient in my kitchen—shines bright in this delicious salad. Cannellini beans bring the protein and flavor, complemented by zesty lemons and parmesan cheese.
Hero Ingredient: Cannellini beans should win an award for the most popular and tasty source of meat-free protein. (Sorry tofu!)
10 of 12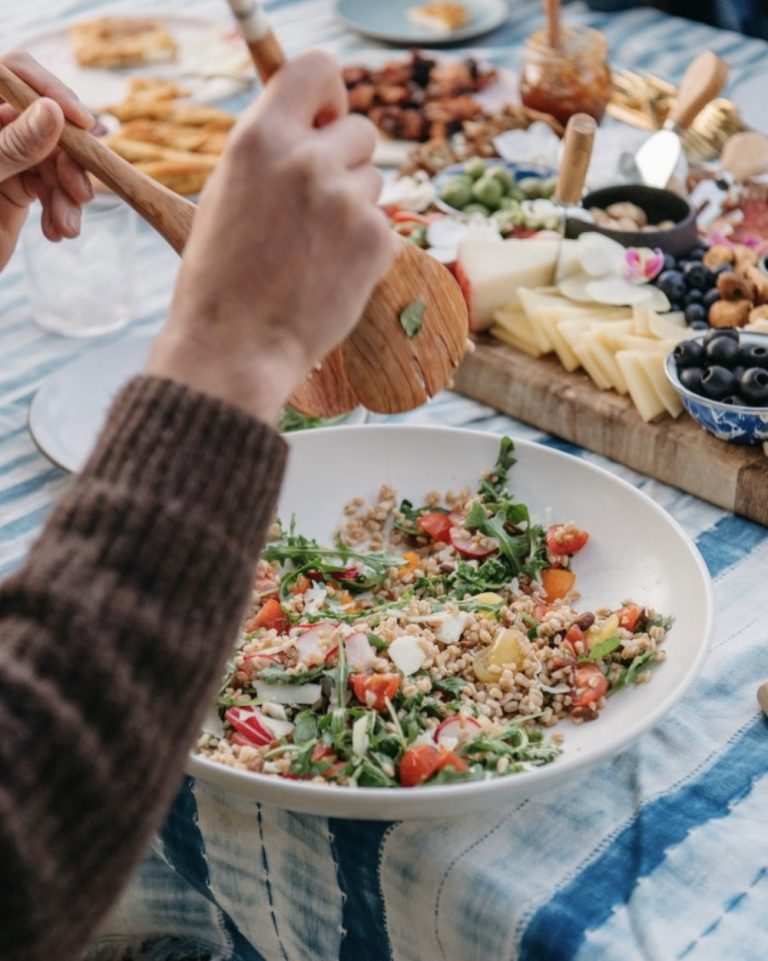 Charlie Bird Farro Salad
Why We Love It: This farro salad is packed with veggies and grains that, together, make the most delicious and filling bowl. A quarter-cup of farro contains six grams of protein, making it a competitor with quinoa in the high-protein grain category.
Hero Ingredient: You can't go wrong with parmesan cheese. Ever.
11 of 12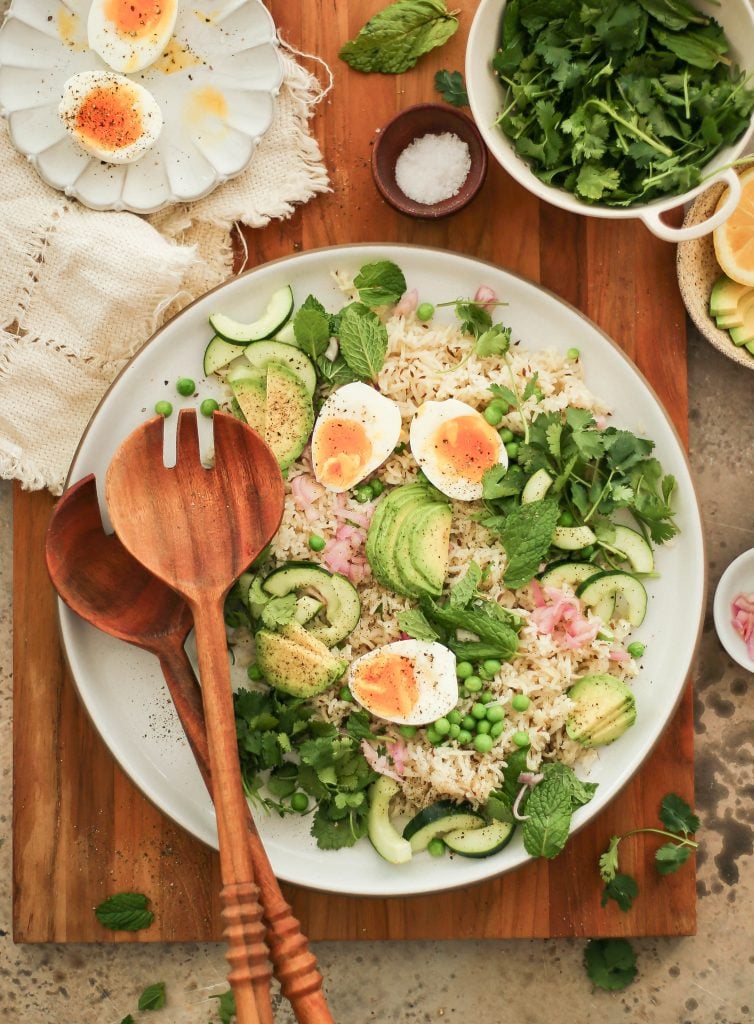 Spring Rice Salad
Why We Love It: When there are eggs in my salad, I automatically know I'm bound to feel more filled than if I just munched on some greens. This spring rice salad is packed with protein from the eggs and contains a great balance of carbs and greens from the rice, peas, and fresh herbs.
Hero Ingredient: Top with chili oil for the perfect kick.
12 of 12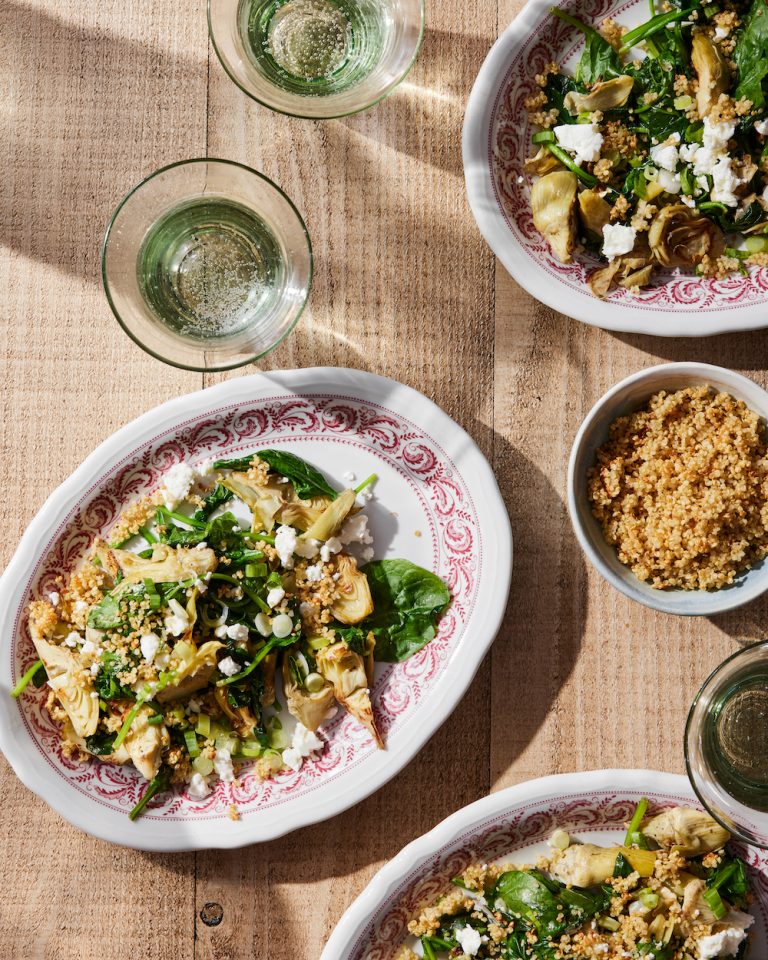 Warm Spinach-Artichoke Salad with Quinoa Crunchies
Why We Love It: If a warm salad is up your alley, this recipe should be where you start. Sheela Prakash shared this incredible recipe and it's changed our dinner plans for good. Quinoa, spinach, and lemon juice are just a few of the nutrient-packed ingredients in this spectacular bowl.
Hero Ingredient: If you haven't added jarred artichokes to your list of must-have pantry staples, this recipe is the place to start.
This post was originally published on February 25th, 2022, and has since been updated.