24 Wellness Gifts For Everyone On Your List
It's gift-giving season, ya'll. And for the wellness-obsessed friends in your life, look no further. Before we dive in, we all know that wellness is quite multifaceted. It can mean anything these days: a morning cup of matcha and mental health walk, lathering on a face mask and lighting a non-tox candle, or pouring a glass of organic wine. Meditating, journaling, and even sleeping can be categorized as wellness. It's all up to interpretation! At the end of the day, taking care of your mind, body, and spirit looks different for each of us. So in the spirit of individuality, we've gathered an array of wellness gifts. These are modern-day tools, experiences, and products to make wellness what it should be: accessible and fulfilling.
1 of 25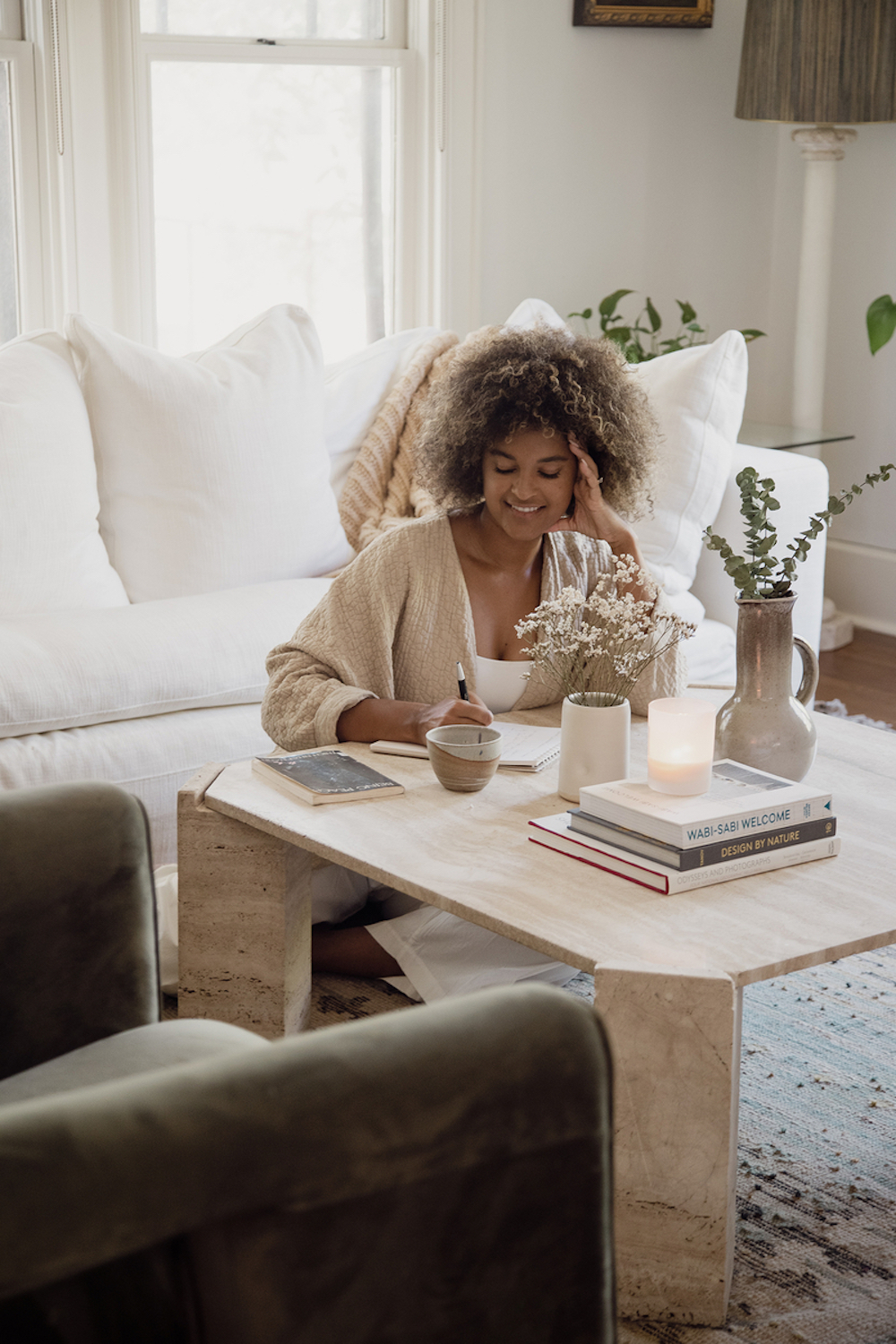 Image by Jenn Rose Smith
24 Empowering Wellness Gifts
No matter which category your health enthusiast falls into, there are wellness gifts for everyone. Ultimately, it's important to remember that healthy living doesn't have to be expensive or complicated. Sure, we love going all out on a massage, relishing in an hour-long hot yoga class, or whipping up an adaptogenic latte, but the foundation of healthy living is all about simplifying. Ahead, discover the best wellness gifts for everyone on your list.
Every product is curated with care by our editors and we'll always give an honest opinion, whether gifted or purchased ourselves. If you buy something through our links, we may earn a small commission at no cost to you.
A good loungewear set is essential. Between R&R days spent with your journal and your go-to modes of self-care, travel days with hours on a plane, and moments out and about when you simply want to look cute and feel comfy—this oversized crewneck sweater is a must. It comes in a range of colors both neutral and bright with something for everyone. Complete the look with the matching, super soft sweat shorts. Chic and cozy, as all the best wellness gear should be.
Bloating, while totally normal, is also one of life's uncomfortable inevitabilities. The "Bloat" capsules are the most effective supplements I've tried to date, while "Calm" is a near-instant stress reliever. Pair together for a synergistic routine designed to optimize digestion and experience true relaxation.
The fitness equipment darling du jour, Bala's offerings now include the ultimate yoga mat. (Because we know you've searched high and low for the perfect option.) The modern shape and nonslip, moisture-wicking material are great for yoga, pilates, and any on-the-go workout.
Eating from bowls > eating from plates. It's just a fact. For salads, nourishing soups, oatmeal, and everything in between, this handmade, stoneware bowl is the perfect dining piece for any and every Instagram post.
While I've loved my Vitruvi diffuser for years, the promise of a portable version is enough to influence a new purchase. Simply fill with water and drop in your favorite essential oils. Its unique design is attention-grabbing while still soothing to the wellness-loving soul.
Moon Juice's array of supplement powders is a functional and delicious addition to any wellness routine. We love Mini Dew for added electrolytes, Magnesi-Om to relax before bed, and Ting to boost energy, metabolism, and mood. The delicious mango flavor is refreshing and not overly sweet—exactly how we want to get our B vitamins from now on.
Weighted blankets are a key part of any supportive sleep arsenal. The gentle pressure coaxes even the most restless sleepers to a restorative, soothing slumber. Select from six colors and different weights to find the perfect fit.
Wellness tools are our weakness. This teak wood and stainless steel body plane pairs with the hydrating body oil for the ultimate exfoliating duo. It's a lovely ritual to incorporate into a post-shower routine. I like to think of it as a dry brushing/gua sha for your body practice all in one.
Water bottles, like mugs, are one of those things it feels like we can never have enough of—despite multiple kitchen cabinets housing our collection. But as far as my line-up of water vessels is concerned, this bottle is my be-all, end-all. It's sleek and modern, and comes in colors we love. What's more, the time-marked glass makes it easy to keep your hydration habit going strong.
ICYMI: Prioritizing *** wellness is a key part of realizing your healthiest self. These libido gummies are blended with adaptogens and botanicals proven to take things up a notch (i.e., elevate your *** drive). This duo comes with both female and male gummies, which can also be purchased separately.
Every good yoga mat (see above) needs a no-slip towel that'll keep them grounded. If hot yoga is your giftee's go-to for warming up throughout the winter, they'll love this fast-absorbing towel that feels great underfoot.
While many of us have reintroduced grass-fed, sustainably raised meat into our diets, we still love prioritizing plants to support both our health and the planet. This colorful, inspiring cookbook is full of recipes like roast sweet potato with miso and ginger caramel and sweet potato gnocchi with sage burnt butter that help us feel like our healthiest, most vibrant selves.
Massage guns are the easiest way to bring the spa experience home. And PSA: you don't need to shell out hundreds to create a stress-relieving, muscle-soothing routine. With four speeds and various attachments, this massage gun will always be exactly what your body needs.
Last year, I swapped out my mismatched collection of Tupperware for this streamlined set of ceramic-coated glass containers. With small, medium, and large containers, it's complete with everything you need for leftovers and lunch. An aesthetically pleasing refrigerator awaits.
Inspired by my own holiday wishlist (hint, hint), the Ninja CREAMi is my ultimate wellness covet item. Make dairy-free ice creams, low-sugar milkshakes, and sorbets blended with whole fruits. I've tested a few treats from my friends' CREAMis, and I can attest to the smooth, creamy texture it always delivers. I'm so tempted that I might skip ahead and buy it for myself on Black Friday…
I've been in my tea era for all of 2023, and I expect the ritual to continue well into the next year (and beyond). This glass pot features a built-in strainer for a minimalist, streamlined way to prepare a soothing, cozy cuppa.
Anyone will be delighted to open this deck filled with positive self-love, self-care, and mindfulness affirmations. The wooden display lets your recipient keep each affirmation visible for inspiration all throughout the week. With 52 cards (one to reflect on every week of the year), it's a lovely way to kick off 2024.
While we love December's winter whites, January through March is another story. Let a friend or family member delight in these wildflowers' vibrant colors during a particularly dreary time of year. They're easy to grow and unbelievably low-maintenance. Even the black thumbs in your life will love it.
Who doesn't love a good nighttime routine? (Particularly one that coaxes you to a restful, rejuvenating slumber.) Alongside golden milk, a silky pillowcase, and the coziest pajamas, this sleep mist is essential. Spritz the blend of chamomile and lavender over your bed, breathe deeply, and slip under the covers for your best-ever slumber.
PSA: It's finally time to ditch your smartphone alarm. (And keep it far, far away from your nightstand.) And while we balked at the price tag on this smart alarm clock before finally giving in, we can confirm: it's worth the hype. The Hatch Restore 2 features nature-inspired sleep sounds and bedtime light settings to help anyone enjoy a peaceful oasis.
Guided journals are an easy way to start your practice strong. This empowering, inspiring journal features 75 prompts designed to kickstart your creativity and take any goal from start to finish. It'll help you overcome any setback and move forward with intention.
Greens powders are the ultimate buzzy wellness buy. And while some brands make overblown promises about everything from curing your bloat to clearing your skin, Equilibria's Daily Nutri-Greens sit perfectly at the intersection of effective and affordable. (Not to mention the apple-banana flavor is absolutely delish.) Combined with the Sleep Gummies that I always turn to for a good night's sleep and the Daily Drops for boosted mood and regulated stress, this is the best wellness bundle that anyone will be thrilled to receive.
Never have I ever been happier to consider myself a human hot pocket. This viral blanket gives you all the benefits of regular sauna sessions without having to leave your home. Slide yourself in and experience everything from a boosted glow to deep detoxification. Particularly during these colder months, this is my favorite way to relax. Turn on your favorite podcast and get ready to sweat it out.
Apothékary is changing the game when it comes to experiencing the magic of herbal tinctures. This minis set features three of the brand's hero products: Take the Edge Off (stress and tension support), Rosé-Tinted Glasses (mood and skin support), and Wine Down (relaxation and sleep support). In lieu of a post-work glass of vino, I love dosing out a few drops of whichever tincture I need that day. Seriously—it's one of my favorite ways to find a little chill.
This post was originally published on December 3, 2022, and has since been updated.