35 years later, Mario 3 still does some things better than every Mario since
Which 2D Mario game is the best has always been a fairly contentious topic. Every Mario game does things a little bit differently, with a smattering of unique power-ups, concepts, and mechanics. It's only natural that opinion would be relatively divided. But I'd put forth that two major contenders for the crown always eventually float to the top: Super Mario Bros. 3, and Super Mario World.
To see this content please enable targeting cookies.
Manage cookie settings
In 2023, we now have Super Mario Wonder – which in years to come could very well be the third title vying for this throne. To be honest, I'm a Super Mario World stan – but today, on its 35th anniversary, I want to admit that Super Mario Bros. 3 may well deserve the crown more. And, for one release, in one category, it definitely deserves the top spot.
There's a lot I like about Super Mario Bros. 3, to be fair. The Racoon Suit is an all-time great power-up, which is precisely why it's one of the few to make a regular reprise in later entries. Mario World's cape doesn't get that sort of love, does it? Then again, World gave us Yoshi… so perhaps in truth that's a one-all draw.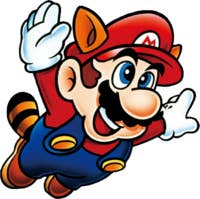 An icon. | Image credit: NINTENDO
I also really like how Mario 3 leans into one of Mario originator Shigeru Miyamoto's most canny comments about the Mario franchise and its characters: that all of this is a play, and the cast are "a troupe of actors". Miyamoto's words. This is why Mario's as happy as a pro golfer as he is driving a go kart or practicing medicine, and then will settle down for some party games with his arch nemeses – he's just an actor taking on roles.
Despite being made decades before Miyamoto made those comments, Mario 3 is steeped in this. At the start of the game, a curtain lifts to reveal the title card. Parts of stages are visibly meant to be flat, cardboard-like scenery. And many stages end by Mario literally exiting stage right, into the blackness of back-stage. I love this game for that.
But none of these things are the areas where Mario 3 outstrips World. Really, for me, it's all about one particular version of the game – the GBA port, which goes by the confusing title of Super Mario Advance 4: Super Mario Bros. 3. I'm talking, of course, about the e-Reader levels.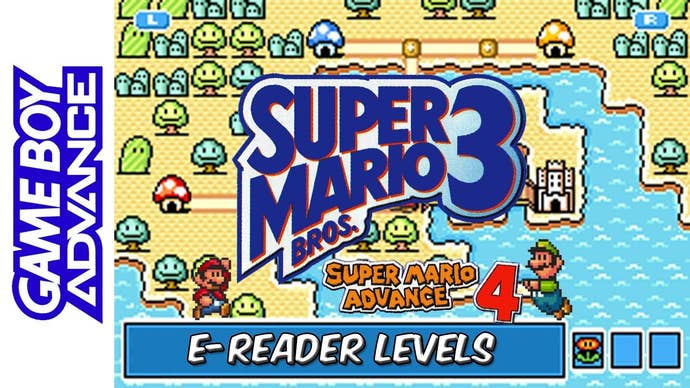 Yes, it is confusing. | Image credit: Nintendo
For the younger among you, the e-Reader was an add-on for the GBA that let you scan trading cards to unlock things in-game. Consider them a predecessor to amiibo. In the case of Mario 3's port, you could scan cards that'd help you out with power-ups and the like, but also cards that'd unlock all-new levels to enjoy. I should note that the e-Reader levels are even included in Mario Advance 4 as available on Switch's Nintendo Switch Online GBA offering – so they're now more widely available than ever before.
Anyway, I love these levels. They have the chaotic energy of a fan-made rom hack. But also, they do something Mario rarely does; mash up elements from different games.
Like I said right at the top of this article, the Mario series always moves on; new settings, new power-ups, constantly moving and changing. Things like the Fire Flower and Yoshi are relatively standard now, but other things come and go. This is as true in Mario Wonder as anywhere else; where the game is more interested in building and experimenting with all-new gimmicks than building upon anything new.
This is where the e-Reader levels stand out. Power-ups, mechanics, enemies, and ideas are reused not just from Mario 3 – but from games past and present. The cape from Mario World, for instance, makes an appearance here. So too does the vegetable pulling and tossing mechanic from Mario 2 USA. Basically, it's a mish-mash of mechanics from the NES and SNES Mario titles, bundled together as a series of experimental and often devilishly challenging extra levels.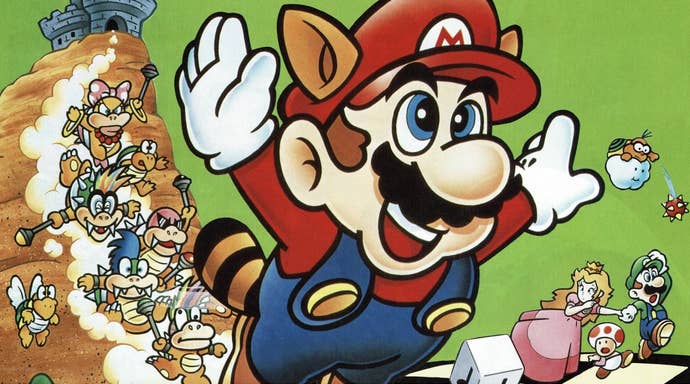 The whole game had a very specific vibe. | Image credit: NINTENDO
Mario Wonder is one of the best games of the year in an utterly stacked year – so I wouldn't want to change Nintendo's approach to Mario for the world. But I can also say that in Mario 3's e-Reader levels there's a glimmer of what this series could look like: chaotic, mad, feature-rammed. What would happen if Nintendo took a more additive, iterative approach. And it's exciting in its own way. In fact, the closest game to those e-Reader levels is probably the unassailable Sonic Mania, which is built around a similar systemic mash-up between the ideas of the 2D Sonic games.
These levels are worth a play stand-alone anyway – but the fact that they're attached to Super Mario Bros. 3, one of the best platformers of all time, seals the deal. Mario Wonder might be a worthy successor, but as Mario's grand stage play and NES finale hits its 35th year, it's as worth playing as ever. Especially those e-reader levels.