AIM ImmunoTech Issues Letter to Stockholders By Investing.com

AIM ImmunoTech (AIM) Issues Letter to Stockholders
AIM ImmunoTech (NYSE:) Inc. (NYSE American: AIM) today issued a letter to stockholders highlighting key accomplishments in 2022 and outlining corporate objectives for 2023.
The full text of the letter is as follows:
March 6, 2023
To our valued stockholders,
Over the course of the past year, the AIM management team and Board have worked dedicatedly to position the Company for continued success. In 2022, our team successfully executed across our clinical development programs, including the initiation of clinical studies and commenced patient enrollment, as well as noteworthy progress on the corporate front. I am incredibly proud of our team and pleased with the advancements we've made. As we come to the new year and milestones ahead, I think it's worth reviewing some of the key accomplishments made in 2022, highlighted below:
Oncology Development ProgramsAdvanced Late-Stage Pancreatic CancerMarch 2022: IND Clearance for Phase 2 Clinical StudyMarch 2022: Publication of Positive Data from EAP ProgramJuly 2022: Positive Data from Single-Center Named Patient Program as Maintenance TherapyAugust 2022: Commencement of Phase 2 StudyStage 4 Triple-Negative Breast CancerApril 2022: Positive Data from Phase 1 Study in Stage 4 Metastatic TNBCAdvanced Recurrent Ovarian CancerJanuary 2022: Publication of Positive Results from Phase 1/2 StudyApril 2022: Positive Interim Data Published Combining Ampligen with KEYTRUDAStage 4 MelanomaAugust 2022: Commenced Enrollment in Phase 2 Clinical StudyLate-Stage Colorectal CancerApril 2022: Positive Data from Phase 2a Clinical StudyLong COVID Development ProgramJune 2022: Expanded IP Portfolio July 2022: Positive Pilot Study Data from EAP ProgramOctober 2022: IND Clearance for Phase 2 Clinical StudyOther DiseasesNovember 2022: AIM ImmunoTech Receives FDA Orphan Drug Designation for Ampligen (rintatolimod) for the Treatment of Ebola Virus DiseaseDecember 2022: Reported Positive Safety, Tolerability and Biological Activity Data for Intranasal Ampligen® in Healthy SubjectsCorporateMarch 2022: AIM ImmunoTech Appoints Robert Dickey, IV as Chief Financial OfficerJune 2022: New State-of-the-Art Facility for Product Development and TestingOctober 2022: Delaware Court Rules in Favor of AIM ImmunoTech and Declines to Declare Activist Group's Nominations ValidNovember 2022: AIM ImmunoTech Shareholders Elect All Three Company Director Nominees at 2022 Annual Meeting
PUBLICATIONS
OncologyAdvanced Late-Stage Pancreatic CancerMarch 2022: Rintatolimod (Ampligen®) Enhances Numbers of Peripheral B Cells and Is Associated with Longer Survival in Patients with Locally Advanced and Metastasized Pancreatic Cancer Pre-Treated with FOLFIRINOX: A Single-Center Named Patient ProgramMarch 2022: EP02C-111 Treating Pancreatic Ductal Adenocarcinoma Patients with Rintatolimod: Hitting Two Targets with One Arrow?Stage 4 Triple-Negative Breast CancerJune 2022: Negative impact of paclitaxel on human breast tumor microenvironment and its reversal by the combination of interferon-α with TLR3 agonist rintatolimodJune 2022: Systemic rintatolimod and interferon-α2b selectively reprogram local tumor microenvironment in patients with metastatic triple negative breast cancer for enhanced influx of cytotoxic T-lymphocytes but not regulatory T-cellsAdvanced Recurrent Ovarian CancerApril 2022 – Combined loco-regional and systemic, triple agent chemoimmunotherapy increases biomarkers of T cell chemotaxis in ovarian cancerMay 2022: Phase I Trial Combining Chemokine-Targeting with Loco-Regional Chemoimmunotherapy for Recurrent, Platinum-Sensitive Ovarian Cancer Shows Induction of CXCR3 Ligands and Markers of Type 1 ImmunityLate-Stage Colorectal CancerJune 2022: Initial results of a phase II study evaluating a chemokine-modulatory (CKM) regimen in patients with colorectal cancer metastatic to the liver
We have continued to be encouraged by the data we have seen to date demonstrating Ampligen's potential for the treatment of multiple types of cancers, immune disorders, and viral diseases, including COVID-19, and continue to establish a growing body of data as a priority. With 10 active clinical programs, 2023 is poised to be a busy and exciting year. In addition to a number of publications for pipeline data expected throughout the year, anticipated upcoming milestones include:
Q1 2023
Post-COVID Conditions: Commence Phase 2 studyLocally Advanced Pancreatic Cancer: Enroll first patient in Phase 2 study
Q2 2023
Locally Advanced Pancreatic Cancer: Dose first patient in Phase 2 studyPost-COVID Conditions: Enroll and dose first patient in Phase 2 study
Q3 2023
Advanced Recurrent Ovarian Cancer: Announce Formal interim results
Q4 2023
Metastatic Pancreatic Cancer: Begin clinical trialPost-COVID Conditions: Complete patient enrollment in Phase 2 study
In addition to executing on our clinical development, we have a number of corporate initiatives we are committed to in 2023, which include building diversity among our Board of Directors. We are actively working to identify individuals with key leadership and expertise and look forward to providing updates as those plans come to fruition. Another priority for us is to maintain active communication with the investment community. With this in mind, we plan to commence quarterly conference calls in the first quarter of 2023. We also plan to continue engaging with the scientific and investment communities by actively participating in meetings and key conferences throughout the year. We encourage you to stay up to date with our activities by visiting our website, aimimmuno.com and connecting with us on Twitter, LinkedIn, and Facebook.
We had a truly transformative 2022, but believe 2023 holds significant potential as we advance toward a number of targeted milestones ahead. On behalf of the entire Company, we are grateful for the continued support of our stockholders and remain committed to generating near- and long-term value for all stakeholders.
About AIM ImmunoTech Inc.
AIM ImmunoTech Inc. is an immuno-pharma company focused on the research and development of therapeutics to treat multiple types of cancers, immune disorders, and viral diseases, including COVID-19. The Company's lead product, Ampligen® (rintatolimod) is an immuno-modulator with broad spectrum activity being developed for globally important cancers, viral diseases and disorders of the immune system.
Ampligen is currently being used to treat pancreatic cancer patients in an Early Access Program (EAP) approved by the Inspectorate of Healthcare in the Netherlands at Erasmus Medical Center and AIM has commenced a Phase 2 clinical study in locally advanced pancreatic cancer. The Company also has multiple ongoing clinical trials to evaluate Ampligen as a combinational therapy for the treatment of a variety of solid tumor types both underway and planned at major cancer research centers. Additionally, Ampligen is approved in Argentina for the treatment of severe chronic fatigue syndrome (CFS) and is currently being evaluated in many aspects of SARS-CoV-2/COVID-19 myalgic encephalomyelitis/chronic fatigue syndrome (ME/CFS) and Post COVID Conditions.
For more information, please visit aimimmuno.com and connect with the Company on Twitter, LinkedIn, and Facebook.
Forward-Looking Statements
This press release contains certain forward-looking statements that involve risks, uncertainties and assumptions that are difficult to predict. Words and expressions reflecting optimism, satisfaction or disappointment with current prospects, as well as words such as "believes," "hopes," "intends," "estimates," "expects," "projects," "plans," "anticipates" and variations thereof, or the use of future tense, identify forward-looking statements, but their absence does not mean that a statement is not forward-looking. The Company's forward-looking statements are not guarantees of performance, and actual results could vary materially from those contained in or expressed by such statements due to risks, uncertainties and other factors. The Company urges investors to consider specifically the various risk factors identified in its most recent Form 10-K, and any risk factors or cautionary statements included in any subsequent Form 10-Q or Form 8-K, filed with the Securities and Exchange Commission. You are cautioned not to place undue reliance on these forward-looking statements, which speak only as of the date of this press release. Except as required by law, the Company does not undertake any responsibility to update any forward-looking statements to take into account events or circumstances that occur after the date of this press release. The information found on our website is not incorporated by reference into this press release and is included for reference purposes only.

Investor Contacts:

JTC Team, LLC
Jenene Thomas
833-475-8247
AIM@jtcir.com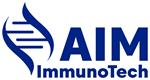 Source: AIM ImmunoTech Inc.