An Insider's Guide to Austin's Best Sushi Restaurants
Welcome to the vibrant and diverse culinary scene of Austin— a city with no shortage of unique flavors and innovative culinary delights. While this city is celebrated for its barbecue and Tex-Mex, Austin's culinary scene knows no bounds—boasting an array of exceptional international cuisines. When I moved to Austin nearly three years ago, I made it one of my first tasks to find the best sushi in Austin. What I learned? Whether you're a seasoned sushi connoisseur or a curious first-timer, Austin's sushi scene has something for every palate.
After extensive research and plenty of tasting, our team compiled a list of the best sushi spots in Austin that exude exceptional quality, creative culinary flair, and impeccable service. Each restaurant on our list maintains both the timeless skill of traditional sushi techniques and the ability to push the boundaries of creativity. Because isn't that what Austin is all about?
Featured Image of Sushi by Scratch Restaurants by Chad Wadsworth.
[table_of_contents title="In this article"]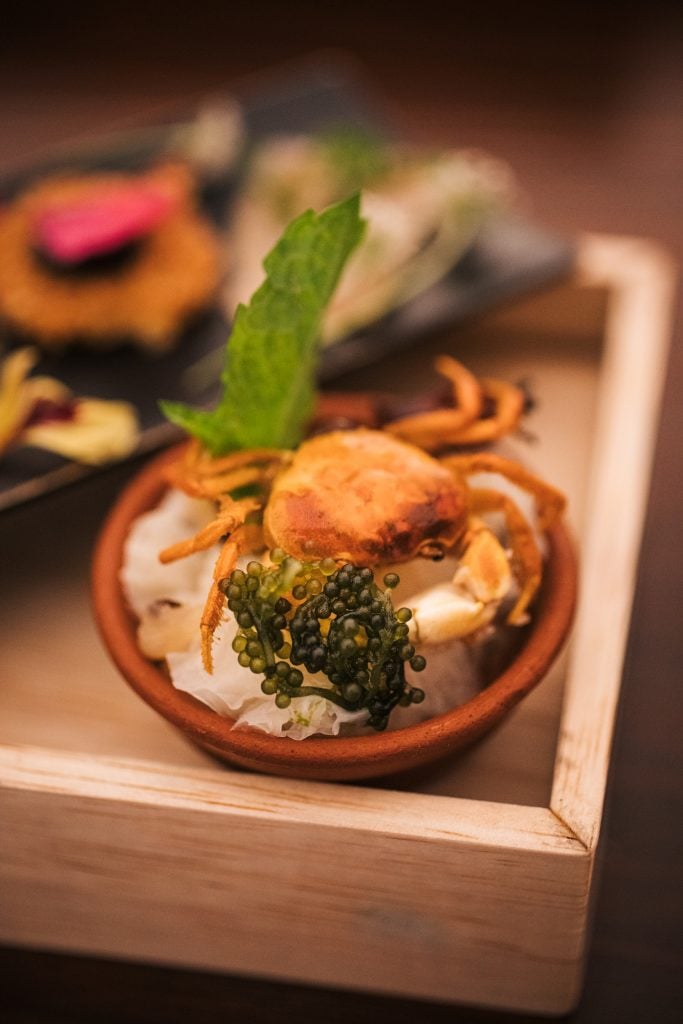 Image by Andrew Reiner
Best Splurge: Otoko
Otoko—a 12-seat Japanese kaiseki omakase-style spot found in the South Congress Hotel—is an experience you don't want to miss. Chef Yoshi Okai leads you through a 20-course meal filled with nigiri, sashimi, and other traditional Japanese favorites. We recommend making your reservation three months in advance to ensure you get a spot at this popular restaurant. Trust us—you won't want to miss out.
Price: $$$$
Specialties: This Omasake experience is one you don't want to miss here in Austin. Translating to "I leave it up to you," you'll enjoy a variety of unique flavors without having to decipher through a menu of mouth-watering options. The hamachi with smoked tamari and herbs is a fan-favorite part of the experience, where the fish is grilled in binchotan coals right in front of you.
1603 S Congress Ave | (512) 994-0428 | website | instagram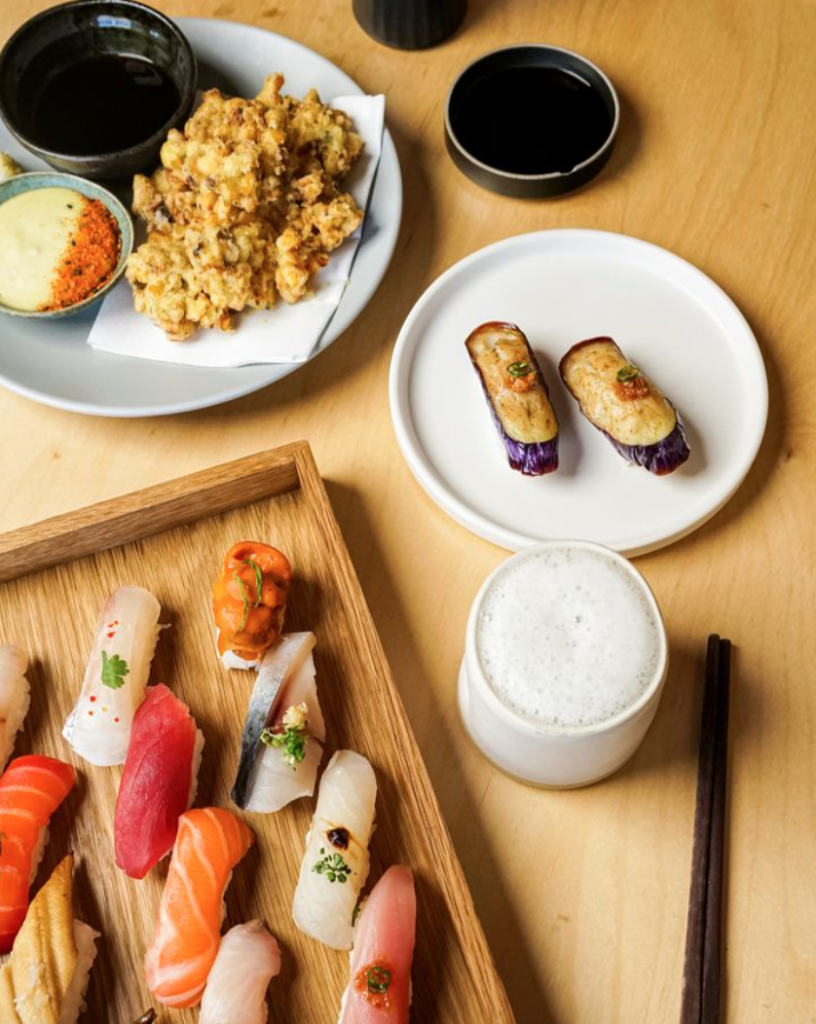 Image by Neighborhood Sushi
Where Texas meets Japan, Neighborhood Sushi—located in the bustling South Congress neighborhood—features a variety of local and international ingredients on its menu. Enjoy a Legacy Wagu nigiri with beef from La Grange, or opt for a Japanese favorite with BBQ Fresh Water Eel nigiri or sashimi. Whatever you choose, we can assure you your taste buds won't be left unsatisfied.
Price: $$
Specialties: While there are plenty of unique options for lovers of a traditional sushi roll at Neighborhood Sushi, there is also a sizeable menu for vegetable-only nigiri. Opt for a hon shimeji with crispy garlic or sweet corn served with togarashi and serrano for a delicious meat-free bite.
1716 S Congress Ave | (512) 580-1390 | website | instagram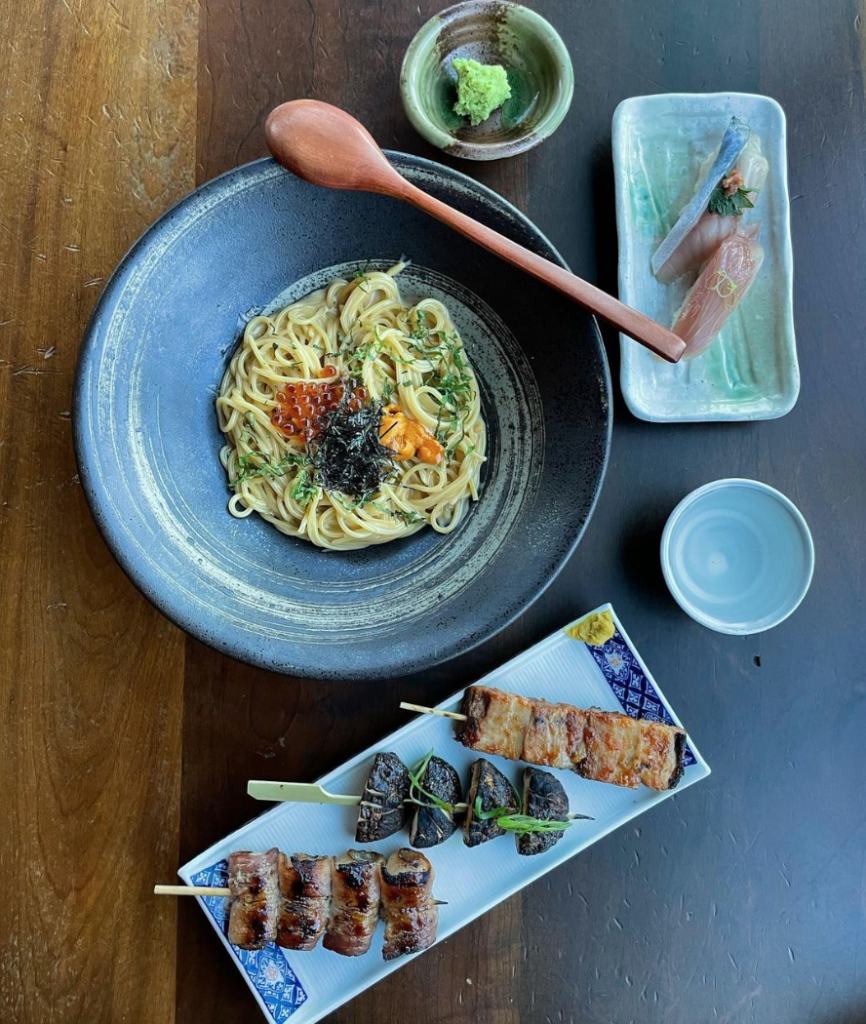 Image by Brittney Diep
You'll have a truly authentic sushi experience at Fukumoto. This restaurant is known for some of the best sushi in Austin thanks to both its appetizing menu and stunning interior. Sake barrels can be seen surrounding the dining room, where you'll enjoy a variety of fresh fish, such as yellowtail and bluefin tuna, and yakitori specialties, like miso-glazed pork belly and Brussels sprouts with honey tare.
Price: $$
Specialties: The highlight of this sushi spot is definitely its yakitori—skewers grilled over Japanese charcoal—which are done in their open kitchen. If you're looking for entertainment with a high-quality meal, you've found the right place.
514 Medina St | (512) 770-6880 | website | instagram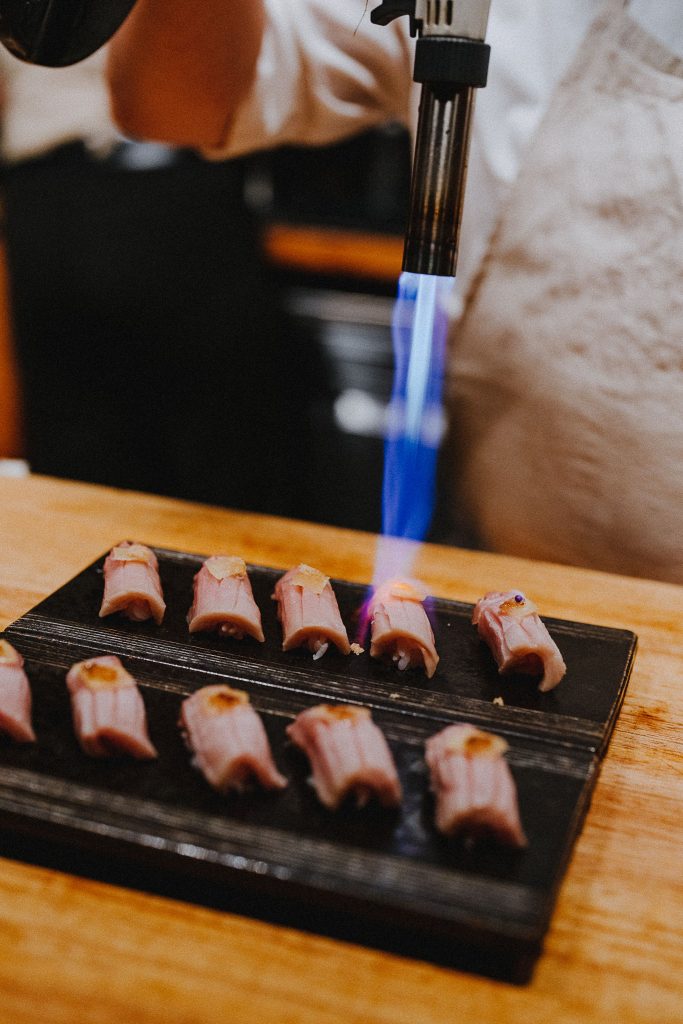 Another omakase favorite here in Austin is Sushi by Scratch Restaurants. Located in the Hyatt Regency Lost Pines Resort & Spa in Cedar Creek, this 10-seat dining experience features a 16-course meal filled with everything from Hamachi to Wagyu beef. The diversity of the courses is what makes this dining experience stand out the most. Note that this spot cannot accommodate vegetarian requests or mushroom allergies.
Price: $$$
Specialties: While the omakase experience is a specialty in and of itself, the diversity of ingredients from both land and sea makes this sushi experience one that is totally worth the cost and wait.
575 Hyatt Lost Pines Road | (512) 360-8601 | website | instagram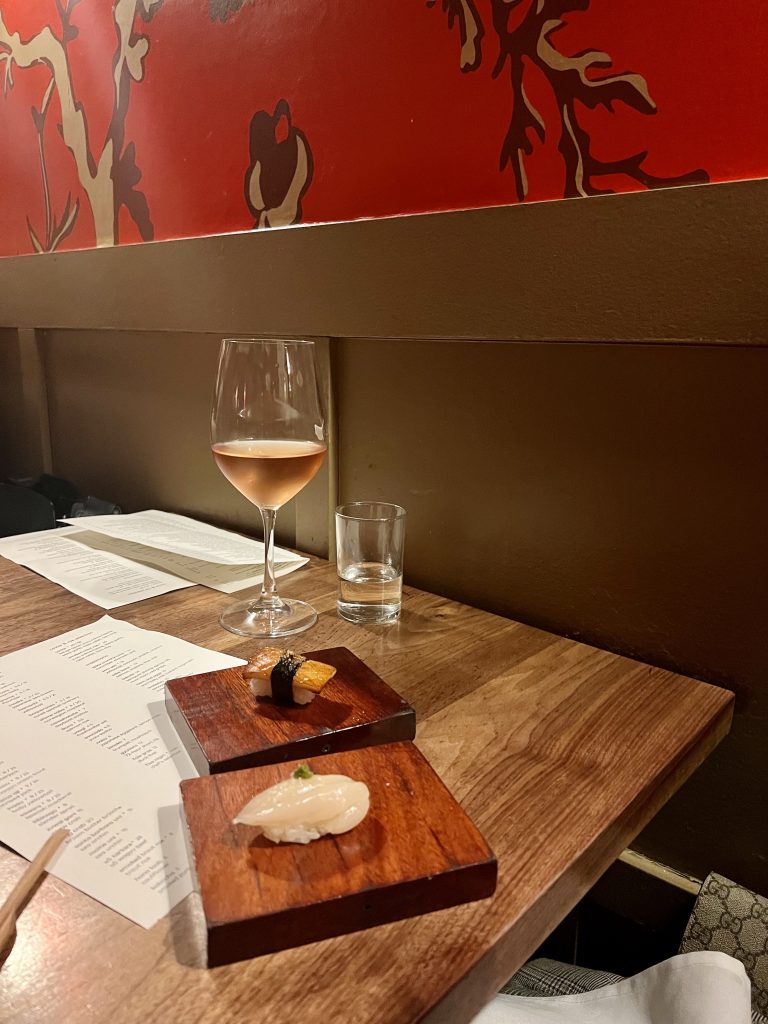 Most Popular: Uchi
If you're an Austin native, local, or just a well-informed visitor, you know Uchi as one of the best and finest sushi restaurants this city has to offer. For their omasake, Chef Tyson Cole takes you on a ten-course meal filled with some of the freshest and best-prepared sushi you'll ever taste. Additionally, their regular menu is filled with the highest quality dishes that range from hot plates to caviar to nigiri and sashimi. If there's anywhere you try on this list for both the experience and the food—this is your spot.
Price: $$$$
Specialties: What you see on Uchi's menu is unlike what you'll find at your typical city sushi spot. While the omakase is arguably the preferred splurge and specialty here, we also recommend almost all of the regular menu items, including their hama chili—a fresh cut of yellowtail with ponzu, Thai chili, orange supreme, or the smoked trout roe with yuzu creme fraiche, black garlic, raisin relish, and taro chips.
801 S Lamar Blvd | (512) 916-4808 | website | instagram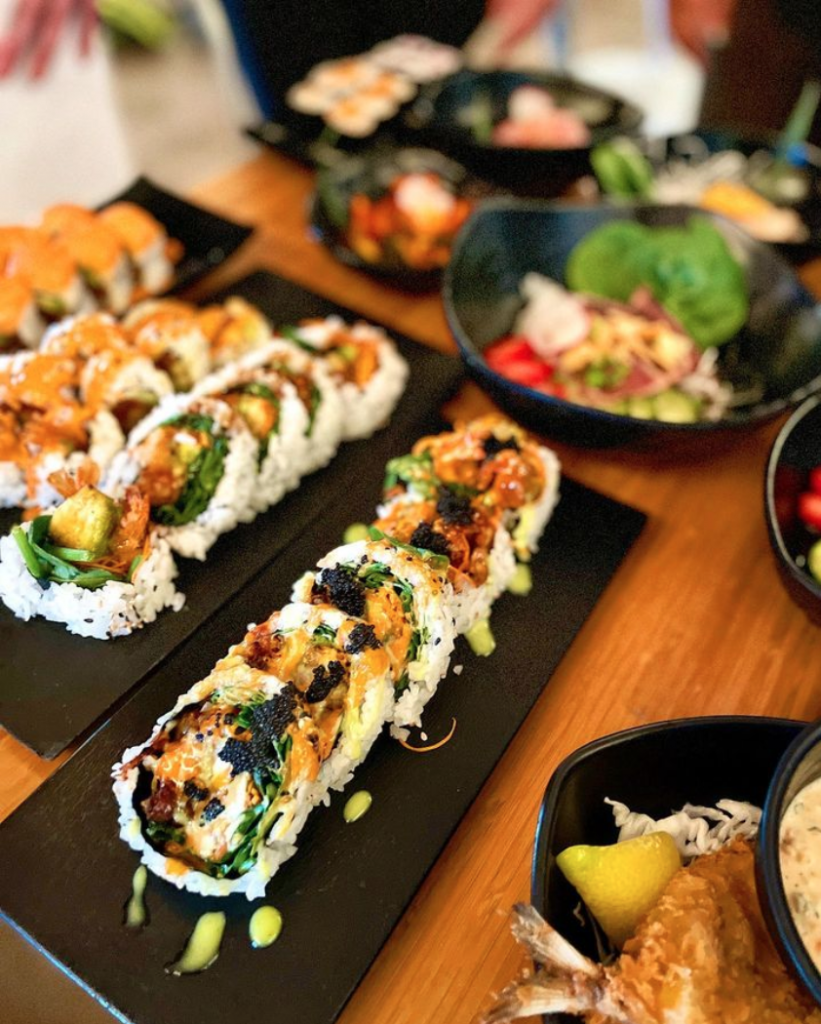 Image by Elizabeth Hyman
Best Light Bite: Komé
This first-come, first-serve sushi spot features several different menus—lunch, mid-day, dinner, and drinks—all of which have enough options to keep everyone full and satisfied. Enjoy a rice bowl for lunch or Hosomaki mid-day. Whatever variation of this classic cuisine you choose, it's bound to be prepared to aesthetic perfection.
Price: $$
Specialties: Think tapas, but Japanese. The izakaya here at Komé is a bar-style Japanese cuisine that consists of a variety of small, typically inexpensive dishes served with a variety of specialty drinks. If you're looking for casual good eats, this is your spot.
5301 Airport Blvd #100 | (512) 712-5700 | website | instagram
Best Main Dishes: Soto
Located close to Zilker, Soto is the best of both worlds. There's an extensive variety of nigiri and sashimi options, as well as plenty of makimono rolls to fit everyone's requests. They also offer omakase at $175 per person if you're looking for an upscale evening.
Price: $$$
Specialties: If you're looking to branch out beyond sushi, Soto's hot and cold menu features dishes like their chilihamachi with garlic chili ponzu, fried jalapeño, and scallion, and grilled Chilean sea bass marinated 72 hours in sweet miso sauce and scallion.
1100 S Lamar Blvd Ste 2115 | (512) 531-9142 | website | instagram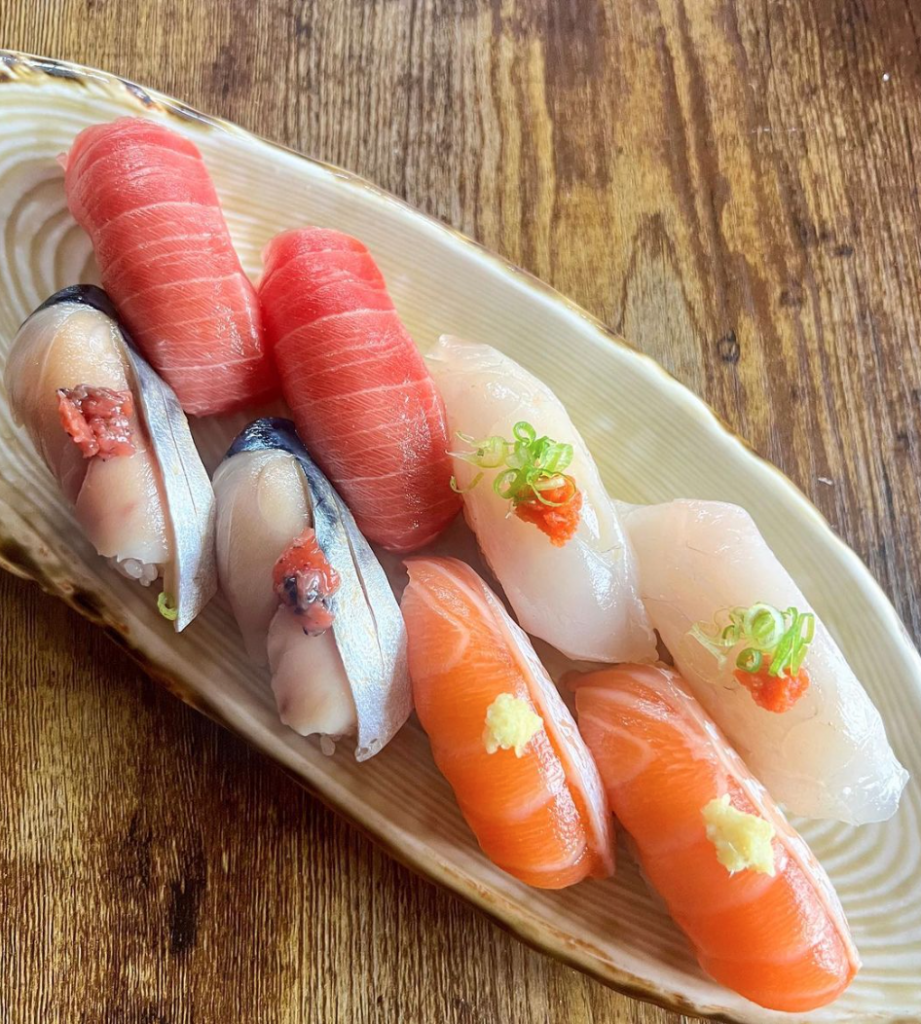 Image by Kimberlin Khan
Classic and fresh, this Edomae-style sushi restaurant is one of those special places that will satisfy your sushi craving without going overboard. The nigiri is much bigger than what you'll find at most sushi spots around Austin, making these eats definitely worth their cost. Enjoy a view of the city to accompany your meal at this second-story restaurant. The bonus is the weather is nice enough to eat on the patio!
Price: $$$
Specialties: Without having the complete omakase experience (and cost), Musashino's sushi deluxe is paired with a miso soup and a chef's choice of several pieces of sushi.
2905 San Gabriel St Suite 200 | (512) 795-8593 | website | instagram
A long-standing Austin favorite is Tomodachi sushi, situated on Parmer Lane. Their menu isn't overly elaborate, and you'll likely find the spot filled with locals who've enjoyed their fresh fish for years. The nigirizushi and sashimi are made with care by Chef Steve Raid and his wife Tina Son, both of which foster a welcoming and comfortable dining experience without being overly traditional and stuffy.
Price: $$
Specialties: A few of the highly-acclaimed favorites at Tomodachi are the fresh aji (Japanese horse mackerel) just in from the Tsukiji fish market in northern Japan, or kampachi, wild yellowtail from the Honolulu fish market.
4101 W Parmer Ln | 512) 821-9472 | website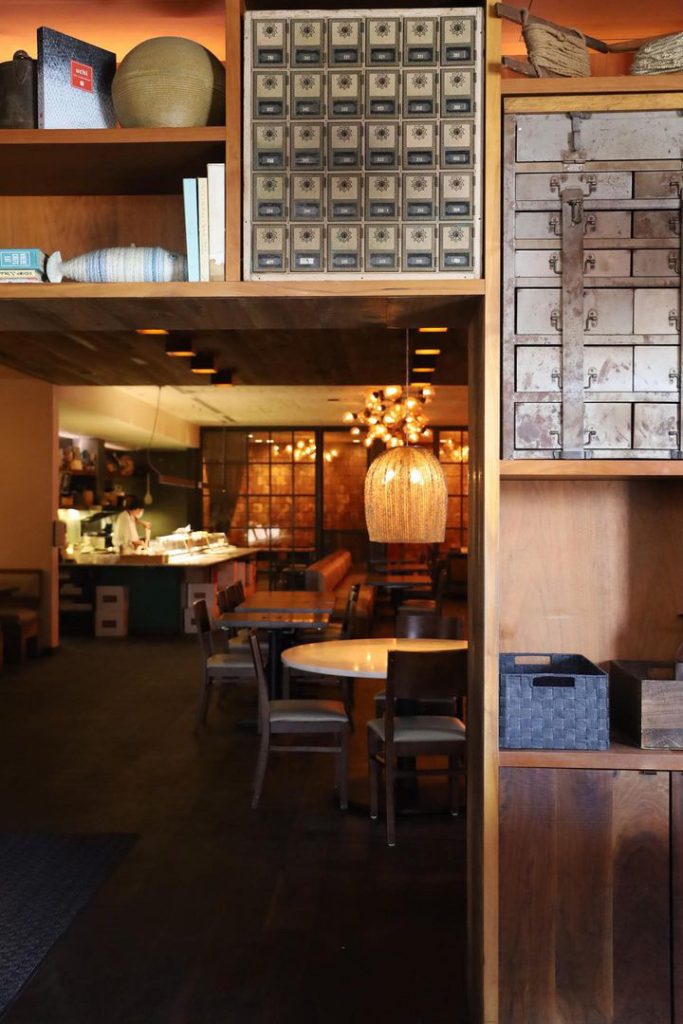 Image by Travis Hallmark
A sister restaurant of the beloved Uchi, a James Beard Award-winning non-traditional Japanese joint, Uchiko's menu is one of the most unique. From their gyutoro—a 72-hour short rib—to their beau soleil oyster served with strawberry chutney—the menu spans far beyond what you'll find at your local sushi spot.
Price: $$$$
Specialties: Similar to Omakase, Uchiko offers a Somakase option for their dining experience, where the server has the responsibility of curating your menu. It's definitely something to try if you're looking to spice it up without sitting down for a ten-course meal.
1801 Post Oak Blvd Suite 110 | (713) 522-4808 | website | instagram
Another spot loved by Austin locals is Ichi-Umi, located on Research Boulevard. They consistently deliver great service, large portion sizes, and affordable prices. If you don't want to commute to the busier areas like South Congress or Downtown, Ichi-Umi does not disappoint.
Price: $$
Specialties: While their sushi is nothing out of the ordinary, there are a few must-haves on this menu. The honey wasabi sauce is good on just about everything, and the Matsu combo is a large portion of sushi meant for more than one to enjoy for only $45.
9503 Research Blvd #500 | (512) 795-8666 | website | instagram
Best Bang for Your Buck: Ichiban
Ichiban is some of the best sushi in Austin for serving a crowd. While their happy hour is solid and runs Monday-Saturday from 4-6 pm, their regular-priced menu is just as good. The restaurant interior is exactly what you'd expect when dining on Japanese cuisine. In my opinion, it's one of the best options in the city to enjoy without breaking the bank.
Price: $$
Specialties: It's not often that I find a restaurant that serves a delicious bento box and a full sushi menu, but Ichiban checks that box with ease. Served with rice, soup or salad, gyoza, vegetable tempura, and a California roll, if you're hungry, it might be your next order.