CanvasChamp Canvas Print Review 2023
updated 11/2023
You know all those great photos you have from your birthday or from that incredible vacation you took? What about all those adorable pet and baby photos you have? I'm thinking they're probably still just sitting on your phone or on a memory card somewhere forgotten, right? What's the point of having so many photos of all your life's most amazing moments when you're not really even enjoying them? Instead of just hoarding all those great photos you have hiding on hard drives and in the cloud start displaying them instead. But, how? Start turning them into wall art for your home you can finally enjoy.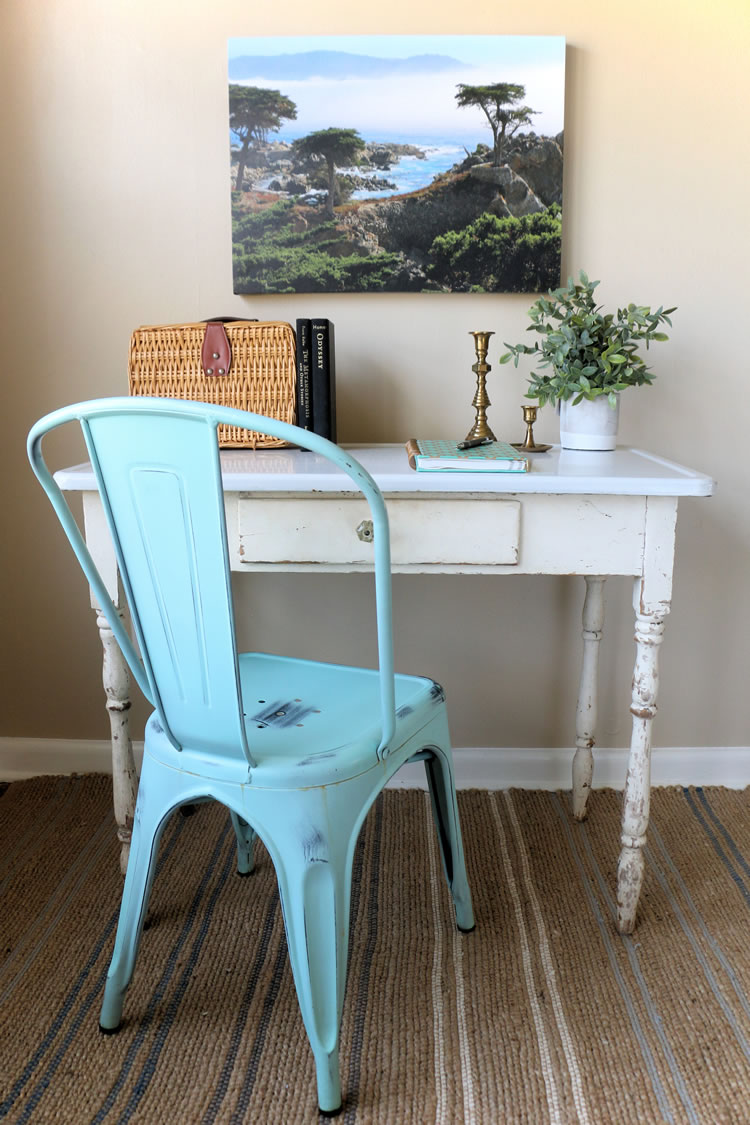 CanvasChamp is a print on demand service where you can turn your amazing collection of digital photos into museum quality gallery-wrapped canvas prints. They've shipped over 2 million prints to date, so they know exactly what they're doing. Perfect for decorating your home or office, CanvasChamp prints are:
Printed with UV-protected latex inks on waterproof hand-stretched canvas.
Available in sizes from 5 x 7 inches to 54 x 54 inches.
Highly customizable.
Made with wooden frames sourced from sustainable pine forests.
Shipped ready to hang with hanging hardware is pre-installed.
Available to print on other products like mugs and pillows!
Guaranteed for LIFE!
To start printing all you have to do is upload your favorite photo (or photos) to start. Then use their fun and easy design tool to style and arrange your print or prints. CanvasChamp has lots of layouts and options to choose making it super fun and easy!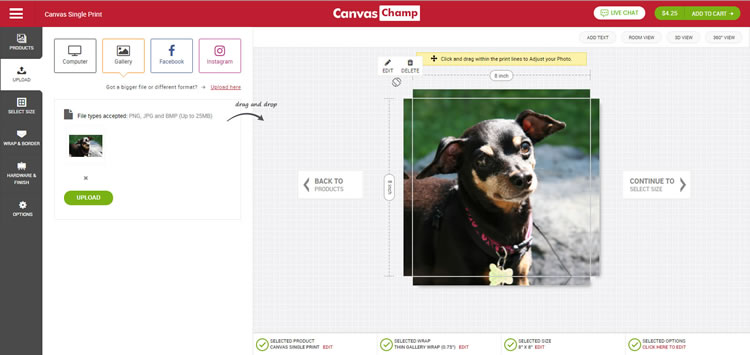 You can keep things simple and print one of your gorgeous photos on a single canvas, or split your picture over several canvases for a creative and high-design vibe.
Have a collection of photos you'd love to display? Create a photo collage highlighting your favorite people, pets places, memories or subjects. You can even add inspiring words, quotes or music lyrics to your piece to personalize your piece even more.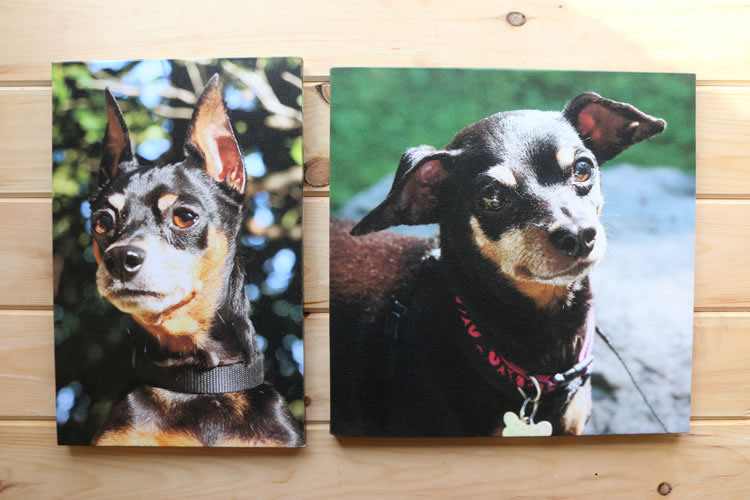 For even more customization, there's photo filters and effects to turn your photos into digital oil paintings or Warhol style pop art. Not sure exactly what you want? Just visit the CanvasChamp Inspiration Gallery for ideas. Once you approve your photo and design, your awesome new printed canvas will ship straight to your door in no time. Hang it on your wall and love it forever!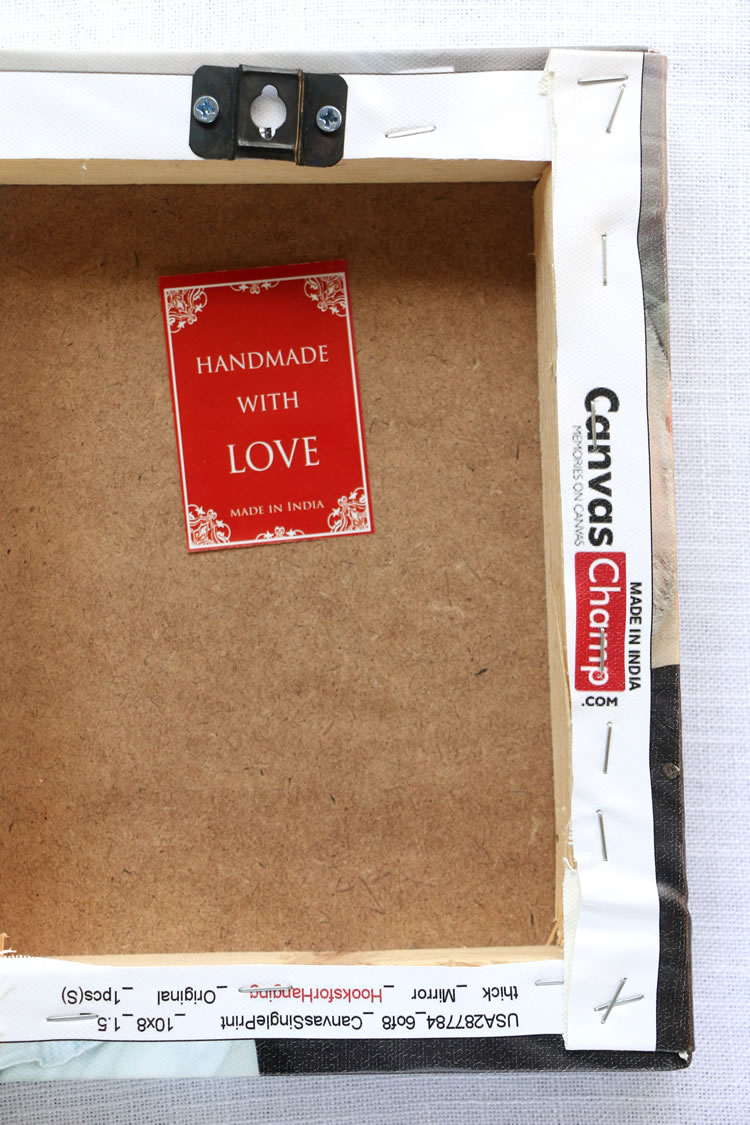 Our prints arrived expertly wrapped and ready to hang with the hardware already included.
CanvasChamp offers thin or thick style gallery wraps depending on your preference and even provides free, basic color finishing too.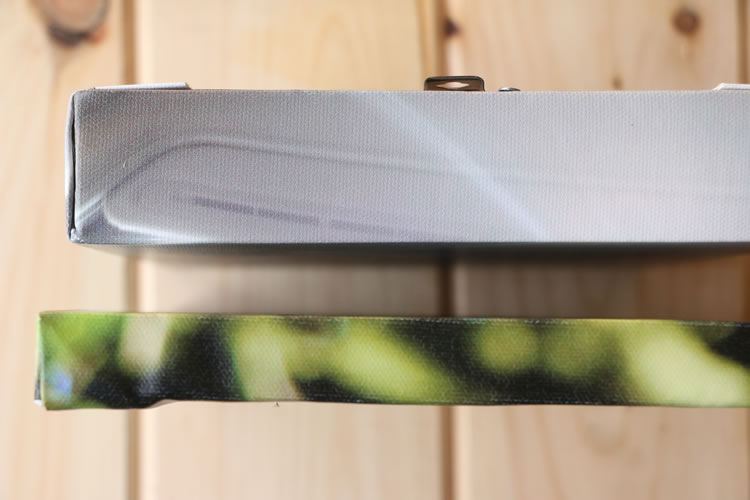 CanvasChamp doesn't only do canvas prints. Besides canvas, they also print on wood, acrylic and metal. They also carry lots of other products for you to print your photos on like calendars, photo books, mugs, pillows, clothing, tote bags and lot more. How fun!
If you've ever looked into printing on canvas before you might be under the impression it's kind of expensive. CanvasChamp has made printing on canvas crazy affordable and is a fraction of what other sites are charging. Their amazing prices always include shipping and there are never any hidden costs you may have found on other websites. If you need help with your order, their customer service is available 24/7 and your canvas is always shipped on the fly.
CanvasChamp Canvas Prints Make Great Gifts
Need an idea for a meaningful gift?  CanvasChamp canvas prints combined with your special photos make unique and thoughtful gifts perfect for birthdays, anniversaries, graduations and holidays like Mother's Day and Father's Day (wink, wink).  You know all those great wedding photos you paid good money for?
Finally print them out with CanvasChamp for the perfect anniversary gift for your significant or to yourself.
For ideas and inspiration check out CanvasChamp's Inspiration Gallery to see how your photos can be brought to life!
Visit CanvasChamp.com to start printing your photos on canvas.