Cities Skylines 2 review | VG247
After years of expansions and DLCs, Colossal Order and Paradox are finally pressing reset on Cities Skylines. For this sort of simulation game, this is a huge moment. These titles aren't so much games as they are platforms for years of content and expansion – and so starting fresh is a very big deal indeed.
To see this content please enable targeting cookies.
Manage cookie settings
Thankfully, Cities Skylines 2 is a smartly-designed and clearly very carefully considered reimagining and retooling of much of what made the first game a beloved heir to the city-building genre. With that said, it's also a game that is clearly the foundation for a platform that'll run for the next decade – with struggles and slight cut-backs that relate to that.
If you're new to the whole shebang, the Skylines series is a descendent of the likes of Cities in Motion and (of course) SimCity; where you're put into the role of a benevolent eye-in-the-sky mayor and let loose to dictate everything about how the city is designed and functioned.
Curiously, this time around there's no major 'scenarios' or story mode – though there's a skill tree where new buildings and features must be unlocked as your city grows, which creates a campaign-like progression. As well as contending with the needs of the city, you'll also need to battle things like natural disasters, extreme weather, and even issues like homelessness. This time around the simulation is deeper and more intricate – though much thought has also been put into making sure that those intricacies don't become frustrating distractions.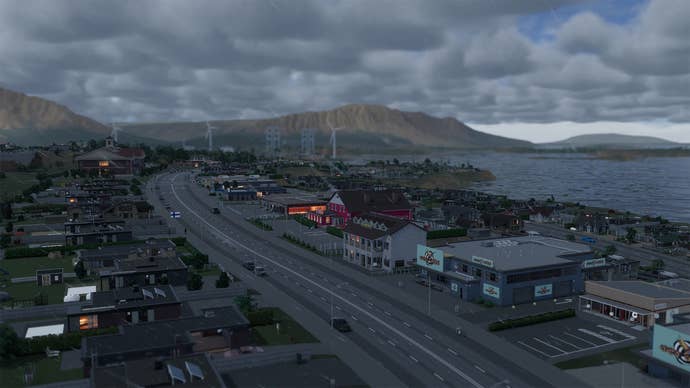 Every cloud. | Image credit: Paradox Interactive
This sort of game is difficult to sum up, but if I were to reach for a single word to define Cities Skylines 2 when compared to its predecessor, I'd go for 'scale'. This is a larger scale, broader, and plainly more ambitious game at every level. It's perhaps most obvious, however, in the game's featured buildings.
By featured buildings, I mean the special, important buildings you place throughout your city – things that provide a specific utility like schools and colleges, police and fire stations, power plants, and so on. Next to none of these things are new (though how Skylines 2 breaks up and transfers utilities has been tweaked, and there are a few new elements that aren't in the first game) – but all of them are larger.
I mean this literally. When you place an oil-fired power plant or a medical university on the map, it's massive. It dwarfs everything. In the previous game, it felt like even the largest and most significant landmarks had a fairly firm upper limit in terms of their potential size. In Skylines 2, placing these buildings feels like more of a true event, and helps to define your city more, because of how much they stand out. Many of these buildings can be expanded, too – made larger to add new functionality or to bolster their existing setup.
The scale feels like it's come from a desire for visual spectacle, for the ability to create cities that more closely resemble the real thing. This leads to new tools for ease of crafting the shape of roads and a realistic city layout, of course. But it also means there's more art for a varied number of buildings. There's a tighter simulation, where you can zoom right in and watch one specific NPC go about their day if you like. Even things like branding has been carefully considered, with hundreds of pastiche brand names and logos featured in the game to pack your cities out with realistic-feeling businesses.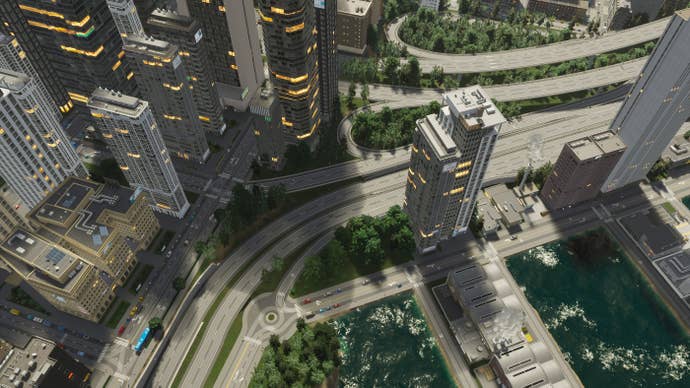 All roads lead to biome(s). | Image credit: Paradox Interactive
All of this creates a curious paradigm: a game that feels much larger, but also more granular. This is also expressed in the city boundaries themselves. Individual tiles that you buy to expand your city's footprint are much smaller, meaning you unlock less ground early on. But as your bank balance balloons, you can aggressively buy tiles en masse and end up with an overall map several times larger than the previous game.
In a similar vein, many systems are more detailed than anything that has come before – while also leaving obvious gaps in their design that'll inevitably be filled by expansions and DLC. It's bigger and smaller, all at once; a TARDIS of a game.
It all feels wildly ambitious, if iterative. But this comes at a cost. Some fans were disappointed at the game's minimum specs, and then doubly disappointed when they were bumped a little higher. The console version has been delayed – presumably because it needs polishing. For better or worse, this is a game that's been built as a platform for the next decade or more. And it's power-hungry as a result.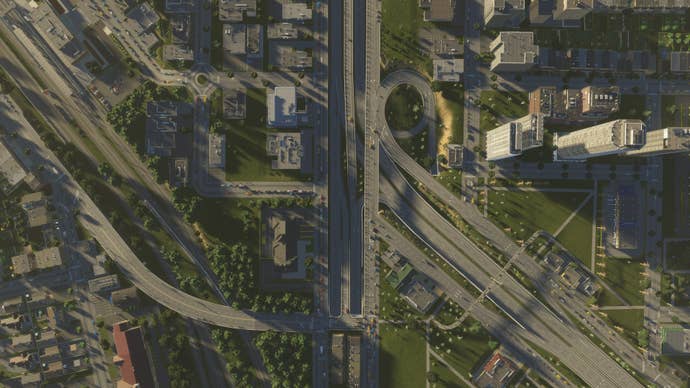 Bigger scale. | Image credit: Paradox Interactive
I played Cities Skylines 2 on something pretty damn close to one of the best possible PCs you can have. An RTX 4090, an i9-13900k, 64GB of memory. It's a beast. It crushes pretty much everything I throw at it. But this pre-release build of Cities Skylines 2, which the developers frantically patched a couple of times during the review period, gave it a serious run for its money. As we move into late October, it's getting chilly here – but I didn't need the radiators turned on in my office with this game running; the PC kept me warm.
Now, I could've turned the settings down for a smoother experience. But what's the point in a rig like this if not to max everything out? Especially on a game like this, where twitch reactions are not required. So I soldiered through with a sub-optimal frame rate and a lot of slowdown (and the odd crash here and there). This stuff is frustrating, obviously – but I also don't view it as the end of the world, because I know I'm in a game like this for the long haul.
Like a new entry in something like The Sims, or like a new Street Fighter, I'm always willing to give a bit of a pass on the opening because I know this is a growing experience. Such is the case here. The plethora of new tools all make a huge difference; building roads and other transit, zoning, and understanding the needs of your city's people in order to satisfy them are all more straightforward and yet offer more granular control than ever before. There's a few tools that I think need some work, (landscaping is confusing and naff) but on the whole, this is a drastically more smooth experience than the original game.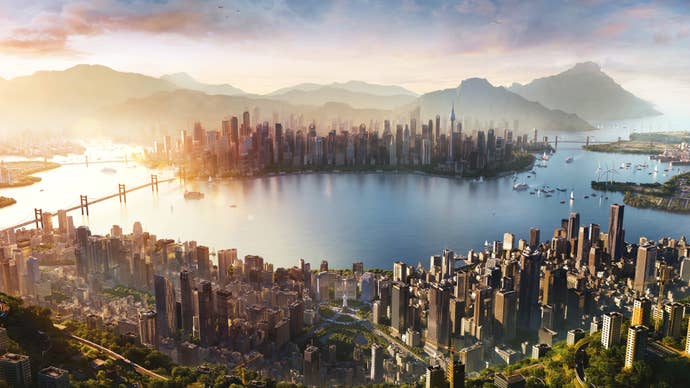 Lake to the party. | Image credit: Paradox Interactive
That, I suppose, is the headline. I have hundreds of hours logged on Cities Skylines, and it was one of my 'comfort' games that I always left installed on my PC to occasionally play; a great de-stresser or hangover day game. The day before writing this review, however, I uninstalled it. It has been superseded and replaced. With some of the new features, the new visual look, the sense of scale, and the quality-of-life improvements – I couldn't go back. It's Skylines 2 from here on out.
The fact that I'm willing to part ways with the original game even in the face of early performance woes and the fact that ultimately Cities Skylines 2 has a fair bit less content than the original, with its oodles of expansion packs and DLCs, says a lot. This is an excellent sequel, and an exciting foundation for what I'm sure will be a bright, addition-packed future. For those with weaker machines or a focus on performance, you may very well want to wait. But in this initial release we can see the foundations of a generational classic. It just might take a few more years to reach that full potential – just like its predecessor.