Cypher 007 is James Bond via Metal Gear Solid – and the best Bond game in decades
Everybody is waiting on Hitman developer IO Interactive's take on fiction's greatest gentleman spy – but James Bond is already beginning his gaming comeback without them in new Apple Arcade title Cypher 007.
Cypher 007, like a lot of Apple Arcade releases, is easily missed. It was relatively quietly announced with a trailer at an Apple event, and then released as part of Apple's gaming subscription just a few weeks later. But I'm here to tell you: it's brilliant. And it may even contain a few clues about what we might expect from IO Interactive's take on the franchise in a few years' time.
To see this content please enable targeting cookies.
Manage cookie settings
Cypher 007 offers a pretty simple pitch: a stealth game with a zoomed-out semi-isometric viewpoint that takes inspiration from classics of the genre like the original Metal Gear Solid. At the same time, it's also a Bond greatest hits package of sorts – while also offering an original story.
This is a mobile game first and foremost, and it's built for the form factor. I've largely been playing it on iPad, but I've also given it a whirl on a controller with the Apple TV. Regardless of if it's a controller or touchscreen, though, it's all relatively simple. Bond can be standing or crouched, can do combat rolls to get out of danger, and equip a range of gadgets and weapons to take the fight to the enemy (or, more likely, distract them).
Bond is quite squishy, so you're gently nudged away from the gung-ho action of blasting waves of enemies off this earth, which has typically been the purview of Bond in video games. Instead, it's a full-fat stealth affair. While you're issued weapons, you're actually only ever incapacitating enemies rather than killing them – possibly for rating friendliness for the game's status as a standard inclusion as part of an Apple Arcade subscription.
Q will issue you gadgets, too, so you can get distractions in the form of gadgets like cufflinks that can be deployed as a tripwire, or a ball that can be tossed that'll bounce and sonically attract enemy attention, and so on. There's actually a lot of content to unlock, and gadgets and weapons can be upgraded – encouraging you to replay levels to find well-hidden or guarded 'Intel' that can be spent on upgrades that'll be basically required for harder difficulty runs.
The name's Bond. Officailly-licensed Bond.
Enemy AI is that good old-fashioned stealth game classic – these guys are dumb. But they're dumb in a prescribed, considered way. They investigate distractions but always return to their set patrol, even if their friends have mysteriously disappeared. Vision cones are always visible to show exactly how far an enemy can see, and which obstacles they can see over or through.
There are no pretensions about realism here; Cypher 007 is a gamey game, with its systems laid bare for you to consider and then interact with. Each level can be carefully unpicked by learning its level and enemy layout. I rather love it for that; and in a way, it rather reminds me of IO's Hitman as much as it does Metal Gear Solid and the like.

Suits you, sir. | Image credit: Apple Arcade
I really enjoy the stealth action, and at anywhere between 10 and 20 minutes each, the levels are bite-sized enough to be played on a phone during a commute, or binged on the sofa.
Each of these levels is linked together by a fairly loose-hanging story that is nevertheless a real treat for Bond fans. Like I said, it's a greatest hits package – even though this game presents an 'original' 007 and Bond universe of sorts.
Bond's key allies, for instance, are a mix of the eras. There's a Judi Dench-esque female M and a black Moneypenny (straight out of Daniel Craig's films), but Q is an older chap, a clear facsimile of the late, great Desmond Llewelyn. Bond's nemesis Bloefeld is the classic evil cat-stroking baldy of the Connery era, rather than Waltz's version.
But then one of the key henchmen Bond will face off against is the traitorous 006, Alec Trevelyan, of GoldenEye fame. Later you'll encounter a classic henchman from Roger Moore's era. Many of the face-offs with Trevelyn happen across locations that feel directly ripped from Spectre, a Daniel Craig movie. Meanwhile, Bond himself looks quite a bit like Roger Moore.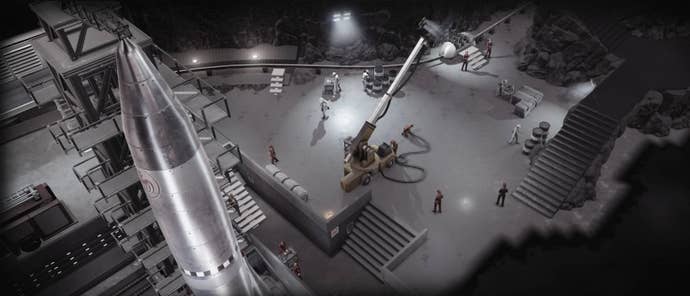 Hired goons? | Image credit: Apple Arcade
It's sort of summed up, in fact, in the arrival to one mission – where Bond lands on the shores of a Japanese island. The island is home to a Spectre base, and is a clear nod to the volcano lair of Connery's You Only Live Twice. But Bond approaches it in the mini-boat that Brosnan piloted in The World is Not Enough.
There's a story justification for all of this, the basic concept being that in a sense Bond is quite literally reliving bits of past missions. There's even the odd vehicle interlude – such as piloting Little Nellie, the tiny helicopter Connery's Bond used. Across the chapters, a minor mystery unravels, but the joy really is more in exploring vaguely familiar story beats and locations within a new framework, sometimes recontextualized.
There's a promise here, too, of more content to come. That referenced directly in Cypher 007's levels and cast is limited to a handful of films, but unlockable clothes and other items hint at a series-spanning ambition. More chapters could be added to mash up other adventures from other eras – and that's rather exciting.


Whoa, nellie! | Image credit: Apple Arcade
It also presents an interesting proposal for where IO Interactive may go in the triple-A console gaming space. Bond's licensing stewards at EON Productions are now clearly okay with the idea of gaming versions of the character spinning out from the main series, but also heartily referencing and drawing from the films and books. We already know IO's Bond will be an original version, and an origin story – but just as interesting as the character of their new Bond might be what familiar elements will be reproduced across his adventure, just like in Cypher 007.
Speculation about the big game shouldn't diminish from Cypher 007's status, though. It's a delightful mobile treat, and certainly the best Bond game in years – probably since 2004's Everything or Nothing. It's well worth the cost of a month's Apple Arcade subscription, and is a game I hope does eventually make its way to other platforms.