Everything We Know, From Leaks To News
We're now more than a decade past the launch of Grand Theft Auto V, and the long-awaited sequel GTA VI still doesn't have an official release date yet. But we're finally learning more about Rockstar Games' eagerly awaited crime sim through official channels.
How Alan Wake 2 Builds Upon The 'Remedy-Verse'
Some of what was uncovered is thanks to a massive leak from September 2022, which provided details on the game's setting, characters, and several other tidbits about what we can expect from the next Grand Theft Auto installment.
Read More: This Massive Possible 'Grand Theft Auto VI' Leak Sure is Looking Legit
Alongside this leaked information, Rockstar Games has also confirmed a small handful of details, most notably when we can expect a trailer for GTA VI—or whatever the studio ends up calling the game. There's a lot to dig through, and some of it is potentially spoiler-y, so read at your discretion. With the preamble out of the way, here's everything we know about what Rockstar is cooking.
Was GTA VI officially announced?
Yes, it sure was.
Rockstar Games officially announced "a new entry in the Grand Theft Auto series" on February 4, 2022 via a post on X, which was known as "Twitter" at the time.
While we're sure Rockstar would've liked to keep news and announcements on the next GTA game to just the announcement above, that didn't happen. Still, before we get to the leaky stuff, let's wrap with what else we've learned from official sources.
Are there GTA VI trailers or official screenshots?
No to the first part, and kinda to the second. The images currently floating around the internet are all leaked screenshots pulled from the various bits of gameplay revealed in the September 2022 leak.
But a trailer is on its way. Bloomberg reported—and Rockstar Games confirmed on November 8—that our first look at the much-anticipated game will drop in "early December," just in time for the studio's 25th anniversary. That said, there is still a lot about the game that we don't know, like what platforms it'll be playable on or whether it'll actually be titled Grand Theft Auto VI. December's right around the corner, though, so we'll undoubtedly find out soon enough.
When is GTA VI expected to come out?
2024 could be a likely release window for the game we're referring to as GTA VI. How do we know this? Well the most reputable piece of information comes from Take-Two, the game's publisher.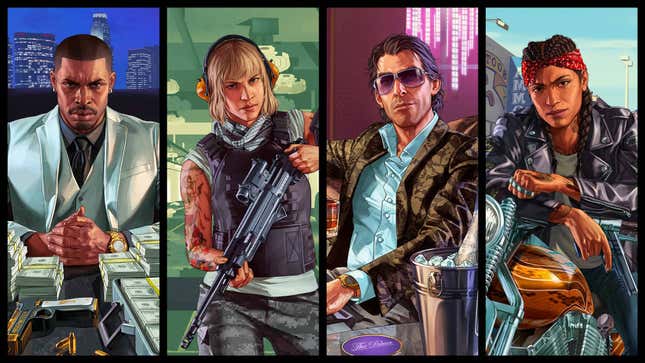 Image: Rockstar Games
Back in May of this year, Take-Two said it expects to earn some beaucoup bucks in 2024, specifically $8 billion (with a "B"). That's a lot of money, and while GTA Online continues to do well for the company, the company's most recent fiscal year only brought in $5 billion. So what would lead to additional bookings? Well, a new GTA certainly would. Take-Two that for what you will.
Read More: Mysterious New GTA Online Shirt Has Fans Convinced Rockstar Is Teasing GTA VI
Further information came from the epic saga of Microsoft acquiring Activision. On page 24 of Microsoft's 2022 response to the UK's Competition and Markets Authority (CMA) , the company indicated that "Grand Theft Auto VI is expected to be released in 2024." In that document, Microsoft cites a piece by TechRadar as the source for that info, to be fair.
That's about all the official info, so let's get into what those salacious leaks taught us last year and some loose speculation based on what was seen. Be warned, if you want to wait for the first official reveal of the game or the game itself, stop reading now and instead peruse some of our other fine gaming articles.

Okay, it's just us now. But look, while I'll share what's known about the leaks, I ain't gonna be sharing actual footage, as Rockstar wasn't really too thrilled with that stuff leaking out everywhere. But, you know, there's always Google, DuckDuckGo, or, uh, Bing?
What city is GTA VI set in?
I hope you're in the mood to go to Florida—relax, this is a fictional version where maybe it's not illegal for me to exist (though who knows with this *** company). The next Grand Theft Auto game will be set in the series' take on Miami: Vice City. And based on what's been seen, it might have a pretty big map, too.
How do we know this? Well the leaked screenshots not only showed off very Florida-lookin' scenery, but in at least one of them we can literally see the city's name on a train car.
Grand Theft Auto most recently went back to Vice City with the PlayStation Portable title Grand Theft Auto: Vice City Stories, which was based on the map as it existed in the '80s-themed Grand Theft Auto: Vice City, which starred Ray Liotta as Tommy Vercetti.
Rockstar Games / MichepBRO
Don't expect the maps to be identical. For one, the old-school Vice City layout was limited by what was possible on the PlayStation 2 and PSP, and starting with Grand Theft Auto IV, the series moved onto a different universe entirely, one that keeps the location names but features different characters and historical events.
That said, as was exhibited with GTA V, Rockstar did include iconic locations from San Andreas in the "HD" universe, such as San Andreas' Grove Street, so it wouldn't be out of character for the new Vice City to include a few nods to the old map. Some fans have even gathered likely returning locations based on the leaked footage, which might include spots like Malibu Club, South Beach, and Redhill Forest, to name a few.
Who are the main characters in GTA VI?
While we don't know their names, the leaks and reporting from Bloomberg indicate that GTA VI will star a crime duo this time around, a white guy and a Latina woman who seem to be inspired by real-life, Great-Depression-era criminals Bonnie and Clyde. Similar to in GTA V, leaked footage suggests you'll use the d-pad to swap between them.
So yeah, we'll be able to play a violent, mass-murdering girl boss this time around—go feminism!
Technically speaking, GTA VI won't be the first game with a playable woman. But as you can imagine, the internet responded to news of a chick being in GTA VI as you'd expect it to.
And while apparently the game will be more culturally sensitive, a non-sexist GTA game is about as likely to exist as the Easter Bunny (don't email me with your theories and grainy pics from that one Easter Sunday when you swear you saw the ***).
GTA VI gameplay details and other neat tidbits
Last year's leaks were no joke. We learned that the game will star at least two playable protagonists, will be set in Vice City, and roughly how far along the game is likely to be in development, but there's more.
Based on some videos from the leaks, it's clear that GTA VI will feature gameplay very similar to what's come before, we've even got some hints about the possible random events. How these will manifest and unfold in the game is anyone's guess right now, but event names such as "DUI Test," "Scarface Crime Scene," "UFO Animal House," "Voice in a storm drain," "warehouse *** robots," and (of course) "fishing" have all been spotted in the leaks.
The leaks also indicate the presence of a number of GTA staples, and some new additions. There will be night life activities like visiting strip clubs, chances to enjoy nature via scuba diving, driveable airboats, and animals to encounter such as dogs, alligators, and raccoons. The leaks also suggest more dynamic interactions with police, with game prompts that seem to indicate that you'll need to be more mindful of what vehicle you're driving while evading the cops.
Read More: Game Ad Using Leaked GTA VI Footage Gets Purged From Internet By Take-Two
Also, it seems you won't be pulling guns out of an infinite pocket-of-holding any longer, as characters will more naturally carry firearms via slings. You also might be able to drop weapons, which as Halo Infinite demonstrated (before it was patched to match the speed of weapon swapping), can be a neat, potentially faster way to discard empty guns instead of swapping them out for another weapon.
Characters are also able to drop prone in the leaked footage. That would be new to GTA, and as The Last of Us: Part II demonstrates particularly well, is a great addition to a third-person shooter, allowing for more dynamic and unexpected actions, maneuverability, and shootouts (and potentially more accurate aim, based on standard video game logic).
Will GTA VI get DLC in the future?
Rockstar has yet to comment on possible expansions for the next Grand Theft Auto. However, the topic has been a popular area of rumor and speculation. For instance, on the GTAForums fan page, notable Grand Theft Auto leaker Tez2 claims Rockstar will drop new single-player story content for the next GTA in an episodic fashion over the course of the game's lifecycle, instead of one-off DLC releases like the studio has done with GTA IV or RDR. This, Tez2 speculates, will help reduce worker crunch, something Rockstar Games has been cleaning up for a while, as Bloomberg reported in July 2022.
It's fair to assume the studio wants people playing the next Grand Theft Auto for a long time, though what form ongoing support will take is still up in the air.
And that's about everything we know about the next Grand Theft Auto game, based on both official and leaked information. What potential aspects are you most excited about?
Update, 11/17/23 12:50 p.m. ET: Updated a section regarding the trailer announcement, which Rockstar Games confirmed on November 8, and added a new section about the likelihood of the game getting DLC in the future.