Halloween Invades 'Vampire Survivors' Thanks to a "Secret" Cheat Code – TouchArcade
Today is Halloween, a day when all things spooky and scary are welcome. It's also a day to celebrate some of the classic monsters from throughout history, like werewolves, mummies, and… vampires. So it makes sense that a game with vampires in its title would want to celebrate the occasion, and that's just what Poncle is doing with their megahit Vampire Survivors. Except they're doing it in a way I wouldn't expect, actually giving players a way to play with no vampires at all. This is not a new trick, and in fact it was added to the PC version in time for Halloween last year, but since the mobile version had been running behind the PC version it didn't include this feature until the 1.3 update came to mobile this past February. So now us mobile players can officially celebrate Halloween in Vampire Survivors on actual Halloween.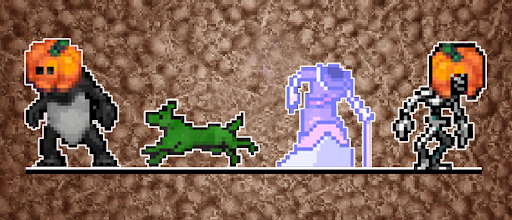 To do this, just head to the spell menu and enter the spell "spoopyseason" to unlock a variety of Halloween themed costumes for Mortaccio, Yatta Cavallo, Bianca Ramba, and O'Sole Meeo. The code also promises to provide "Absolutely 0 vampires." I don't know if I trust them on that. Anyway, if you're planning on playing some Vampire Survivors then you might as well get into the holiday mood using this very secret cheat code to unlock some Halloween goodies while you play. And of course this is all in addition to the huge Whiteout update that hit the game just a couple of weeks ago.