Hayao Miyazaki Isn't Retiring From Making Studio Ghibli Movies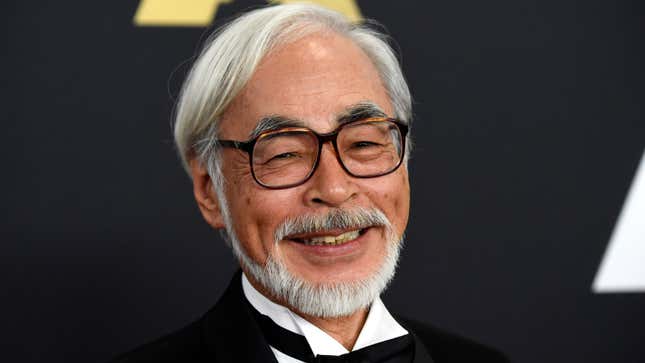 Photo: Frazer Harrison (Getty Images)
Contrary to popular belief, How Do You Live? (aka The Boy and the Heron) will no longer be Studio Ghibli director Hayao Miyazaki's final film.
The Week In Games: High On Witchcraft
In a recent red carpet interview at the Toronto International Film Festival, Studio Ghibli vice president Junichi Nishioka told CBC reporter Eli Glasner that the iconic director has been coming into the office with new movie ideas following The Boy and the Heron's international release. This news comes after years of Studio Ghibli never releasing a single trailer to promote Miyazaki's final film, sharing only the title and a single poster in the run-up to release, and operating on the intriguing premise of it being Miyazaki's final animated movie.
"Other people say that this might be [Miyazaki's] last film, but he doesn't feel that way at all," Nishioka told the CBC. "He is currently working on ideas for a new film. He comes into his office every day and does that. This time, he's not going to announce his retirement at all. He's continuing working just as he has always done."
Read More: Studio Ghibli's Final Miyazaki Film Opens Huge Despite Zero Marketing
As longtime Ghibli watchers may recall, Miyazaki's previous, supposed "final" films were 2013's The Wind Rises and then 2018's animated short film Boro the Caterpillar. Yet here we are today, tricked once more by this master of fake retirement.

According to Anime News Network, How Do You Live? is about a boy named Mahito Maki who, after the death of his mother in the firebombings of Tokyo during World War II, moves with his father to the countryside. Things take a dramatic turn for Mahito when his father remarries his mother's pregnant sister. It's here that Mahito meets a talking heron who promises him that he can see his mother again if he follows him into another mysterious world, one which critics are praising for its visual inventiveness and stunning animation.
If you're still planning on going into Miyazaki's latest "final film" without any knowledge of what the film looks like, I suggest you don't click on the trailer below. I'm told it's pretty sweet—like worth paying $300 to snag the final movie ticket on Ticketmaster kinda sweet.
GKIDS Films
Personally, I'm gonna opt to not watch the trailer because I wanna watch How Do You Live? with fresh eyes. If Japanese audiences could do it, why can't we?