Hot Cocktail Recipe: Scottish Coffee
On a cold winter's night there's nothing like a hot and boozy cocktail to help you wind down and warm your bones. A popular one for many is the Irish Coffee. It's one of my favorites too, but lately I've been making a similar version inspired by their whisky loving neighbors located just across the North Channel. Yes, I'm talking about Scotland, and we're calling this cocktail a Scottish Coffee.
What's the Difference Between Scottish and Irish Coffee?
Scottish and Irish coffee are both hot drinks that mix coffee, whiskey, and cream, but they differ in the kind of whiskey, sugar, and cream they use.
Scottish coffee uses Scotch whisky, brown sugar, and lightly whipped heavy cream.
Irish coffee uses Irish whiskey, granulated sugar or sugar cubes, and fresh cream that can be whipped or unwhipped. Get the famous, Buena Vista Irish Coffee recipe.
They also have different origins: Irish coffee was invented by chef Joe Sheridan in Ireland in 1942, while Scottish coffee was based on the Irish version but used Scotch whisky instead.
How is Scotch Different from Irish Whiskey?
This Scottish Coffee recipe uses almost all the same ingredients as Irish coffee, except we shake things up a bit by using Scotch whisky instead of the Irish stuff. Make no mistake though, they're not the same and the Scottish take their most popular export and national drink very seriously. A Scotch Whisky can only be labeled as such if it is produced at a distillery in Scotland under a series of strict rules and regulations. It also must be bottled at a minimum of 40% ABV and aged for a minimum of 3 years.
Also known and referred to singularly as Scotch, for this recipe we recommend going with an unpeated version. If you're new to the world of Scotch Whisky (you drop the 'e' in whisky when you're in Scotland), unpeated whiskies are enjoyed because of their clean smooth flavor. Peated whiskies on the other hand, are whiskies that are produced to embody a smokiness in a variety of strengths in addition to their other flavor profiles. While this style of whisky first made popular in Scotland is loved by many, this recipe is best made with an unpeated Scotch. The label should be able to guide you.
What Scottish Whisky Should You Use in Scottish Coffee
Nicely balanced with flavor notes of toffee, vanilla, and malt, we found that Bruichladdich's Classic Laddie Scotch Whisky ($65) is a perfect choice for this recipe. With a gorgeous deep golden-caramel color derived entirely from maturing in a variety of cask types, The Classic Laddie is made with 100% Scottish barley and triple distilled (no caramel color added as other distilleries often do).
Give this one a try even if you think you don't like Scotch. The Classic Laddie is a wonderful spirit for anyone who's just beginning to explore the world of Scotch whisky.  You may be surprised at how lovely and drinkable it really is. And even without the coffee, sugar, and cream, it's a wonderful Scotch to sip a wee bit and warm up on a cold evening. And warm up you it will.
If you'd love to give it a taste (and we suggest you do), click the link here to have it shipped to your door from ReserveBar.
Which Coffee Should You Use in Scottish Coffee
For this recipe you can use any hot brewed coffee that you enjoy. A smooth medium roast coffee is what we recommend for the best all around flavor. Many coffee lovers around the world that are serious about their beans recommend using French Press to make the best coffee. Not only is a French Press a convenient way to make fresh coffee in smaller servings but it's also incredibly delicious.
To make French Press coffee you place coarse ground coffee (preferably from fresh ground beans) steeped in hot water in a French Press carafe, and then essentially steeped instead of brewed like a traditional coffee maker would do. Since the coffee grounds are essentially steeped in hot water instead of being filtered out, all the flavors and oils from the beans are left intact and get delivered right to your cup for the most delightful coffee drinking experience. If you don't have a French Press, but would like one, they're pretty inexpensive and you can usually find them for $25 or less.
What are the Ingredients for Scottish Coffee?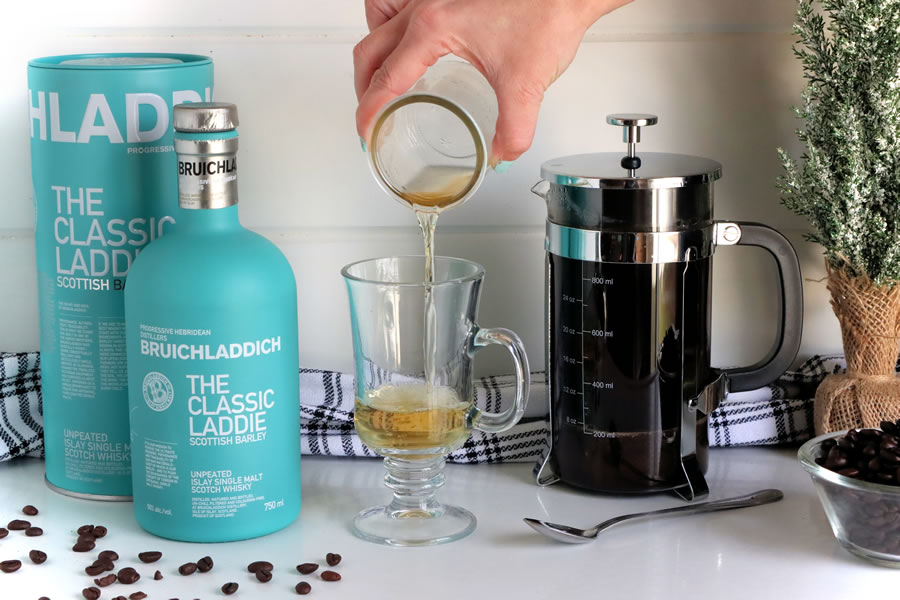 Scotch Whisky: For this recipe we suggest a smooth Scotch whisky like Bruichladdich The Classic Laddie Single Malt Scotch Whisky. Distilled on the isle of Islay in Scotland, this artisanal, smooth, unpeated scotch whisky with notes of malt and vanilla is the perfect choice for your Scottish Coffee. You can purchase it here through ReserveBar. 
Brown Sugar: For a bit of sweetness with a warm hint of molasses.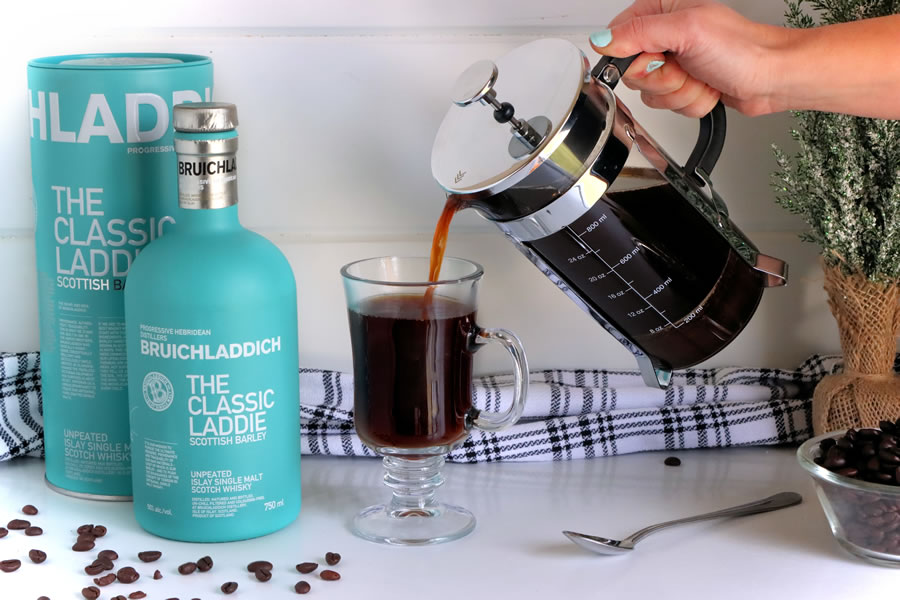 Hot Brewed Coffee: We love the results using a French Press with freshly ground beans, but coffee brewed traditionally would be just fine. A medium or light roast coffee would work best.
Warm Milk: This is optional, but if you typically take cream or milk in your coffee this is the way to go. Of course you're always welcome to use the dairy-free milk of your choice like coconut, cashew, oat or almond.
Fresh Whipped Cream: Time for the big finale! Fresh whipped cream not only looks impressive, it's also an important part of the experience. Again, opt for dairy-free whipped cream if that's your preference.
To serve, slowly spoon the whipped cream into the glass so it floats gently on top of the coffee. But don't stir it! Sip the coffee through the whipped cream as is slowly gradually melts into your glass.
Now kick back, relax and enjoy your Scottish Coffee!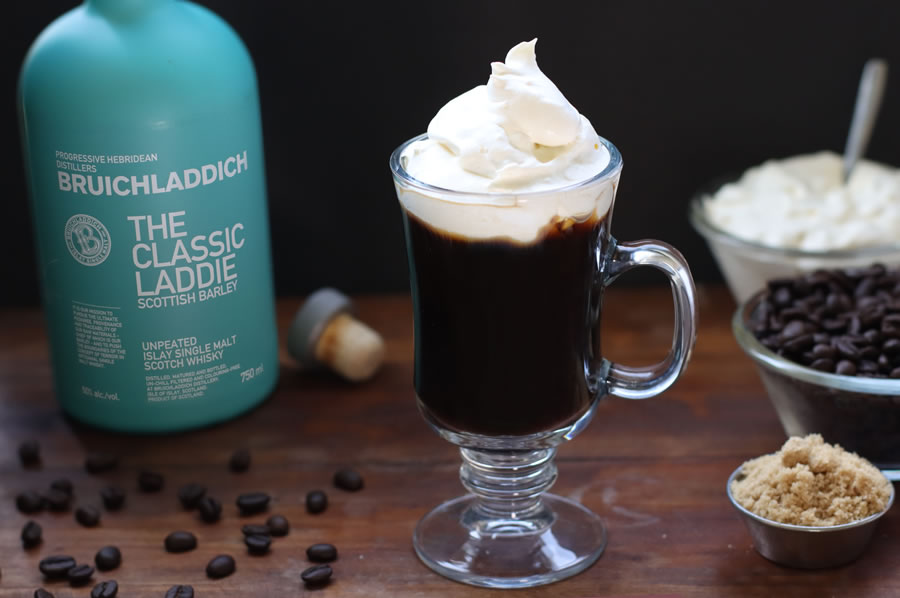 GET THE RECIPE!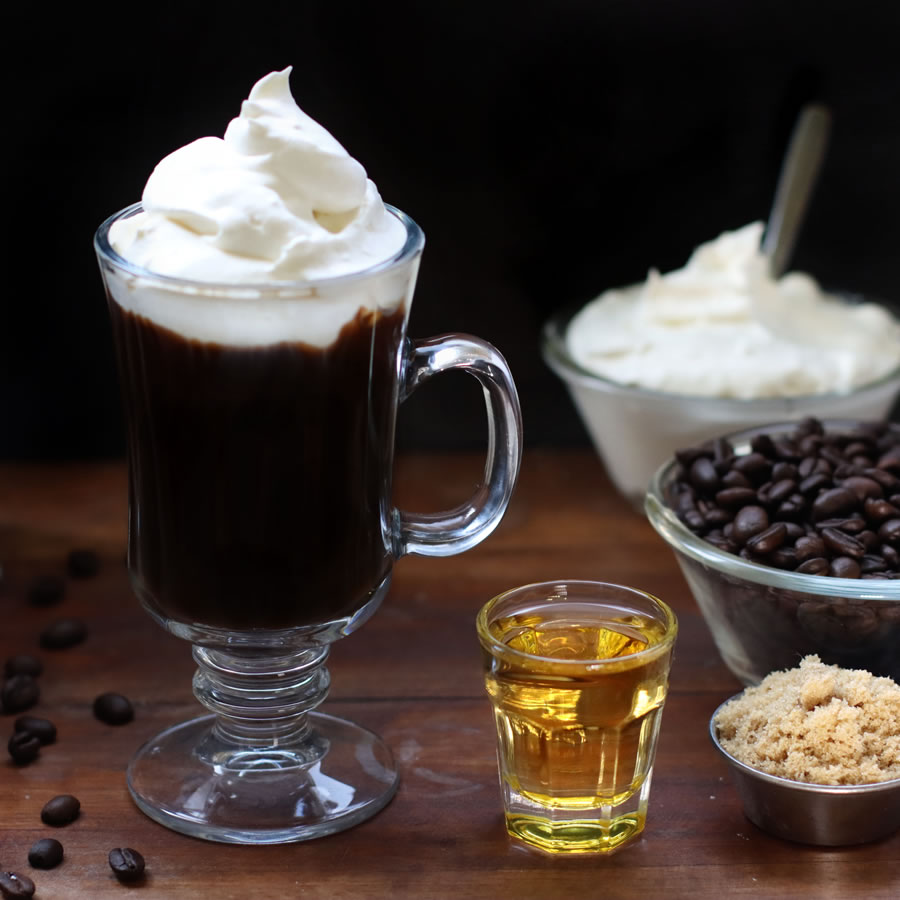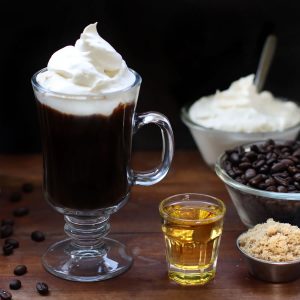 Scottish Coffee
A Scottish twist on the Irish Coffee, this warming and delicious after dinner drink is made with hot brewed coffee, Scotch whisky, brown sugar, and topped with fresh whipped cream.
DIRECTIONS 
To an 8 ounce glass mug, add 1.5 ounces of the Bruichladdich Classic Laddie Scotch Whiskey.
Next, add the brown sugar.
Top with hot coffee and give it a stir.
OPTIONAL: Add warmed milk if desired.
Top with a dollop of whipped cream.
Enjoy responsibly!
Keyword coffee, coffee drink, scottish coffee
About The Bruichladdich Distillery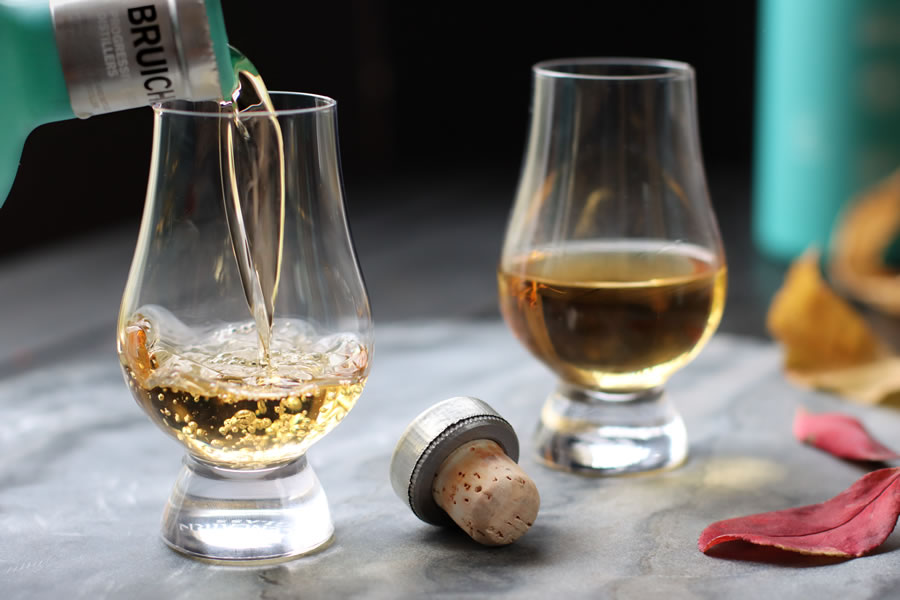 Located in the Scottish Isles on the small island of Islay (pronounced "EYE-luh") Bruichladdich, originally established in 1881 is today a distillery known for its experimentation with recipes and processes. They currently produce 4 unique spirits all bottled on site, offering both unpeated (smooth) and peated (smokey) single malt Scotch whiskeys.
You can visit Bruichladdich to learn more about their amazing process, people and passion for their Scotch whisky.
See our post Exploring the Finest Scotch Whiskeys with Bruichladdich