How to Get Rid of Textured Skin: A Routine
How to Get Rid of Textured Skin: A Routine
Written by: Matigan King
|
Published on: October 20, 2022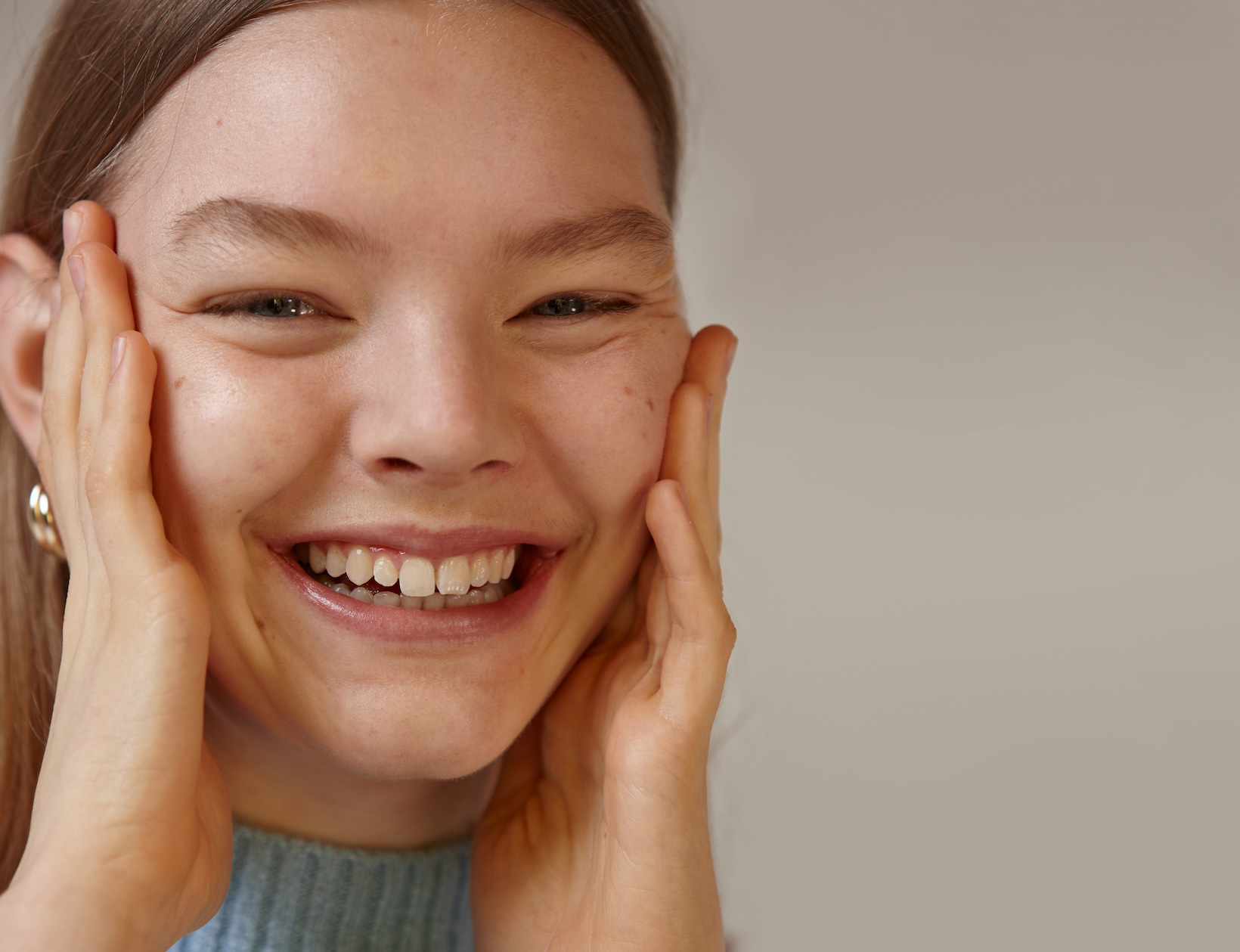 Photo courtesy of Louise Samuelsen/The Licensing Project
From sun damage to smoking to acne scars, any number of factors can cause skin texture to roughen. But the right routine—no matter your age or skin type—can make a very noticeable difference in the way your skin looks and feels. Stick to your routine and the benefits will compound over time for smooth, practically poreless, glowing skin that just gets better and better.
1
Exfoliate
Dead skin cells naturally accumulate, especially as we age (when we're young, our skin cells turn over faster), contributing to a duller, drier complexion and more easily clogged pores. Regularly sweeping them away—along with dirt, makeup, and oil—leaves anyone's skin softer, smoother, and glowier. Done regularly, it can also help combat the thinning of skin that can happen with time.
Every Night
The potent time-released AHA complex and velvety, moisturizing "desert milk" in this luxurious serum make it gentle enough to use each night yet powerful enough for (seriously) noticeable results.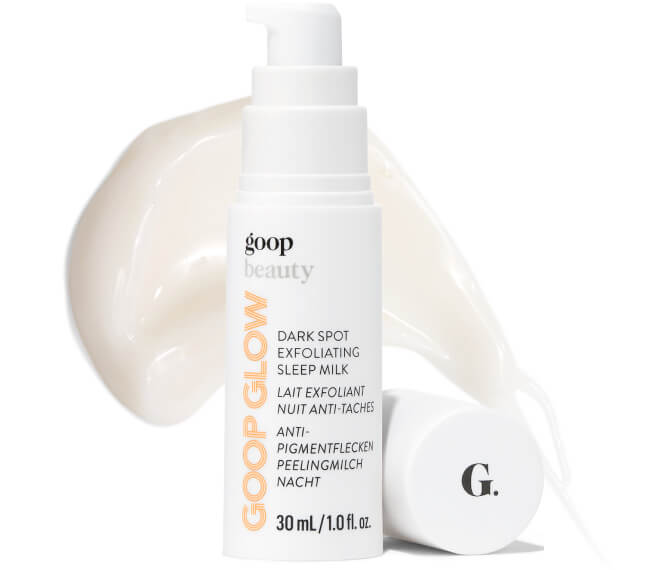 goop Beauty
GOOPGLOW Dark Spot Exfoliating Sleep Milk
goop, $98/$89 with subscription
SHOP NOW
Every Day
An exfoliating cleanser that's gentle enough to use several times a day, this bouncy jelly leaves any skin type hydrated and luminous.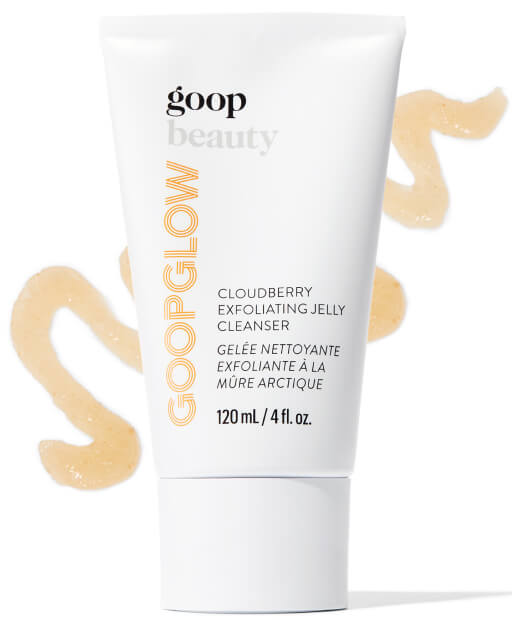 goop Beauty
GOOPGLOW Cloudberry Exfoliating Jelly Cleanser
goop, $35/$25 with subscription
SHOP NOW
2 – 4 Times a Week
This cushiony chemical and physical exfoliator uses retexturing microminerals and glycolic acid to smooth, brighten, and soften skin for a noticeably brighter, glowy complexion.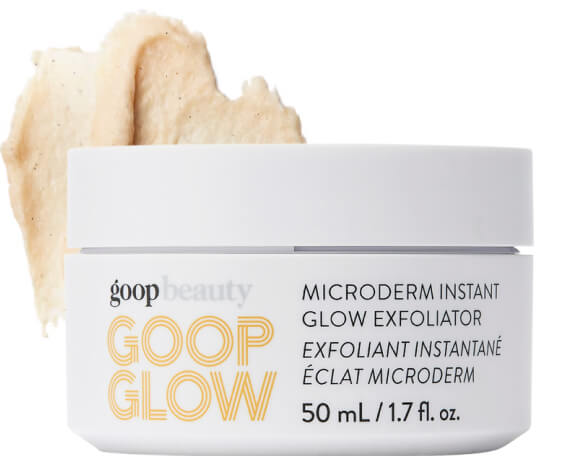 goop Beauty
GOOPGLOW Microderm Instant Glow Exfoliator
goop, $125/$112 with subscription
SHOP NOW
Once a Week
Swipe on before bed—these peel pads are made with powerful levels of super exfoliating glycolic acid and potent fruit extracts that leave skin looking softer, radiant, and more even—for a glow that lasts all week.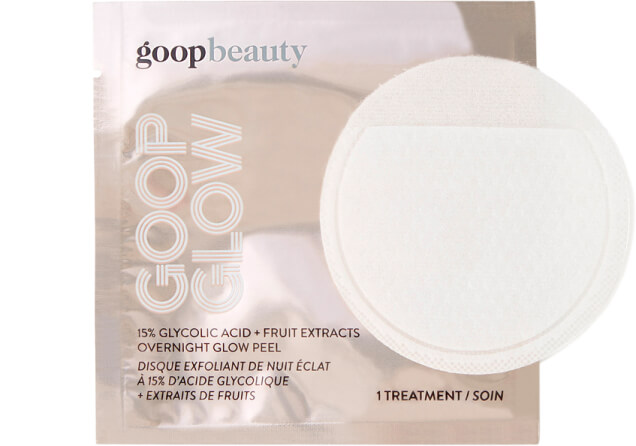 goop Beauty
GOOPGLOW 15% Glycolic Acid Overnight Glow Peel
goop, $125/$112 with subscription
SHOP NOW
2
Vitamin C
This skin hero antioxidant helps fight free radicals—damaging particles from the sun, air pollution, and other environmental factors—and can help even skin tone, smooth texture, and boost glow.
Topical
You activate this pure vitamin C powder with water, serum, moisturizer, or even SPF cream right before you use it, so it's got an indefinite shelf life. It also travels like a dream (no spills) and delivers remarkable results on skin.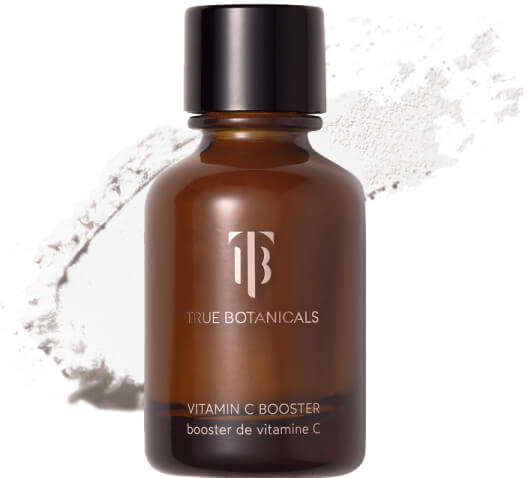 True Botanicals
Vitamin C Booster
goop, $90
SHOP NOW
Oral
Mix this citrusy antioxidant power shot of nutrients with water in the mornings for skin care you can drink. It nourishes with skin-loving CoQ10, vitamins C and E, protective grape-seed proanthocyanidins, and oxidative-stress-fighting carotenoids.*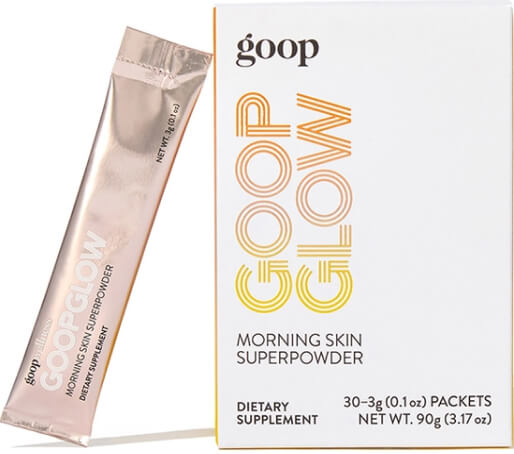 goop Beauty
GOOPGLOW Morning Skin Superpowder
goop, $60/$55 with subscription
SHOP NOW
3
Moisturize
Moisturizer makes skin look and feel better on contact: It plumps, smooths, and freshens instantly. Add skin-loving active ingredients like bakuchiol, peptides, antioxidants, ceramides, and potent plant extracts for long-term results.
From a Top Dermatologist
Intensive superhydrators like olive oil, hyaluronic acid, and soothing purslane combine with plumping algae, fatty acids, and science-backed peptides in this brightening, retexturing cream.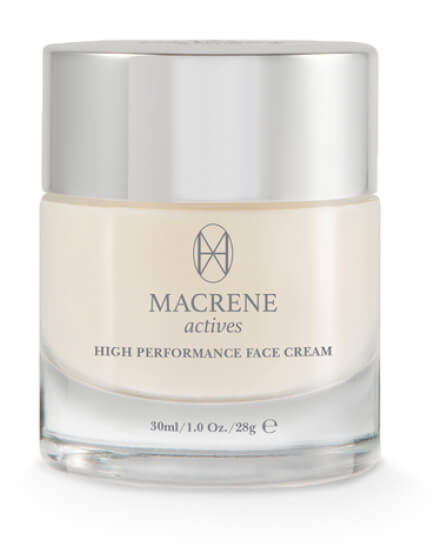 MACRENE actives
High Performance Face Cream
goop, $225
SHOP NOW
Amazing Clinical Results
Firming peptides combine in this clinically tested supercream with ultrahydrating ceramides, moisturizing squalane, and active botanicals. It leaves skin looking dewy, firm, soft, and supple right away and smooths the look of wrinkles, firms, and boosts for youthful-looking skin over time.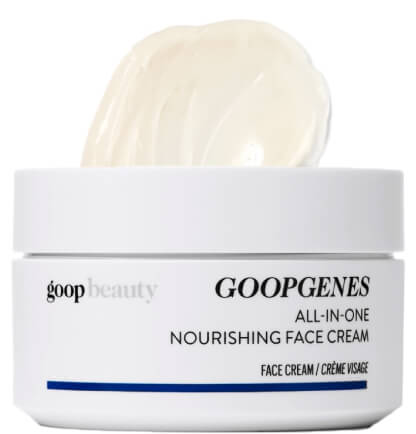 goop Beauty
GOOPGENES All-in-One Nourishing Face Cream
goop, $98/$86 with subscription
SHOP NOW
With Bakuchiol
Bakuchiol, a wildly effective plant-based retinol alternative, and hydrating fermented sugars help firm, moisturize, and improve elasticity and texture.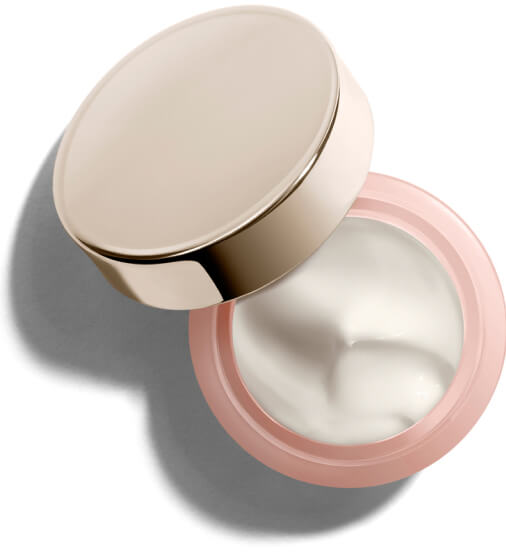 Beautycounter
Countertime Tetrapeptide Supreme Cream
goop, $98
SHOP NOW
4
Light Therapy
This common tool in the dermatologist's arsenal has made its way out of the office and into our homes—and our skin is definitely the better for it. Depending on the light's wavelength, it can help soothe, protect, clarify, improve texture, smooth wrinkles, and support healthy collagen production. While at-home versions are less powerful than the in-office ones, consistency delivers noticeable benefits long-term.
Near-Infrared Light
The LYMA laser's near-infrared light technology penetrates to the skin's deepest layers, helping stimulate collagen, elastin, and protein production for results—smoother, softer, firmer, more youthful-looking skin—that are pretty hard to believe.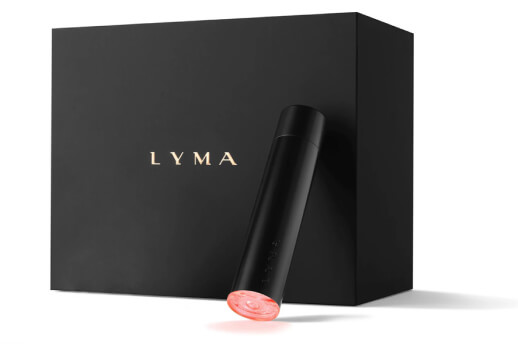 LYMA
LYMA Laser Starter Kit
goop, $2,700
SHOP NOW
Red Light
This multitasking wand combines vibrating facial massage, warmth, microcurrent, and red-light therapy for a luxurious at-home, all-in-one skin treatment.

SolaWave
SolaWave Wand
goop, $149
SHOP NOW
Red and Blue Light
Red and blue light work together in this incredibly convenient (wear it every day for three minutes), perfect-for-all-skin-types mask to help soothe, rejuvenate, and retexture.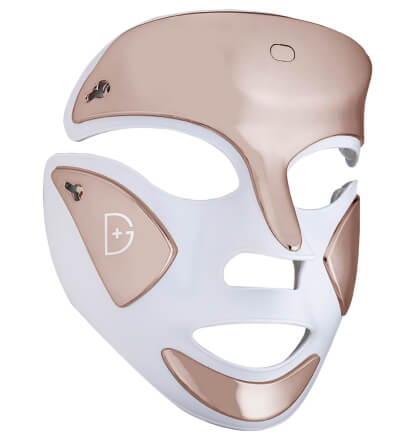 Dr. Dennis Gross
DRx SpectraLite FaceWare Pro
goop, $435
SHOP NOW
5
Sunscreen
Sun exposure is the biggest culprit when it comes to textured, uneven skin. "Sunscreen is the best wrinkle cream anyone's ever discovered—so far, anyway," says goop executive beauty director Jean Godfrey-June. Wear it every day for your smoothest, healthiest-looking skin.
Moisturizer
Plumping squalane, pea peptides, and antioxidant-rich green tea and chebula extracts help to firm, smooth, and fortify skin in this silky, MADE SAFE–certified mineral sunscreen that's tinted for easy blending.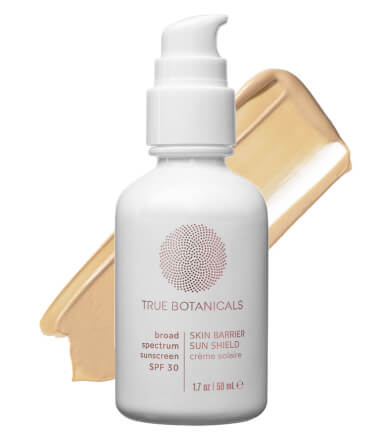 True Botanicals
Skin Barrier Sun Shield SPF 30
goop, $65
SHOP NOW
Serum
This non-nano zinc oxide sunscreen feels more like a luxurious, moisturizing face oil (it's made with nourishing moringa, raspberry seed, and avocado oils) and includes a proprietary algal blend to soothe and fortify skin.

MARA
Algae + Zinc Sea Kale Sunscreen Serum
goop, $52
SHOP NOW
Lotion
This beautiful everyday sunscreen—made with moisturizing aloe and shea butter—sinks right into skin (a subtle tint makes it easy) and is gorgeous on its own or under makeup.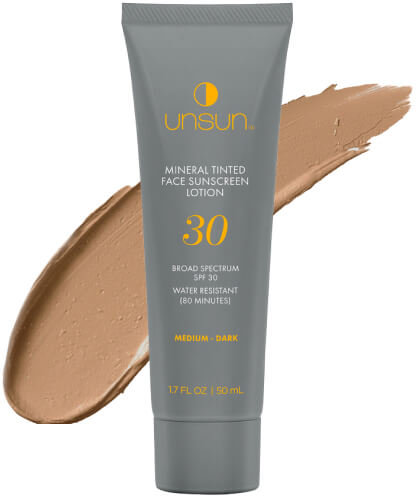 Unsun
Mineral Tinted Face Sunscreen
goop, $29
SHOP NOW
Shop All Clean Beauty
Related Reading
A Clean Skin Routine for Morning and Night
Is This What (Almost) 50 Looks Like?
5 Clean Beauty Essentials That Are Amazing for Aging Skin