Is Honkai Star Rail's fried chicken crossover worth a trip to Bristol?

Bristol is unlikely to be the focus of a gaming news story. Not unless they do another Wallace & Gromit game, or something. So imagine our surprise when the news hit last week that Honkai: Star Rail, the turn based gacha mega-hit from the same stable as the unstoppable Genshin Impact, was doing a promotional meal deal with… Miss Millie's. A fried chicken chain that barely exists outside of the city. Of the handful of franchises it has outside of the South West, only two are participating in the promotion.
To see this content please enable targeting cookies.
Manage cookie settings
We headed to two Bristol locations in order to check out the Miss Millie's promoWatch on YouTube

So, if you're lucky enough to live in Bristol, Wellington (near Taunton), Eastbourne, or Southampton, you can head over to Millie's and order two "Astral Express Megabite Meals" to qualify for two holographic tickets that grant special in-game items, plus a special promotional standee that's about six inches high and features the game's chief characters, Dan Heng and March 7th, loitering in a generic fast food shop and eating some Assorted Grub. We're assuming they have to keep it vague because this same material has to work in Miss Millies, Dominos in France, and even Wendy's in Japan.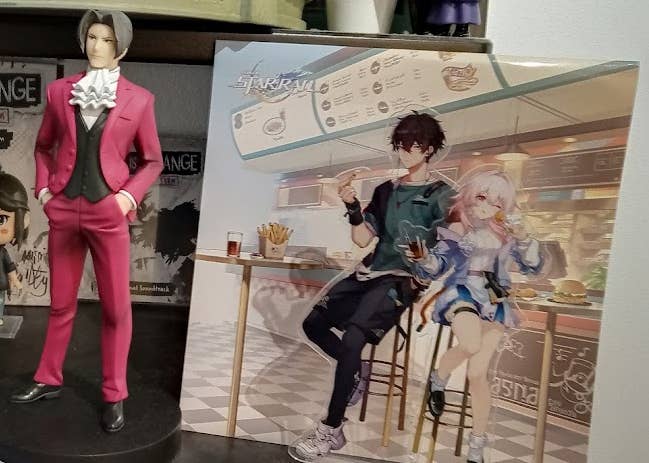 Here's the standee, with Edgeworth for scale. | Image credit: VG247

Yes, Dominos and Wendy's, those fast food giants whose reach and market penetration make them a fitting match for one of the biggest F2P games of all time. It's extra baffling, then, that Miss Millies has managed to nab this promotion in the UK. An institution in Bristol, but probably less well known than Chicken Cottage generally.

So, is it worth the trip for those of you unfortunate enough to not live in the jewel of the South West? Well, the food certainly isn't. What you'll get for your money is a mid as hell chicken burger, rubbish chicken shop fries, and a dessert that's basically a tub of school canteen ice scream. Is the merch worth it? Uh, no. It's a tiny, cheap piece of printed plastic and a couple of item codes printed on nice paper. Unless your Honkai devotion is such that you must have every piece of merch, it's a bit underwhelming.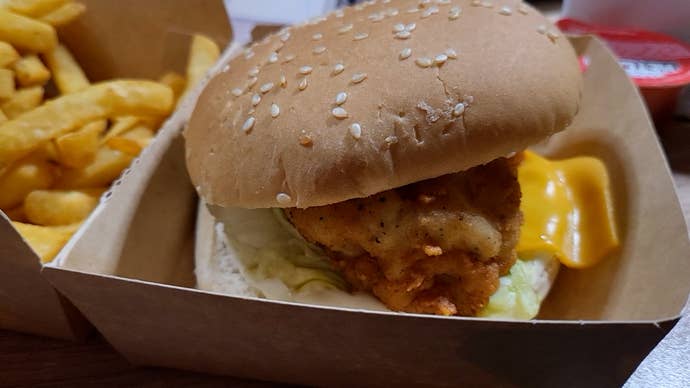 Honestly? Food's minging. | Image credit: VG247

Having said that, given how little official merch there actually is for Honkai Star Rail, perhaps a bit of grease-stained landfill fodder from a municipal fried chicken shop is the best you're gonna get. Go nuts.
Honkai: Star Rail is available to download for free on PC, Android, iOS, and PlayStation 5. Time To Feast! Astral Express Pit Stop is taking place from October 14th to November 4th at participating Miss Millie's restaurants in the UK. You can view a list of participating eateries in all regions along with more details of the event on HoYoverse's website.