'McPixel 3' Mobile Review – Way Better Than 'McPixel 2', Skip That Game – TouchArcade

When McPixel 3 ($2.99) from Sos Sosowski and Devolver Digital was announced, I was disappointed that it wasn't coming to mobile at launch. I have fond memories of McPixel on iOS, and it was good enough to ensure I'd play whatever Sos worked on. McPixel 3 hit PC and consoles, and it even came to Xbox Game Pass recently. You see, McPixel 3, is a game I've enjoyed enough to just want installed on every device. When it was finally confirmed for mobile, I knew I had to review it. This review was delayed because I was on holiday for a week, but I'm now here to tell you to stop wasting time and just spend the $3 on McPixel 3. It is that good.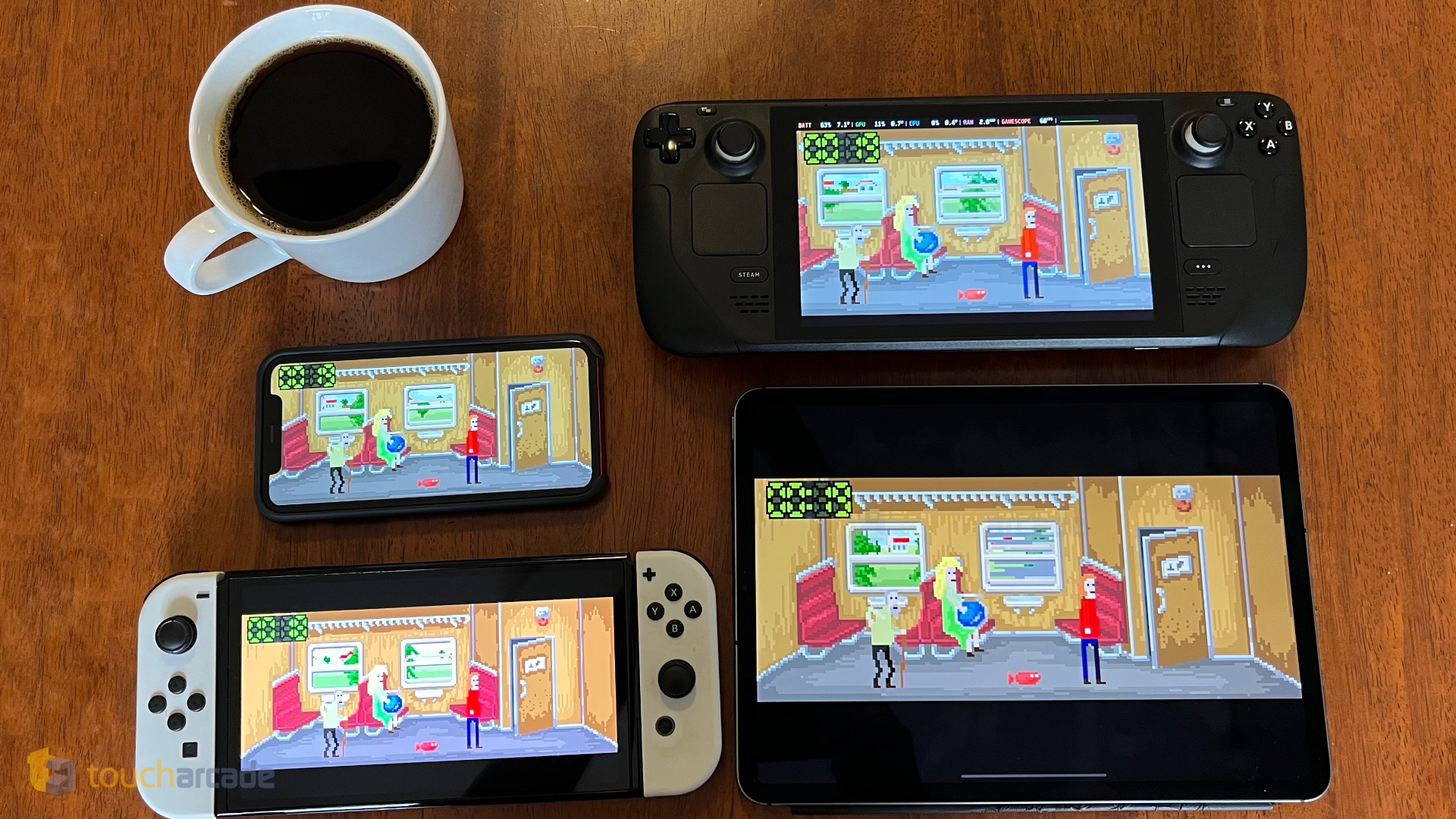 If you've not played McPixel or even heard of it before, it is basically a parody of a parody taking place with hilarious over-the-top situations that play out in point and click puzzles. McPixel 3, the sequel to McPixel, is big enough to be basically two games combined compared to the original. The real draw of McPixel 3 is seeing the various situations play out as you work your way towards more of the levels and see more of what Sos has to offer here. Over a decade after launching McPixel, McPixel 3 on iOS is a joy to play, and it is good enough to make you forget about the awful McPixel 2. If the humor doesn't click with you though, this is going to be a waste of three bucks. McPixel 3 and its blend of crude or "out there" writing and solutions is definitely not for everyone. It is however for me, and I was super glad to see Sos manage to impress me nearly throughout when I first played McPixel 3.
McPixel 3's structure is a bit different though as you make your way through the levels and earn coins. Earning coins in a game always makes me feel like things will get grindy because you do use coins to unlock new stages, but things never get annoying. The few times I did have to go earn coins, it was a rewarding experience. It must have taken a ton of design work to make sure this aspect doesn't become annoying for players. Nothing in McPixel 3 is a waste of time, and you've already wasted some time reading this review while wondering about McPixel 2 instead of buying the game haven't you?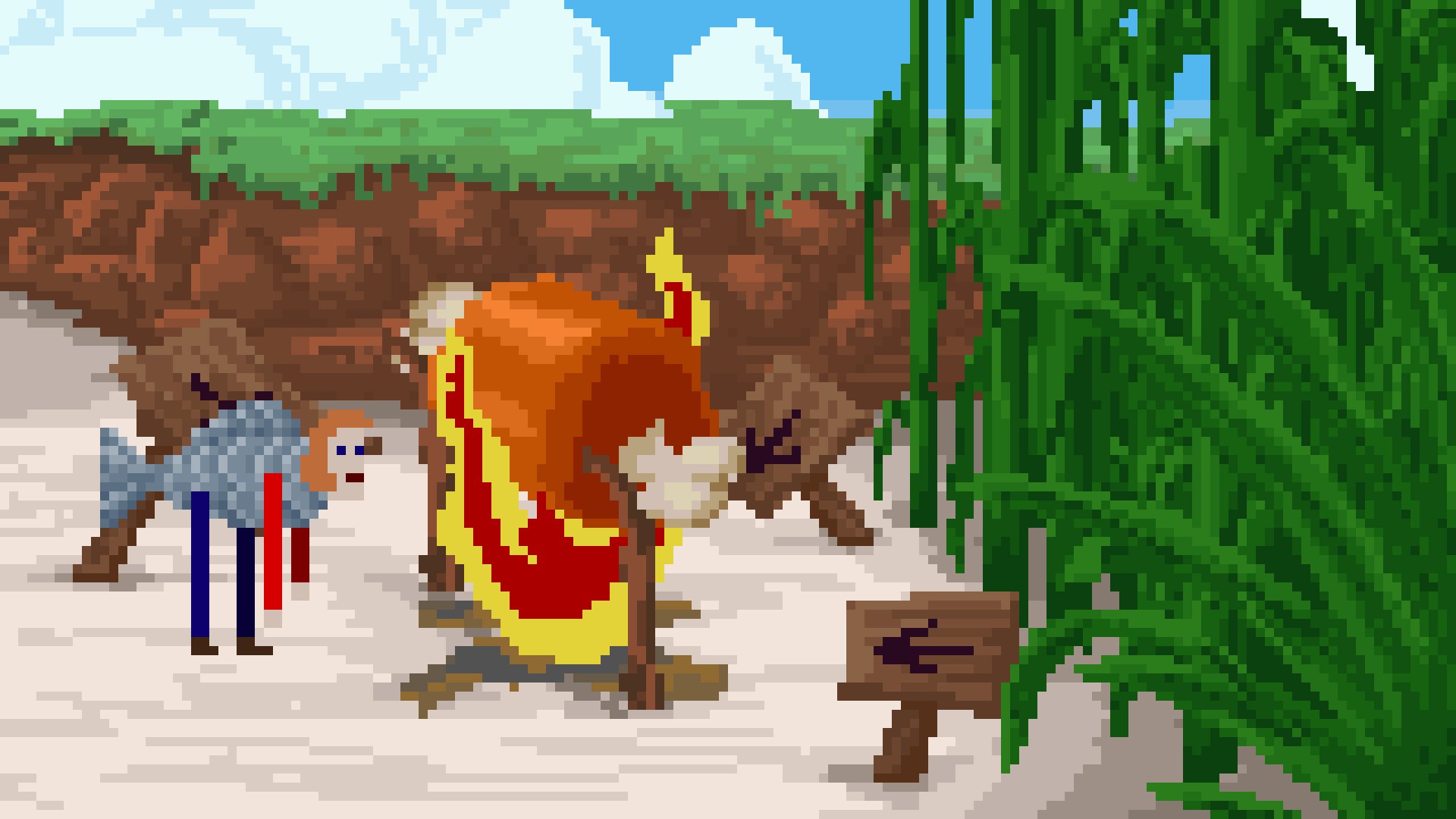 Expect to see everything McPixel 3 has to offer in under half a dozen hours. It isn't a long game, but is beyond worth the asking price. While I already knew the solutions thanks to playing McPixel 3 before the mobile release, I still enjoyed my time with it on iPhone and iPad. It looks and runs perfectly, and I'd say it even feels better to play on iOS than any other platform. This is where I'll get into the platform comparisons based on my time with McPixel 3 on Xbox Series X, iPhone, iPad Pro, Nintendo Switch, and Steam Deck.
On iOS, McPixel 3 does not have controller support. It doesn't need it though. I did not enjoy playing it with a controller on Xbox and even used touch controls when I played McPixel 3 on Nintendo Switch. The touch controls are perfect. On the visual side, depending on your device, you can enable or disable cinema mode and also toggle scaling. It scales perfectly across every device I tried it on, and I have no hesitation in recommending it to you on whatever you'd like to play it on, but just keep in mind that it doesn't feel as nice with a controller as it does with touch controls.
Here's the thing. I get why games like this are now released first on PC and console platforms. McPixel 3 is priced at just $2.99 on iOS and Android while it is $9.99 on other platforms. I don't think it would've done well at full price even if it did hit mobile alongside other platforms. I'm ok with Devolver Digital bringing games to mobile after they've sold enough at full price on PC and console platforms. We are seeing that with Return to Monkey Island as well. Hopefully these late ports do well enough for Devolver to keep getting more games on iOS and Android. I hope we eventually get stuff like Cult of the Lamb as well even if it does require a controller to play.
Playing through McPixel 3 feels like grabbing an issue of MAD Magazine because I never knew what to expect when I went ahead in my initial playthrough. McPixel 3 on iOS is essential, but it will absolutely feel like poop if the humor doesn't click with you. I loved McPixel and McPixel 3 is everything I wanted in a sequel and more. The wait for it on mobile has been long, but even in my third playthrough, McPixel 3 is just superb, and it will make you forget all about McPixel 2 which doesn't exist so don't worry.