Netflix's Stop-Motion Pokémon Series Will Be Warm, Therapeutic
During an Anime Expo press junket for Netflix's upcoming anime, Pokémon Concierge, actress Rena Nōnen, also known as Non, revealed what it was like working on the stop-motion anime series and how its warm animation style will make any fan wish Pokémon resorts were real.
New Pokémon Scarlet And Violet Trailer Features Hot Profs, 4-Player Co-Op, And Lechonk, The Hero We Deserve
Pokémon Concierge follows a hardworking girl named Haru who works as a concierge at a resort where she shows hospitality to and fulfills the needs of weary Pokémon and their trainers. Pokémon Concierge also serves as the first collaboration between The Pokémon Company and the stop-motion studio Dwarf Animation.
"I'm sure we've all [felt like] we are bombarded, under pressure, or that we don't want to get up and keep doing what we've been doing and just give up. But when you see Pokémon Concierge, it's really therapeutic and it makes you want to try and be the best you can be," Non said. "I wish viewers will see Pokémon Concierge [and feel like] they can keep going."
Netflix
Learning how to voice act for a stop-motion anime series
One significant experience Non went through while recording voice lines for Haru was being filmed while she was pantomiming the struggles and frustration Haru endures in the series so that her facial expressions and mannerisms could be utilized to animate Haru and give weight to her puppet's performance.
"Once I saw the finished scenes, they were very different from what you'd see in 2D, 3D, or CG animation. I was able to feel like 'Oh, [stop motion] is also how you can enjoy Pokémon," Non said. "When I saw [Haru] in action, I felt that it was totally believable and convincing."
Netflix
Why Psyduck is the perfect companion for Pokémon Concierge
Shedding some light on her character, Non said that Haru, who often overworks herself and places a lot of pressure on herself to meet others' expectations, learns that it's okay to make mistakes and to not be so hard on herself over the course of the series. She's aided in that journey of personal growth by her companionship with Psyduck, the Pokémon she meets at her new job working at the resort.
"When I was playing Pokémon games, Mewtwo was my favorite character. But when I started working on Pokémon Concierge, Psyduck in stop-motion animation… he's just so adorable," Non said. "Because he's so cute he's currently my favorite [Pokémon]."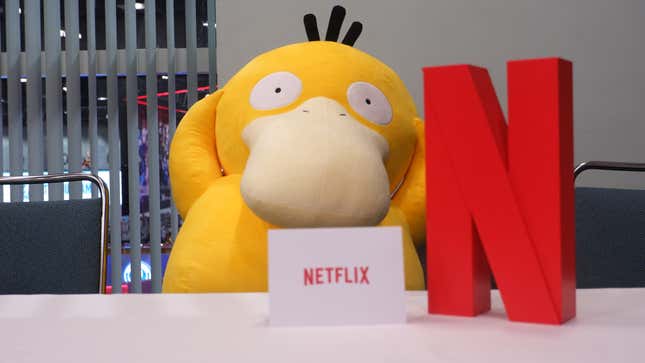 Photo: Kotaku / Isaiah Colbert
Although Psyduck serves as Haru's companion in the anime, Non assured fans that they'll get to see other Pokémon as well throughout the series.
Pokémon Concierge is slated to premiere on Netflix this December.
Kotaku is covering everything at Anime Expo 2023, including big announcements at panels and exclusive one-on-one interviews with the industry's biggest creators. Whether you're a seasoned anime fan or a newbie, you can keep up with all things Anime Expo 2023 here.