Starfield can learn some important lessons from one of Bethesda's worst reviewed RPGs
Is Fallout 76 good now? That's the question on the lips of anyone who's been a Vault Dweller for at least a few hours in their lifetime. Back when the game first landed on PS4, Xbox One and PC in 2018, the world stood still. Not because it was amazing – no, not at all. But because the janky MMO was so… different… from the sort of jank Bethesda has been known for.
The world was sterile, lifeless, populated by only player characters that were hostile and as pissed off as you, for the most part. At launch, Fallout 76 was regarded as the worst RPG in the series, the radioactive water-logged nadir of a 20-year-old series that had – until this point – been the suspiciously glowing crown jewel in the crown of Western RPGs. Critics were mean, but fair. "A pointless walk in the post-apocalypse" wrote one reviewer. "A bizarre, boring, broken mess," said another. To this day, Fallout 76 sits at a miserable 52 on MetaCritic (and the user score is somehow even worse).
The consensus was that Fallout 76 may have looked, acted, and even smelled like its series stablemates, but it was rotting from within – that energy and soul and vivaciousness that made Fallout games tick like an overactive Geiger Counter was dead inside, and the husk around it was inert. It doesn't really inspire confidence in Bethesda's next big RPG experiment, Starfield, does it?
But things change. Even the irradiated corpse of a failing franchise can be brought back to life with enough effort, as Bethesda Game Studios and ZeniMax Online Studios soon began to realise. Fallout 76 now, some five years post-launch, is a living, breathing MMOhttps://www.vg247.com/fallout-76s-new-npcs-compromise-will-change-game-forever with an active and loyal player base that vocally praises the engaging world of Appalachia. For all intents and purposes, Fallout 76 is now the post-apocalyptic MMORPG Bethesda promised from the get-go. 13.5 million players can't be wrong, ey?
But what does any of this have to do with Starfield?
Bethesda is smart. You don't last 37 years in the world of video games by making the same mistake twice. Myriad delays and a protracted development period on its latest game will help ensure Starfield will not endure the same disastrous launch that Fallout 76 did. But beyond that, the Starfield gameplay presentation has already shown us that we can expect to see a number of features from Fallout 76 return in Starfield. It's also demonstrated that there are some more philosophical lessons Bethesda has picked up in the interceding five years between Fallout 76 and Starfield. Here's a quick summary of what I mean.
Outposts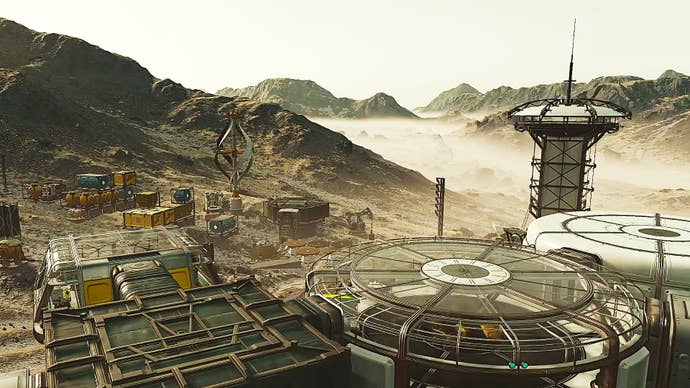 An outpost you can call home? | Image credit: Bethesda
Fallout 76 was praised for its CAMP system, even at launch. An evolution of the settlement building from Fallout 4, the camp implementation basically allowed you to travel to any corner or crevice on the map and nest in – making a customisable little home there, where you could retreat to whenever you needed. It's a pretty big role-playing feature, and a lot of 76 players felt that it added to the immersion and character of Fallout's world.
We've already seen Outposts in Starfield thanks to footage in the Direct, and it seems they, too, can be placed anywhere – on any one of the 1,000 planets Starfield will include. The idea of sitting at the edge of a gas giant and watching the roiling storms in its atmosphere pass by… blissful, isn't it?
Weather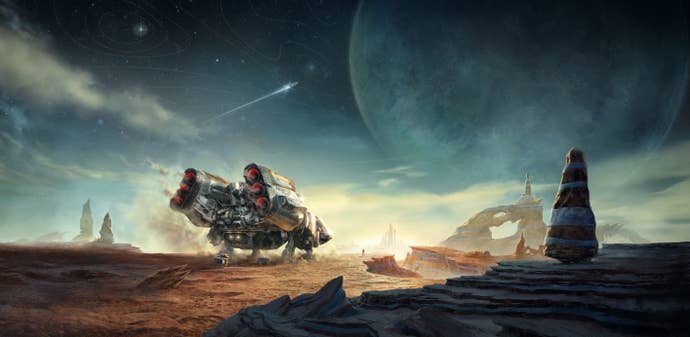 Space dust! Clouds! What else waits for us out there? | Image credit: Bethesda
Speaking of sitting and watching things pass you by, one of the best things to ogle in the barren wastes of Appalachia was the weather. Watching a localised storm out in the distant hills slowly make its way towards you and change the entire vibe of where you were… that was special. It remains many players' favourite thing about 76, in fact. Seeing a dust storm encroach on you, or seeing rain clouds start to manifest overhead – it's a very specific feeling that evokes a great sense of place. And that is coming to Starfield, too.
"Just a couple of weeks ago, I landed on one of the early planets, and this sandstorm blew through," says Todd Howard in one video, talking about the game. "Enemy ships can land anywhere, right? So this ship landed, and I got in this firefight, and I got on the ship, and whilst I was shooting these guys on the surface, the ship took off into space… so now I'm in outer space, in another ship and I'm like 'well, I guess that can happen!'"
There are a few exciting things in that story, but the most intriguing for me is that he was running away from a sandstorm – why? How? What is the intensity of this weather? I cannot wait to find out for myself.
Photo Mode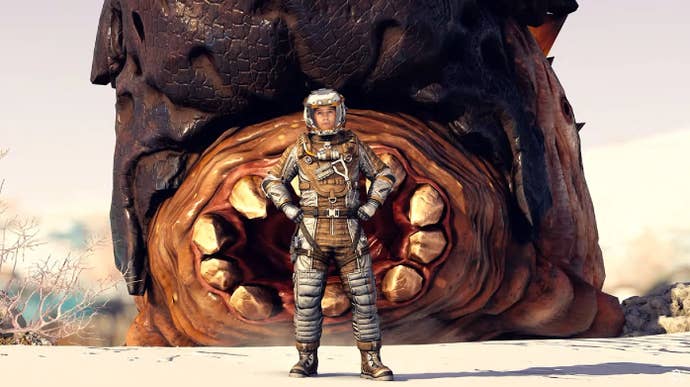 What is this, Monster Hunter?! | Image credit: Bethesda
Ask any long term player of Fallout 76, and they'll all tell you the same thing: the Photo Mode is one of the best in gaming right now. Lots of granularity (poses, banners, filters, custom options and so on) meant that you could really document your journey how you saw it – something I think a lot of Photo Modes don't seem to understand.
And, from the Direct footage, it looks like the Photo Mode in Starfield shares a lot of the same UI as Fallout 76. If Bethesda lets us use our own photos as loading screens in Starfield like it did in Fallout 76 once again, well… that's a massive plus (though with that SSD requirement on PC and the streaming power of Xbox Series, are we ever really going to see them?)
Jetpacks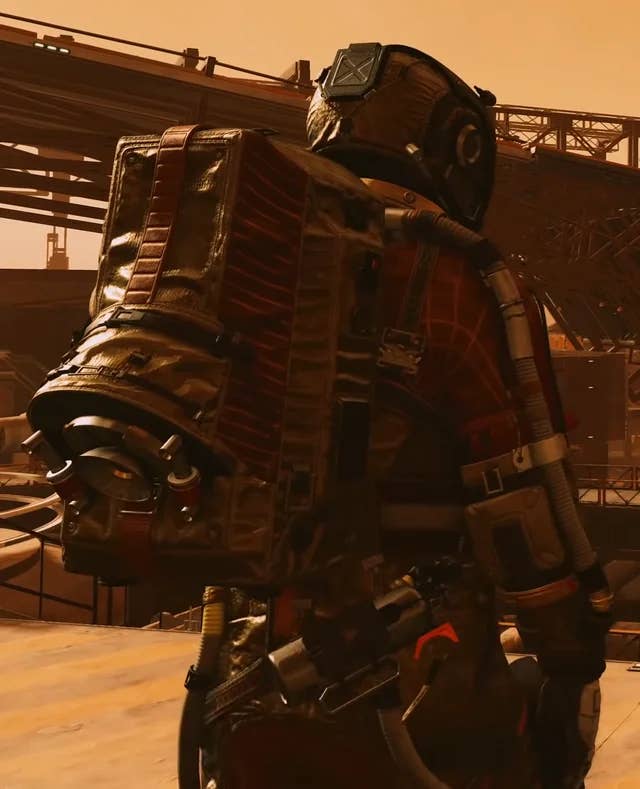 On your back like Eastpak, watching over your actions. | Image credit: Bethesda
Weirdly enough, there's a smaller part of the Starfield experience that got its start in Fallout 76, too: jetpacks. But, as with much of the game, jetpacks got off to a shaky start: the public servers haven't always been able handle players using jetpacks, and so some players have opted not to mod them onto their power armour. Slow landing animations, dodgy server latency, and currency-consuming to fuel, they've become something of a novelty: nice to use, but not really essential in play.
The 2023 Xbox Games Showcase showed that, in Starfield, the sci-fi jump pack already looks like a massive step-up from what's come before. Aside from the fact that different planets' gravity will affect your jump in different ways, the armour modding capabilities you have access to seem to offer more control over how you hop from place to place (paired with the interesting player skills, too).
Suffice to say, then, that Bethesda has learned from its mistakes. Far too much has been sunk into making Starfield an RPG for the ages for it to falter out the gates with the same ungraceful manner that Fallout 76 did. In learning lessons, and righting wrongs, Bethesda got some vital experience from Fallout 76 – and actually figured out how to make a killer MMORPG in the process. Here's hoping those essential lessons can be applied to a single-player experience like Starfield, too.
Pre-order Starfield today or get ready with discounted Game Pass codes
Starfield will be launching exclusively for Xbox Series X/S and PC (Windows) on September 6th 2023. Pre-order your copy of Bethesda's upcoming action RPG from the links below and get set for the new galactic adventure.
Players who pre-order the premium edition can play Starfield early from September 1st. That's five days before it lands on Game Pass! PC Players looking to upgrade their PC can also get Starfield for free when you buy select AMD Ryzen processors, AMD Radeon graphics cards, or a gaming system that contains both.
Alternatively, you can play Starfield on Game Pass on day one. Our shop here at VG247 is currently offering a 5 per cent discount on Game Pass codes and Xbox Credit – simply redeem the code "VG247" at the check out. The code is valid until 31st July, so stock up now to save money on a Game Pass membership or discounted Xbox Credit if you're buying Starfield on the Xbox Store.