Steel Rondo', Plus the Latest Releases and Sales – TouchArcade
Hello gentle readers, and welcome to the SwitchArcade Round-Up for November 7th, 2022. Today we start things off with three reviews: Platinum's Bayonetta 3, PikPok's Shatter Remastered Deluxe, and Hanaji's Mecha Ritz: Steel Rondo. After that, we've got summaries of the new releases of the day, but I can't say I was particularly thrilled with any of them. Finally, we've got the usual lists of new and outgoing discounts for you to consider. Let's get to business!
Reviews & Mini-Views
Bayonetta 3 ($59.99)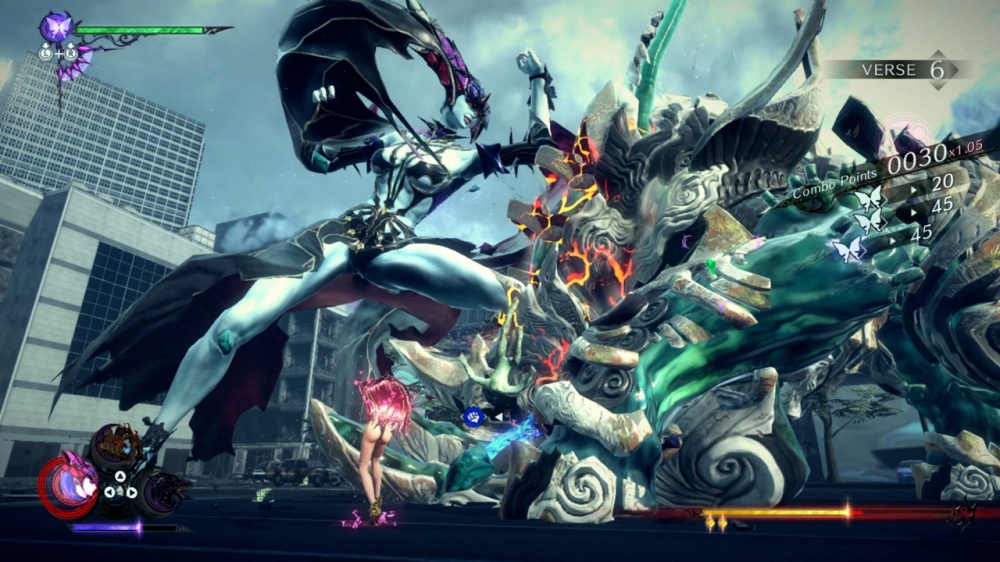 This is another game where I sort of wish that we had more gradation in our review scale at TouchArcade. Bayonetta 3 is a very good game, especially so if considered independently of its predecessors. But it's a game that, in its quest to turn everything up to maximum volume, has a lot of little cracks in its surface. From a technical standpoint, it feels like it's pushing the Nintendo Switch to its limits and occasionally beyond them. From a gameplay standpoint, it has so many new things going on that it threatens to be too much. From a story standpoint, it takes things to such a grand scale that it loses a bit of what made the previous games special.
Bayonetta 3 hits the ground running with a powerful opening. The threat this time comes not from heaven or hell, but from the Multiverse. We're introduced to Bayonetta's new look and her big new set of abilities related to puppeteering her summons. We also meet a new character, Viola, and you'll probably figure out her deal in the first half hour if you're observant. Viola is also a new playable character, joining Bayonetta and Jeanne and offering up her own unique bag of skills. Between the multiple characters, new abilities, and a fair few new gimmicks, Bayonetta 3 certainly aims to keep things fresh all throughout.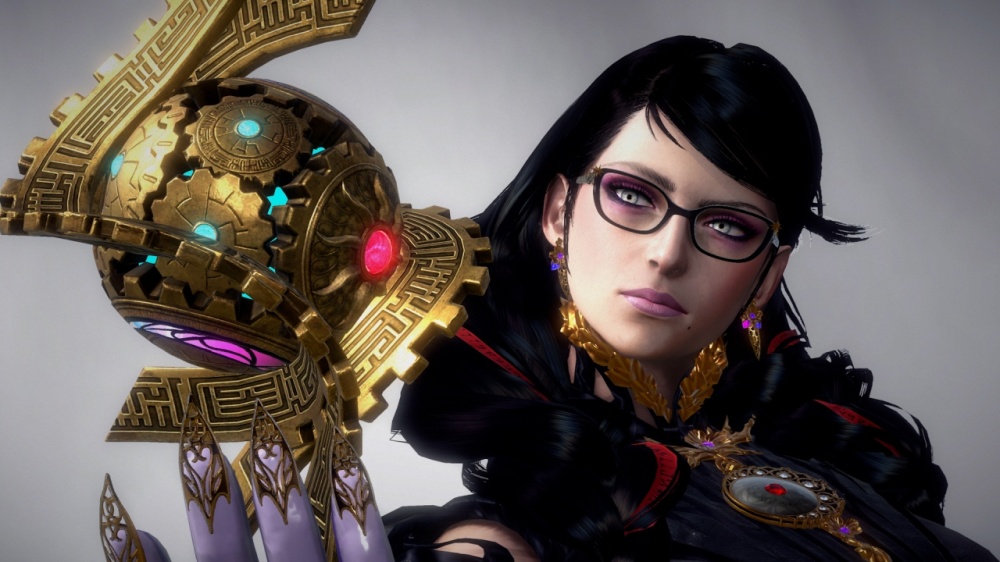 All of this works really well generally, but you're probably going to like some bits of it better than others. That's always been the way with Bayonetta, but there are things here that are bigger than mere one-off levels that you're going to have to accept if you're going to get the most out of the game. And of course just like in previous games, there are some levels that probably could have used a bit more time in the oven. For the most part, this is a top-notch action game, but it wouldn't surprise me if some folks come away preferring either of the first two games or both.
I suspect the more contentious element is going to be the game's technical performance. This game is putting the Switch through its paces, particularly in handheld mode, and it doesn't always come out smelling like a rose. Docked play has some framerate issues here and there, and if you're sensitive to such things it's probably going to bug you. Handheld mode has worse issues with framerate and adds some of those not-so-fun resolution drops on top. I was able to enjoy the game just fine, but I'm generally not all that fussed about technical performance. Our pal Mikhail was less forgiving of the way the game played in handheld. Your own mileage may vary, but it's a consideration.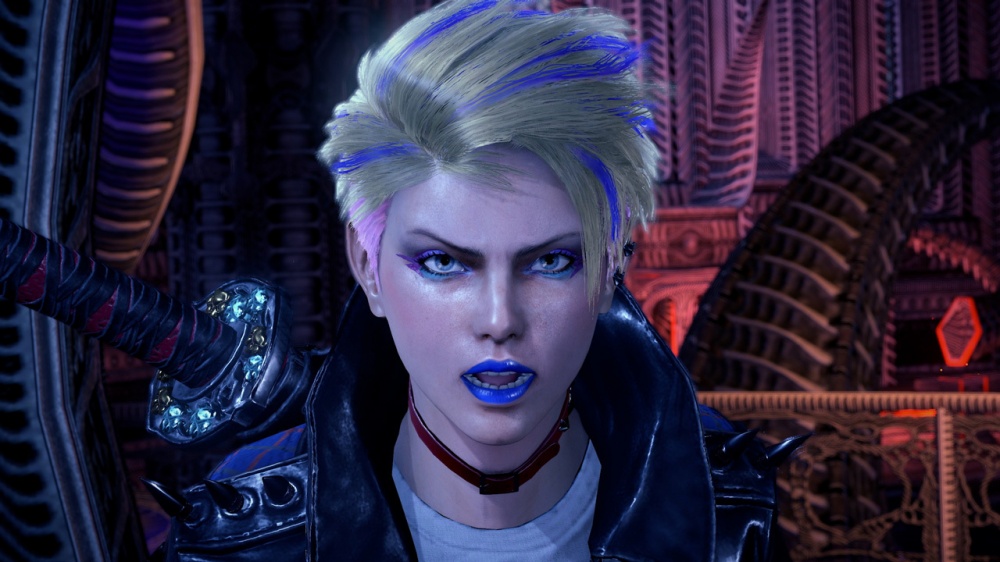 As for the story, it can (if necessary) serve as a conclusion to the series if this is where it ends. It also leaves things open enough for a follow-up if that is how things go. The first two games weren't exactly down-to-Earth in terms of plot, but Bayonetta 3 really goes bonkers. That seems to be inevitable when you bring in the concept of parallel universes, I suppose. Bayonetta has a new voice actor, and her characterization seems a bit different this time too. I suspect some fans aren't going to be happy with some of the lines it draws by the end, but for better or worse it chooses a direction and goes hard with it. It's a bit too twisty for its own good at times, but again, multiverse. Don't worry too much about it.
Ultimately, I'm left with mixed feelings about Bayonetta 3. Not seriously mixed. It's still a great game, among the best in its category, and I've rated it accordingly. But there are choices made here, both in terms of the narrative and the overall design, that I think could have gone another way and made for an even better game. There's also no question that the performance issues are disappointing in a genre where split-second timing is so crucial. Bayonetta 3 carries the ball for the series well enough, even if it ends up being the weakest of the trilogy.
SwitchArcade Score: 4.5/5
Shatter Remastered Deluxe ($9.99)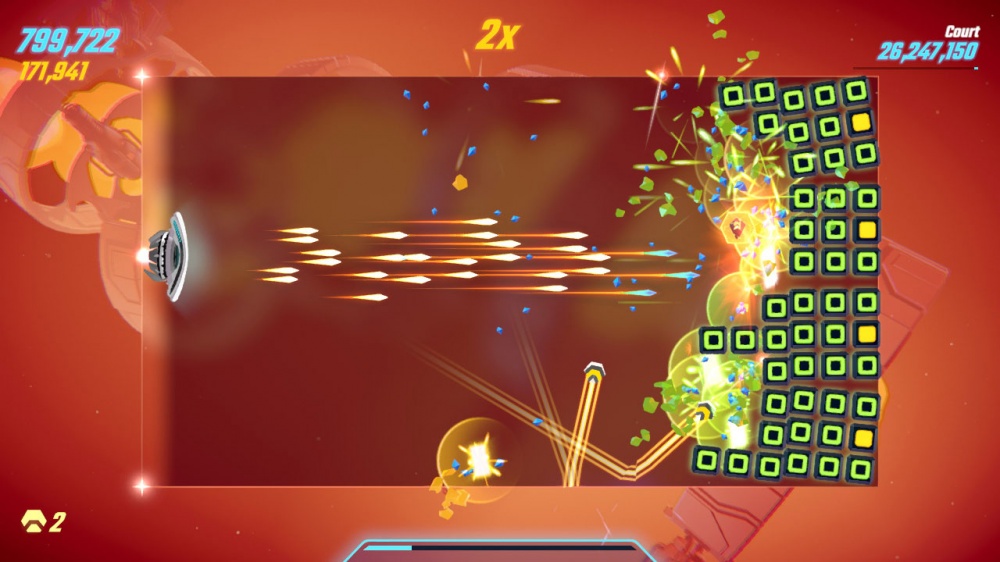 How is 2022 the first year we're getting Sidhe Interactive/PikPok's sublime brick-breaker in portable form? But now the year is drawing to a close and I can play this amazing game on both my iPhone and Switch, so I suppose all is well. If you like brick-breakers, you're probably already well-aware of Shatter. It first hit back in 2009 on the PlayStation 3, with subsequent PC releases helping to expand its fanbase. It takes the venerated genre and adds a few sharp twists that change the nature of the game without abandoning what makes it so compelling.
At its core, it's very familiar. There's a paddle. There are some bricks. There's a ball. You have to hit the ball with your paddle to destroy the bricks. Eliminate them all and you'll move on to the next stage. Let the ball go past you and you lose a life. Sure, that's just Breakout. Let's toss in power-ups that drop from the bricks, giving you an assortment of extra boosts to spice things up and help you hunt down those annoying last few bricks. Sure, now we've got Arkanoid. This seems to be where most brick-breakers stop. Maybe they throw a nice coat of paint on the whole thing. And hey, Shatter does that too.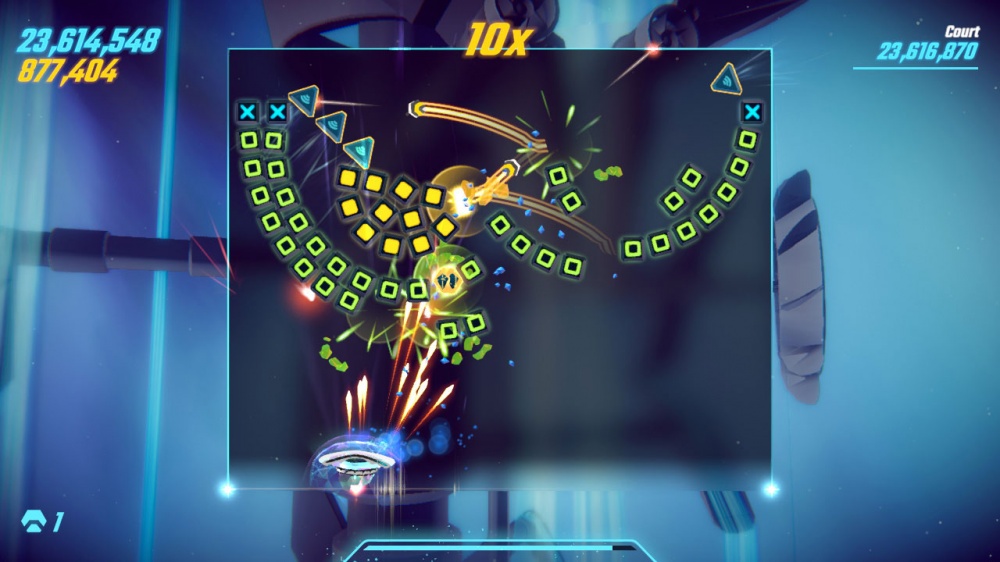 I won't go over all the little things that Shatter does to stand out, but I will address a few big ones. First is that the stages can take on a variety of shapes and alignments. Not just the usual idea of tilting the well ninety degrees, either. Some of the stages take on unusual designs like circles that force you to think about how the ball bounces in new ways. There are also boss battles, which admittedly a few other brick-breakers have also used. These also make you consider different strategies and help break up the usual gameplay.
The biggest addition is the ability to *** and blow. By pressing the shoulder buttons, you can draw the ball (and other objects) towards you or push it away. This gives you finer control over the movement of the ball, practically solving the "one last brick" issue in one fell swoop. This mechanic is also crucial for defeating the bosses more quickly, as it allows you to target their weak points. But why not just keep blowing the ball away so that it never slips past you? Well, every brick you break will drop some gems that are also affected by your sucking and blowing. Collect enough gems and you'll fill a meter that allows you to pull off game-changing actions. So you'll want to *** a bit in between blows. I should get a bonus for writing this paragraph without giggling.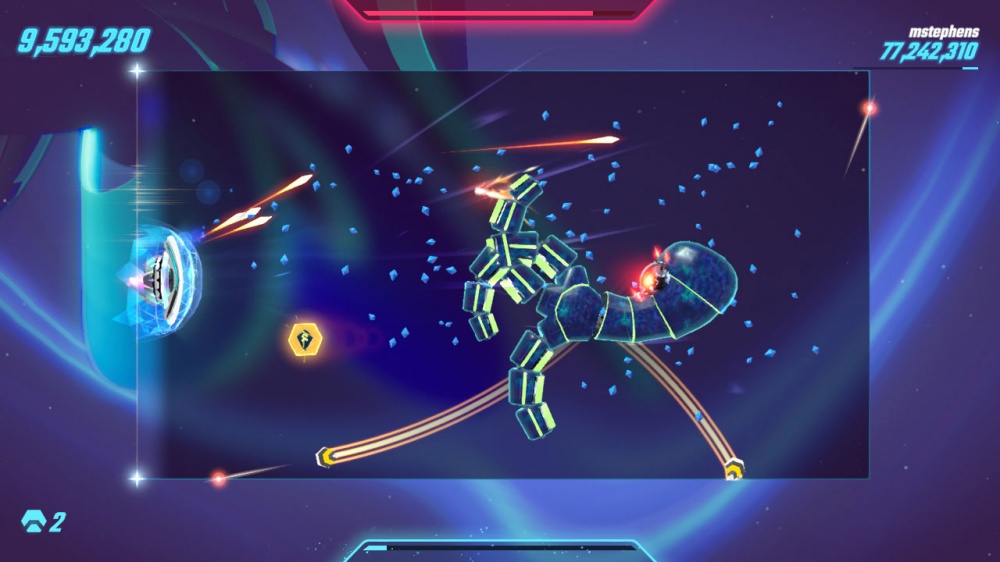 This mechanic is massive. Brick-breakers are normally something you're either into or not. But the added control over the ball this lends the player means that even if you've bounced off of games like this before, you may still find this to your liking. There is a lot to play here across its various modes, too. What you've got here is one of the most mechanically-sound brick-breakers of all-time, with plenty of stuff to keep you playing for a long time. This remaster changes the presentation but otherwise offers everything you'd see in the original game. Importantly, it brings the game to the Switch.
Shatter Remastered Deluxe is the brick-breaker to own. Like, if you're only getting one, this is it. There's nothing else out there in the genre that plays as well as this, and it keeps pace with the best of its peers in terms of presentation and sheer content. There are a few light technical issues here that I hope will be addressed in the future, but even if it stays as-is, it's more than worth the reasonable asking price.
SwitchArcade Score: 4/5
Mecha Ritz: Steel Rondo ($14.99)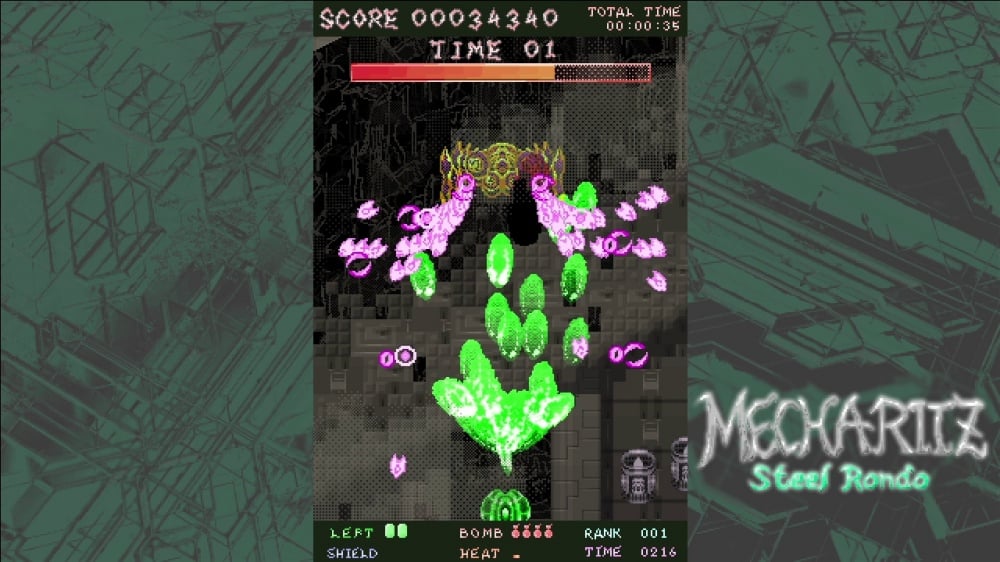 I had a tough time with this one, friends. As a shoot-em-up fan, I place a very high value on having online leaderboards. To me, a great deal of the pleasure in games of this genre comes from learning and mastering the scoring mechanics and trying to climb up in the rankings. If a shooter doesn't facilitate that, I tend to have less fun with it. That said, I know not everyone feels the same way that I do about that. And hey, there are more ways for a shooter to offer value than just score chasing. Still, I think the presence of online leaderboards are only a positive, even if their absence isn't necessarily a negative.
Mecha Ritz: Steel Rondo doesn't have online leaderboards, and it's easily the biggest weakness of the game for me. This game has enjoyable scoring mechanics, but with only a local leaderboard to rank in on I can't quite get into them the way I normally would. That's really my main gripe with the game. Otherwise, there's a lot here for fans of vertical shooters to enjoy. It's a wild bullet-hell shooter that starts off gentle enough but ramps up into absolute absurdity by the end. You start off with a few different mechas to use, each with their own differentiating points, and eventually unlock a bunch of others. Sometimes using these other mechas changes the fundamental mechanics, and that certainly lends the game a lot of replay value.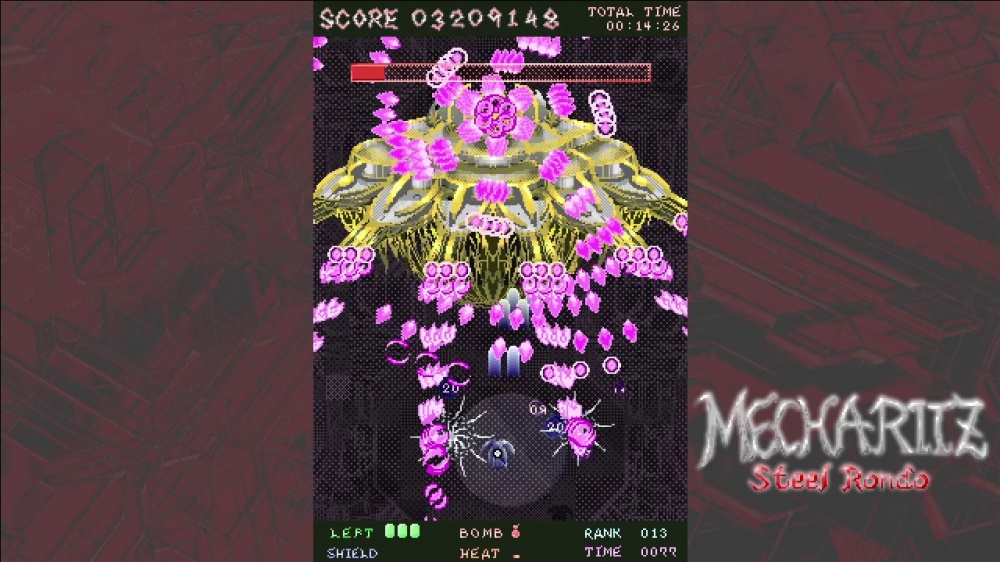 That aspect is further extended by offering up branching paths and multiple endings. Exploring all of that will see you go through a whopping fifteen stages and take you into battle against forty distinct, fun boss fights. Playing through all of it will help you understand the somewhat odd story, but even if you're just here for the gameplay you'll find each of those stages and bosses to be properly done and worth tackling. There's also a wealth of music tracks on offer, and while the soundtrack didn't quite hit that peak level for me, it's varied and distinct enough to do its job admirably.
If a lack of online leaderboards is a deal-breaker for you, Mecha Ritz: Steel Rondo won't be to your liking. Despite the high value I place on that feature, I found the game was able to present enough to dig into that I still got my kicks anyway. With so many unique mechas to play as, stages to challenge, mini-bosses and bosses to battle, and a bevy of unlockables, this is one shoot-em-up that just keeps on giving. If you don't care about online score attacking, you'll likely have an even better time with it than I did.
SwitchArcade Score: 4/5
New Releases
Montgomery Fox and the Case of the Missing Ballerinas ($14.99)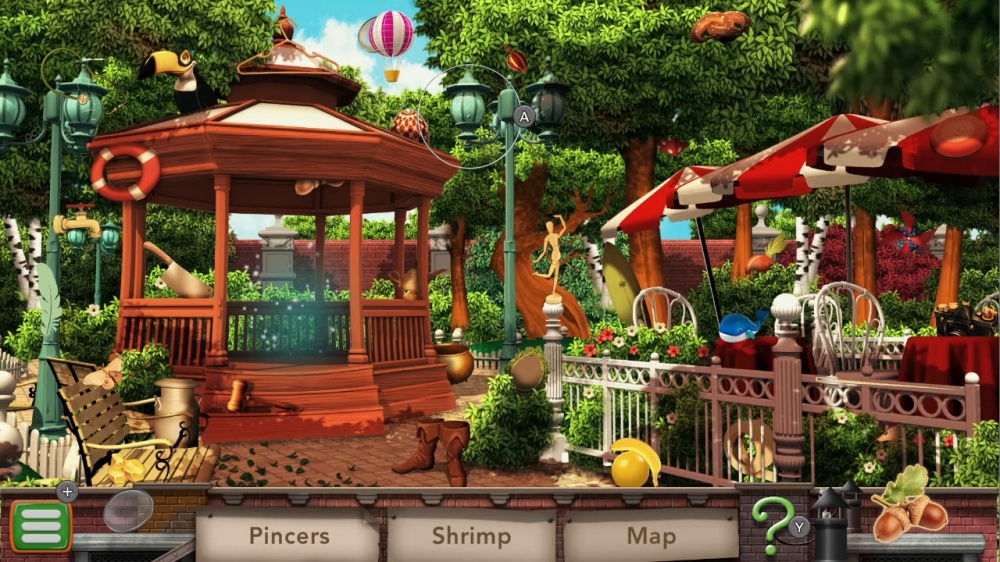 Another hidden object adventure from the folks at Ocean Media, this time starring a crime-solving fox named Montgomery. Find clues, play mini-games, meet unusual characters, and enjoy the relatively family-friendly story.
ET Varginha ($9.99)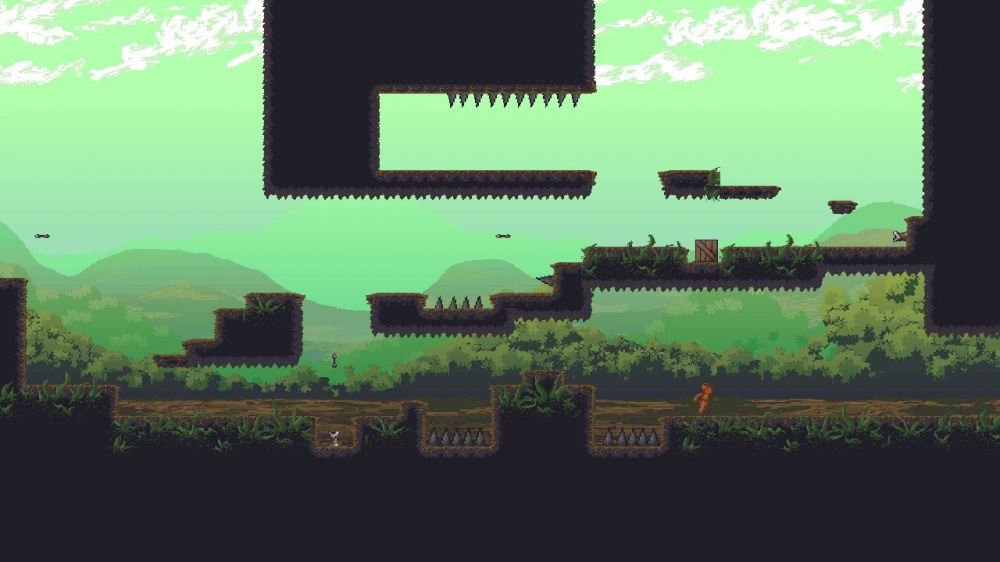 It's a puzzle-platformer where you play as an alien on the run. Pretty shabby stuff. Another one of those five-dollar Switch platformers that regrettably is not priced at five dollars.
Grand Hike ($4.99)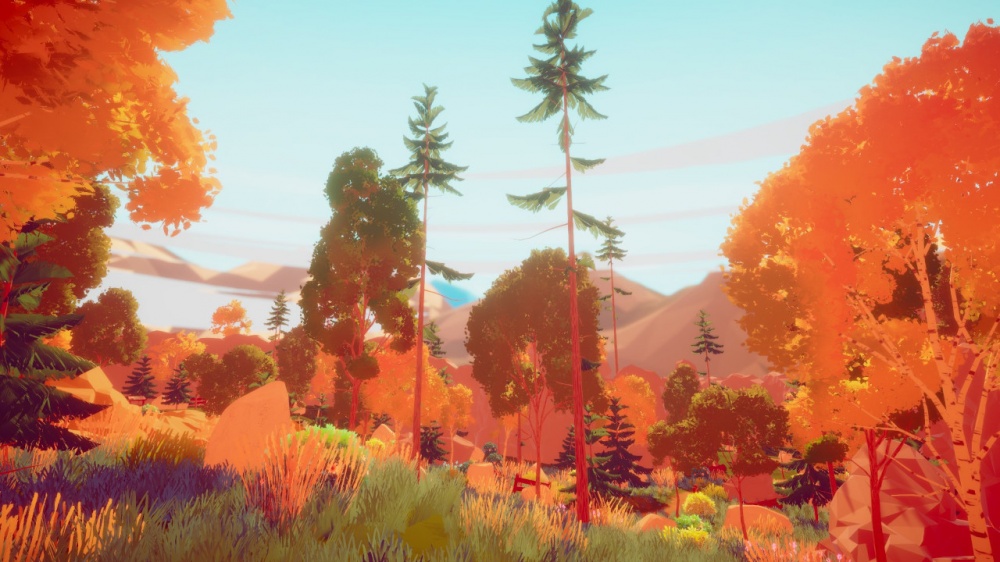 A two-hour long walk through the woods. Some light puzzle solving, but mostly an excuse to walk through some chill environments. There are secrets to find along the way if you're observant enough to spot them.
Paper Bad ($0.99)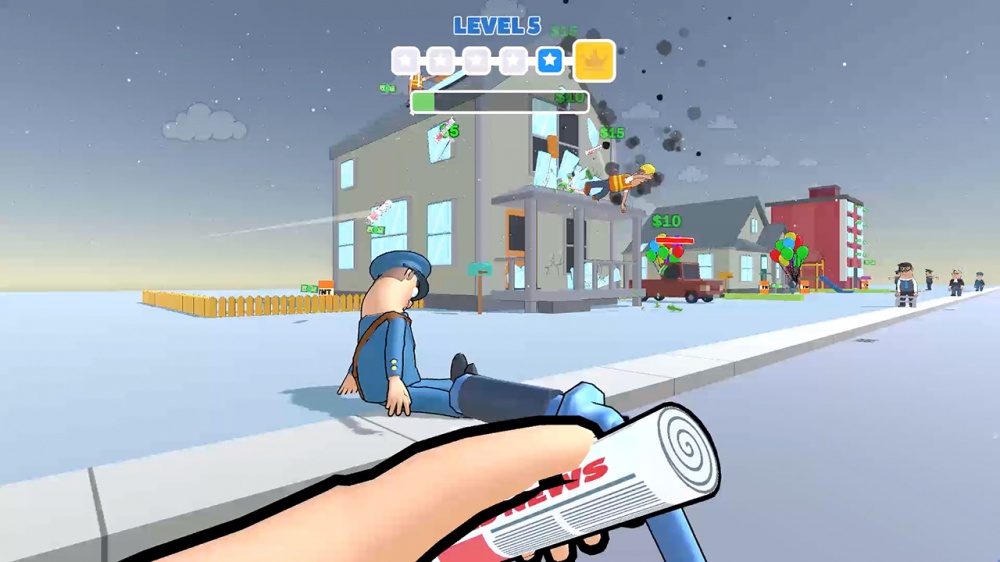 Throw your newspapers and try to cause as much mayhem as possible. Thin as Melba Toast, but for a dollar I suppose it doesn't have to stretch all that far.
Sales
(North American eShop, US Prices)
Thunderful seems to be having a nice sale on its assortment of games, including recent releases like Cursed to Golf and Firegirl: Hack 'n Splash. Some of those prices are the lowest we've seen yet, so do give them a look. Not much in the outbox beyond the usual WB Games stuff, but check it out as well.
Select New Games on Sale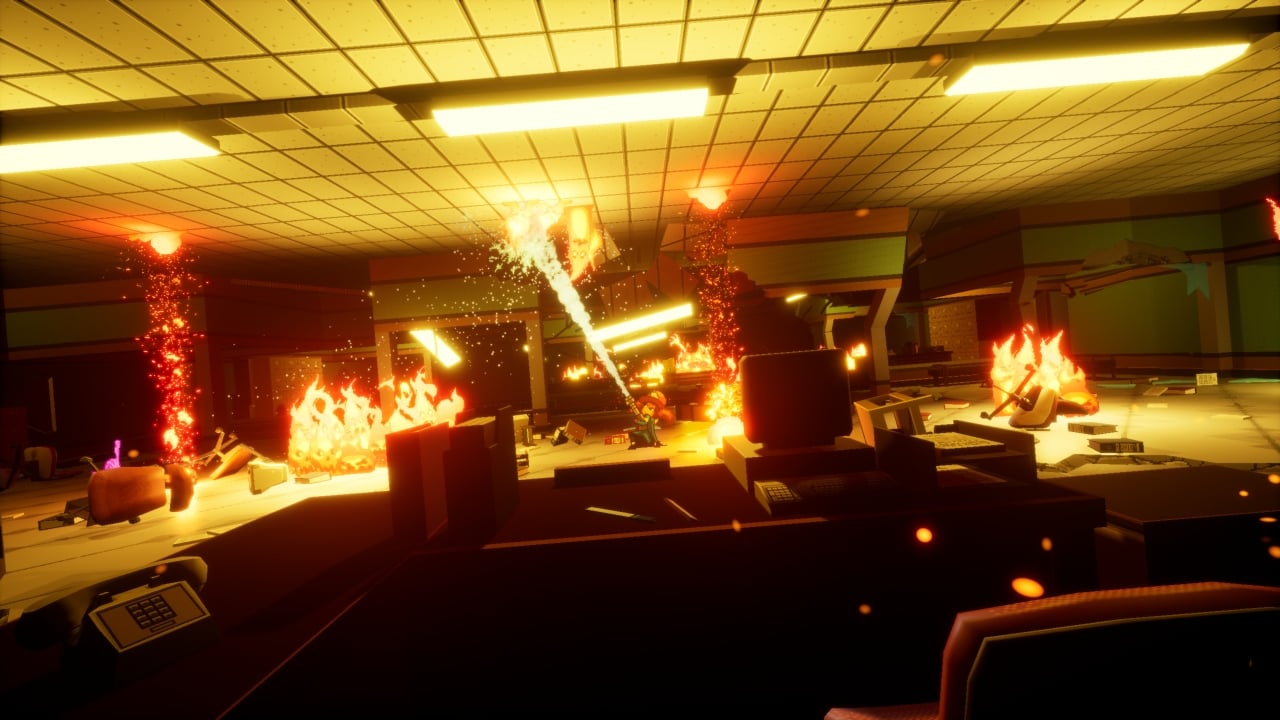 Firegirl: Hack n Splash DX ($8.99 from $17.99 until 11/12)
Rush Rally Origins ($7.49 from $14.99 until 11/12)
SteamWorld Dig ($1.99 from $9.99 until 11/12)
SteamWorld Dig 2 ($4.99 from $19.99 until 11/12)
SteamWorld Heist ($3.99 from $19.99 until 11/12)
SteamWorld Quest ($8.74 from $24.99 until 11/12)
Anthill ($1.99 from $9.99 until 11/12)
Trailblazers ($2.99 from $29.99 until 11/12)
Giga Wrecker Alt ($7.49 from $24.99 until 11/12)
Decay of Logos ($5.99 from $19.99 until 11/12)
Lonely Mountains: Downhill ($9.99 from $19.99 until 11/12)
Say No! More ($6.74 from $14.99 until 11/12)
Curious Expedition ($4.49 from $14.99 until 11/12)
Cursed to Golf ($15.99 from $19.99 until 11/12)
RICO ($5.99 from $19.99 until 11/12)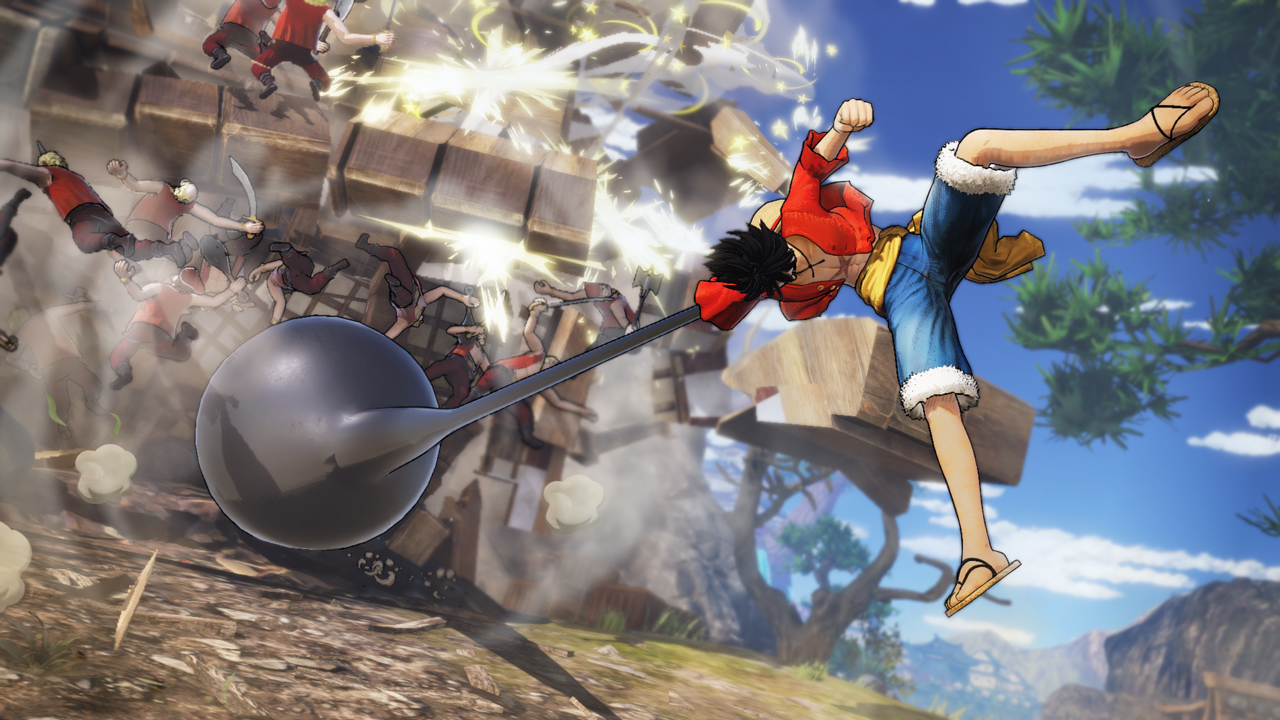 One Piece: Pirate Warriors 4 ($8.99 from $59.99 until 11/14)
One Piece: Pirate Warriors 3 ($5.99 from $39.99 until 11/14)
Mission 1985 ($4.99 from $9.99 until 11/14)
Last Beat Enhanced ($4.99 from $9.99 until 11/14)
Steredenn: Binary Stars ($4.54 from $12.99 until 11/15)
Astria Ascending ($25.99 from $39.99 until 11/15)
Revita ($12.74 from $16.99 until 11/15)
Ashwalkers ($14.99 from $19.99 until 11/15)
PictoQuest ($4.49 from $9.99 until 11/15)
Astrologaster ($5.49 from $9.99 until 11/15)
Double Kick Heroes ($12.09 from $21.99 until 11/15)
NeuroVoider ($3.49 from $13.99 until 11/15)
ScourgeBringer ($9.34 from $16.99 until 11/15)
Furi: Modore Edition ($9.99 from $24.99 until 11/15)
Pankapu ($2.39 from $11.99 until 11/15)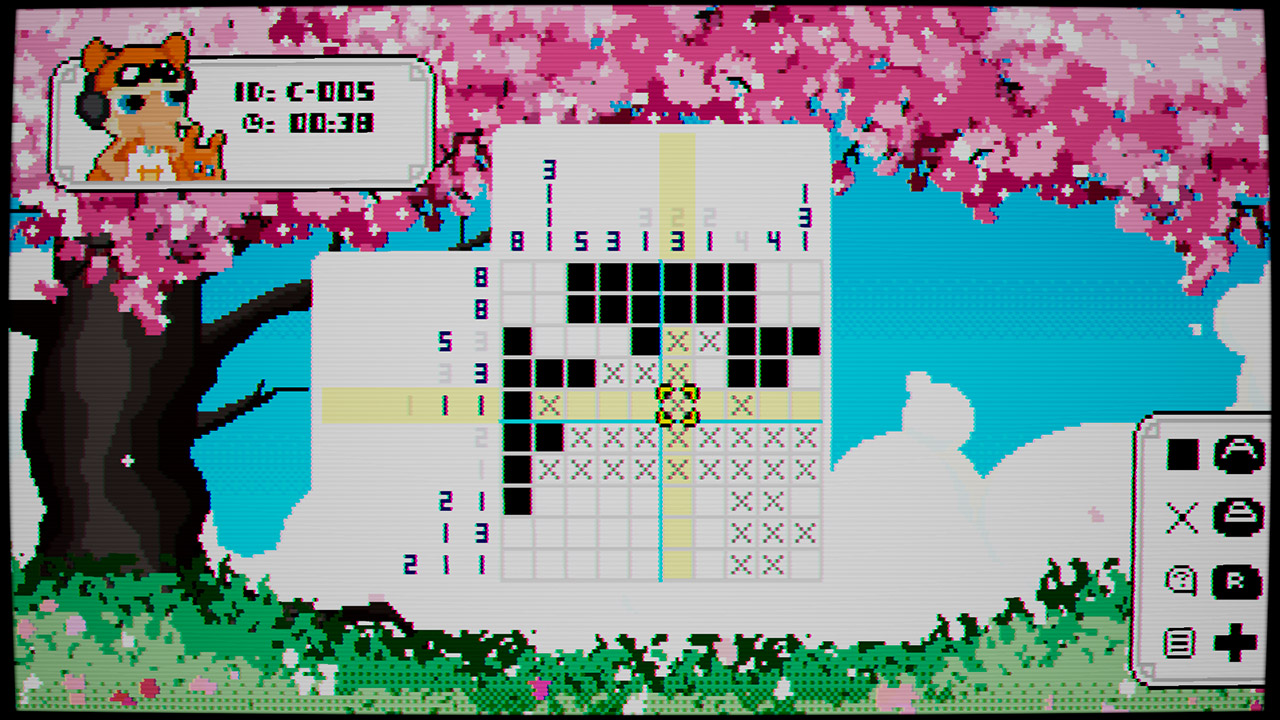 Piczle Cross Adventure ($4.49 from $9.99 until 11/15)
Miner Warfare ($1.99 from $7.99 until 11/19)
Succubus with Guns ($7.99 from $9.99 until 11/19)
Break Thru The Wall ($4.19 from $5.99 until 11/19)
Magician's Chase: Curry Recipe ($6.29 from $8.99 until 11/19)
Sydney Hunter & Curse of the Mayan ($4.99 from $9.99 until 11/20)
Sakura MMO 3 ($7.99 from $9.99 until 11/25)
Pinball Jam ($11.24 from $24.99 until 11/25)
XIII ($27.99 from $39.99 until 11/25)
The Sisters: Party of the Year ($14.99 from $29.99 until 11/25)
Beyond a Steel Sky ($15.99 from $39.99 until 11/25)
Murder Mystery Machine ($9.99 from $19.99 until 11/25)
Asterix & Obelix XXL Romastered ($8.99 from $29.99 until 11/25)
Agatha Christie: Hercule Poirot ($14.99 from $29.99 until 11/25)

My Universe: Cooking Star ($7.49 from $29.99 until 11/25)
My Universe: Doctors & Nurses ($14.99 from $29.99 until 11/25)
My Universe: Pet Clinic ($5.99 from $29.99 until 11/25)
My Universe: My Baby ($8.99 from $29.99 until 11/25)
PigShip & the Giant Wolf ($3.59 from $7.99 until 11/25)
Mission Commando ($2.99 from $3.99 until 11/26)
ET Varginha ($1.99 from $9.99 until 11/26)
In Rays of the Light ($3.99 from $7.99 until 11/27)
Sales Ending Tomorrow, Tuesday, November 8th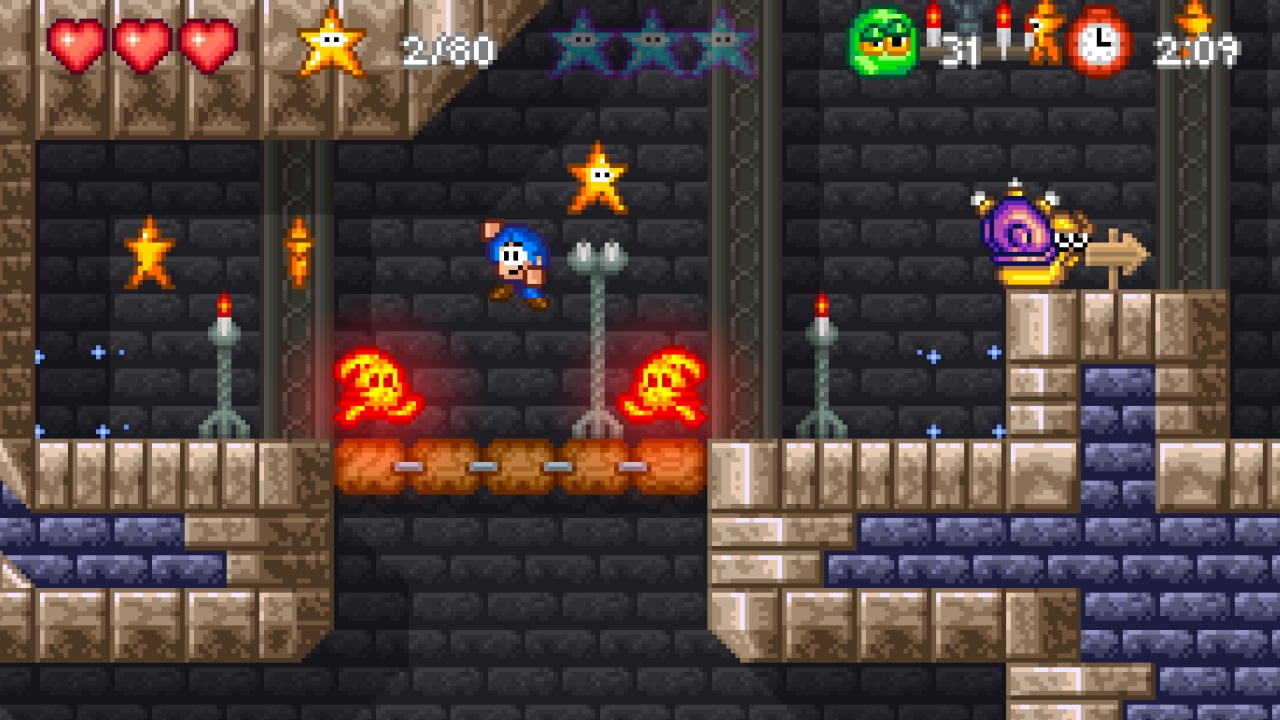 Bloo Kid 2 ($2.49 from $4.99 until 11/8)
Ender Lilies: QotK ($16.24 from $24.99 until 11/8)
Fury Unleashed ($5.99 from $19.99 until 11/8)
Lacuna ($2.99 from $19.99 until 11/8)
LEGO City Undercover ($5.99 from $29.99 until 11/8)
LEGO DC Super-Villains Deluxe ($11.24 from $74.99 until 11/8)
LEGO Harry Potter Collection ($9.99 from $49.99 until 11/8)
LEGO Marvel Super Heroes ($9.99 from $39.99 until 11/8)
LEGO Marvel Super Heroes 2 Deluxe ($4.49 from $44.99 until 11/8)
Monster Train First Class ($14.99 from $29.99 until 11/8)
Mortal Kombat 11 Aftermath DLC ($11.99 from $39.99 until 11/8)
Mortal Kombat 11 Ultimate ($11.99 from $59.99 until 11/8)
One Last Memory Reimagined ($4.99 from $9.99 until 11/8)
Phoenotopia: Awakening ($9.99 from $19.99 until 11/8)
Scribblenauts Mega Pack ($5.99 from $39.99 until 11/8)
The LEGO Movie 2 Video Game ($5.99 from $39.99 until 11/8)
Zombiotik ($3.72 from $12.41 until 11/8)
That's all for today, friends. We'll be back tomorrow with more reviews, more new releases, more sales, and maybe even some news. It was a nice weekend. My son and I stopped by the nearby department store to play some of the pinball machines they temporarily had available, and I got a new (old) Game Boy game. I hope you all have an excellent Monday, and as always, thanks for reading!