This summer has been all about no-cook recipes and simple ingredients that maximize seasonal flavor. Think low effort, high payout—and nary an oven in sight. Ripe peaches on overnight oats, juicy watermelon and tomato salads, sweet corn and plenty of guacamole. Clearly, I'm a farmer's market regular. So it only felt right to highlight one of my favorite summer fruits: strawberries. Sometimes I feel like this berry gets overlooked. And I get it, I usually spend ten minutes flipping over the plastic boxes of strawberries at the grocery store before giving up and settling for something else. But if you've experienced the joy of a farmer's market strawberry, then you know this season is all about eating as many of them as you can. Which is how we got here, to this amazing strawberry caprese salad.
This recipe is no-cook, beyond simple, and calls for just a handful of ingredients. And with a few tricks, it'll stand up strong against the classic tomato version. Add strawberries to your market list, stat—you're in for a treat.
1 of 6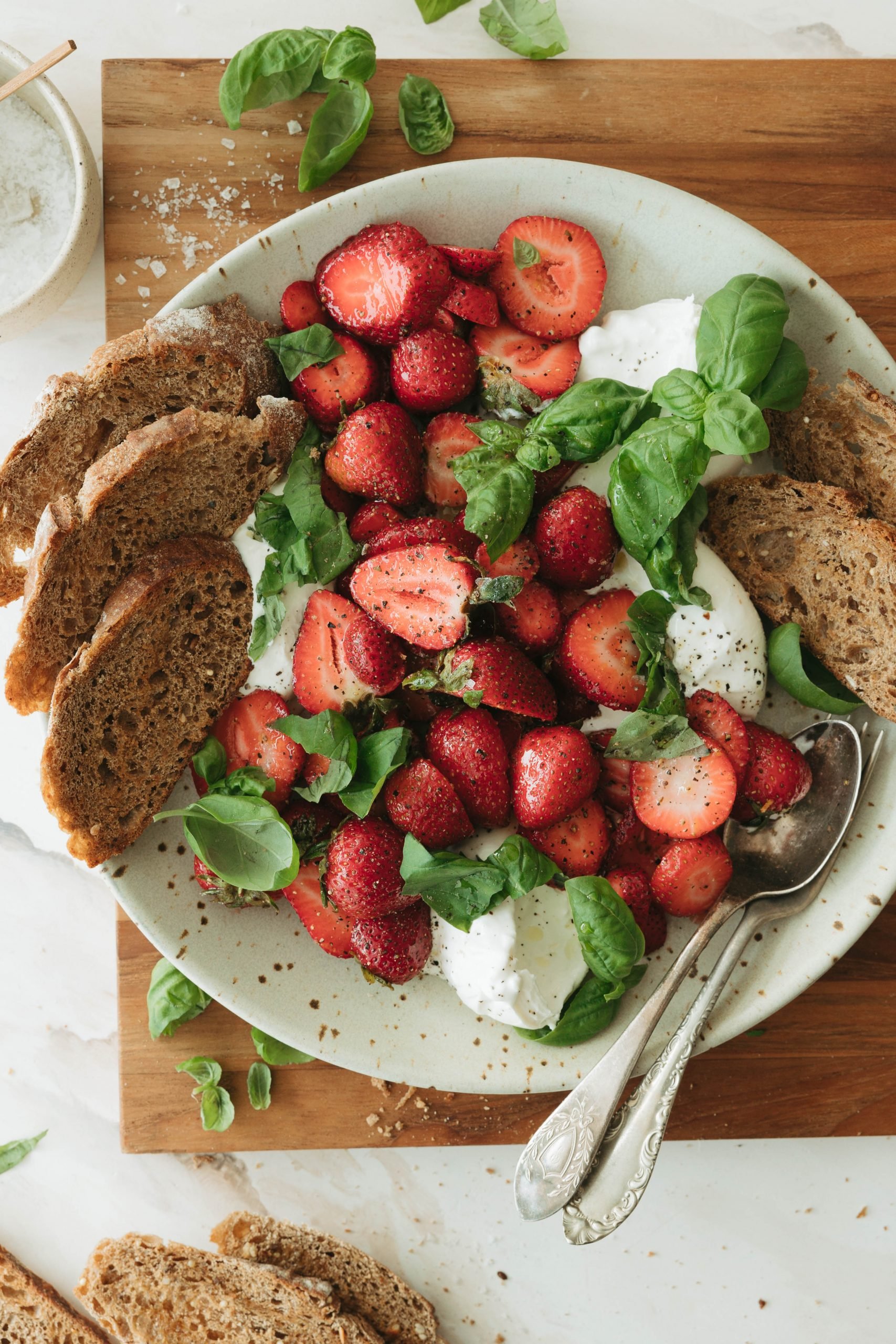 Ingredients for Strawberry Caprese Salad
Strawberries. The riper the better. But because we macerate the strawberries, it's okay if they're a little firmer and not as sweet since we'll draw some of their natural flavors out.
Honey. I like honey for macerating the strawberries. It adds a bit of floral sweetness to the flavor which I like. But you can use granulated sugar instead if you prefer.
Lemon zest. For an extra flavor punch, I like the brightness of lemon zest.
Black pepper. And lots of it. It adds a level of warmth that elevates the salad. Be sure to use the freshly ground stuff, because you definitely want to taste it.
Burrata. It's a little fancy, but something about the creamy interior and chewy outside makes it the most delicious cheese to use. You can also slice up regular mozzarella, use mini mozzarella balls, or even ricotta if you prefer.
Olive oil. Only the good stuff, you're going to taste it.
Basil. For some herby freshness, basil is a must.
2 of 6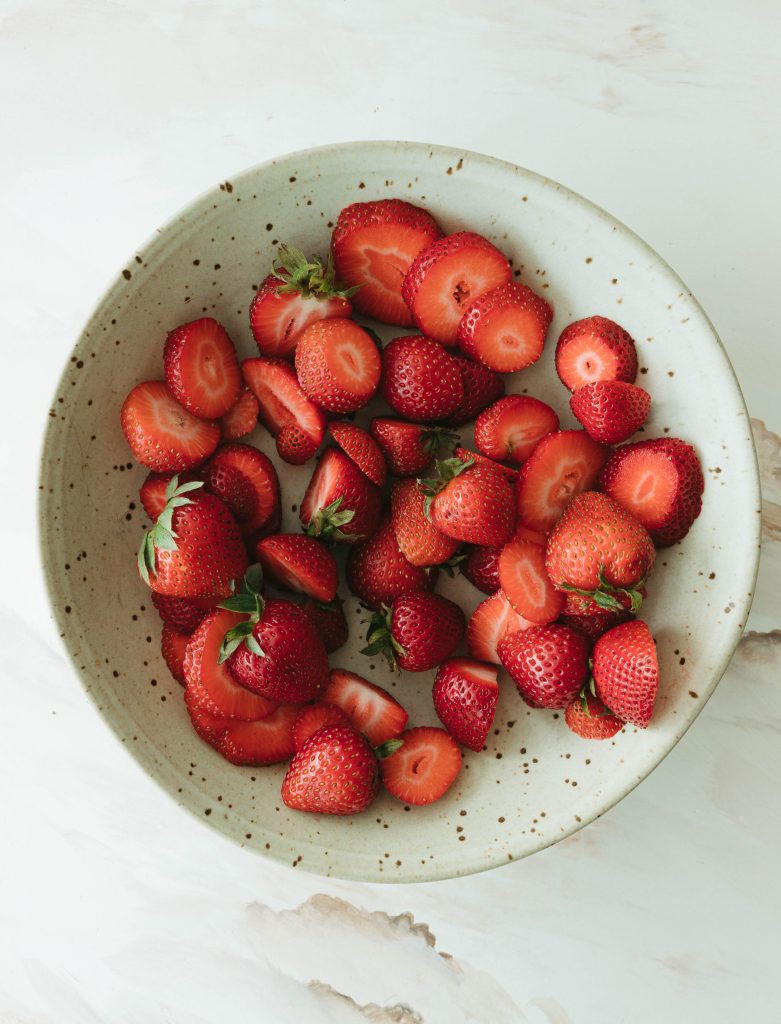 3 of 6
Tips for Making the Most of Your Strawberries
Because I love strawberries so much, I've learned the hard way by having too many on hand that they can go bad quickly, and sometimes you need to help the flavor out.
To store your strawberries, I follow the baking soda and vinegar cleaning trick. I've heard both that you should wait to wash your strawberries until you're ready to eat and that they last longer by washing them this way. You may have to test and learn your own way, but washing my berries this way, then drying completely and storing in a loose-top container with a paper towel, works for me. But let me know if you have any preferred methods.
To prepare the strawberries for this salad, we're going to macerate them. All that means is that we're going to chop up our berries and sprinkle them with a little sugar and salt to draw out their natural juices and concentrate the flavor. (Learn more about this magical, flavor-boosting process.) This helps concentrate the flavor and gives you a little berry sauce that nicely coats each piece of fruit while adding a little acidity to the salad.
4 of 6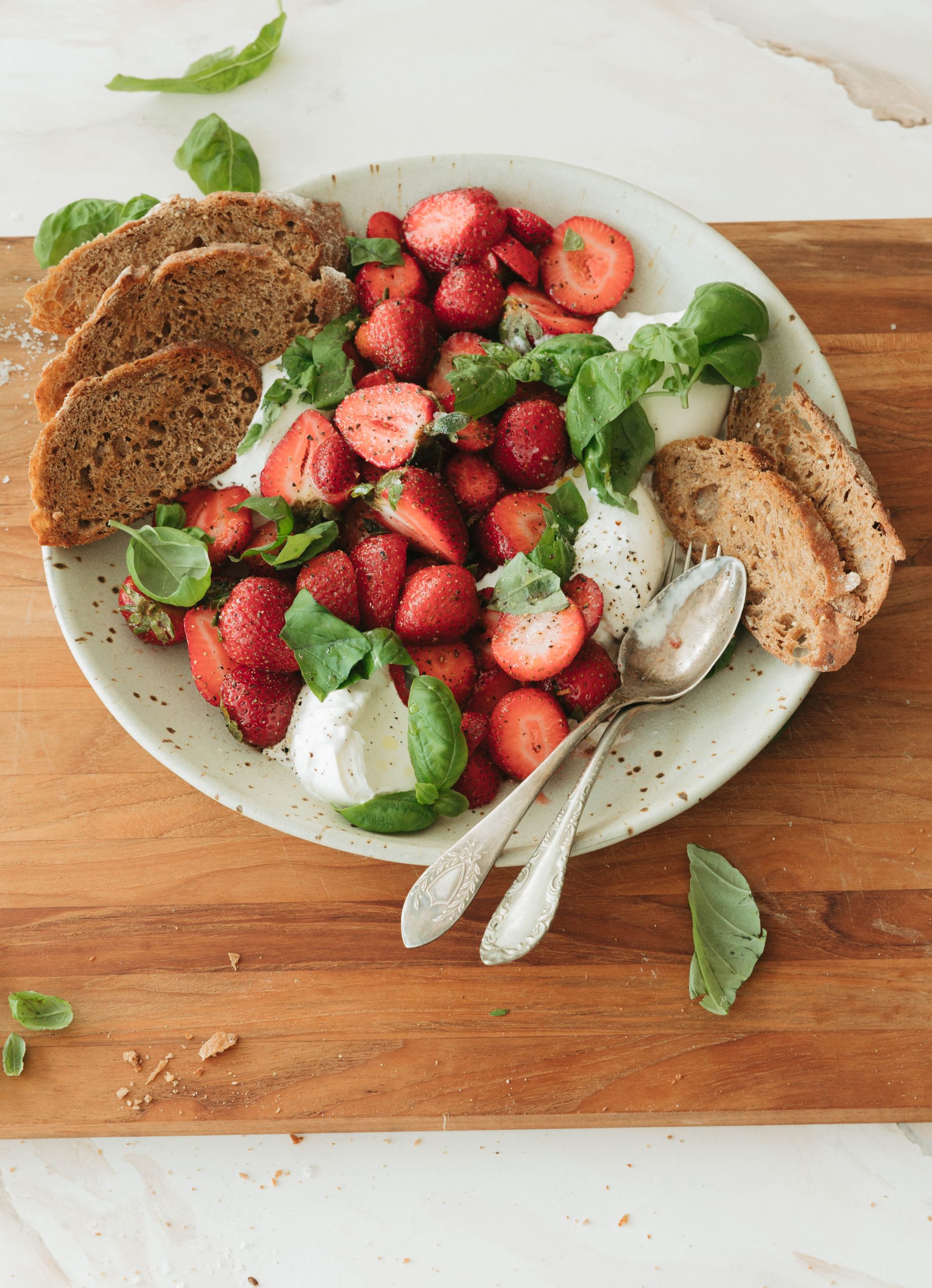 Tips for Next-Level Strawberry Caprese Salad
Because this salad is so simple, there are a few ways that you can upgrade it even more.
Top with pesto. To go even more down the savory route, topping everything with a drizzle of fresh basil pesto gives the salad an even more herbaceous flavor.
Add different fruits. Chopped nectarines, peaches, plums, or other berries, will give this a berries-and-cream vibe that toes the line between salad and dessert. Either way, it's extra delicious.
Serve with crusty bread. I love this because it turns this spoon and fork salad into a DIY appetizer. Toss everything together and let guests top up their bread slices as they prefer.
5 of 6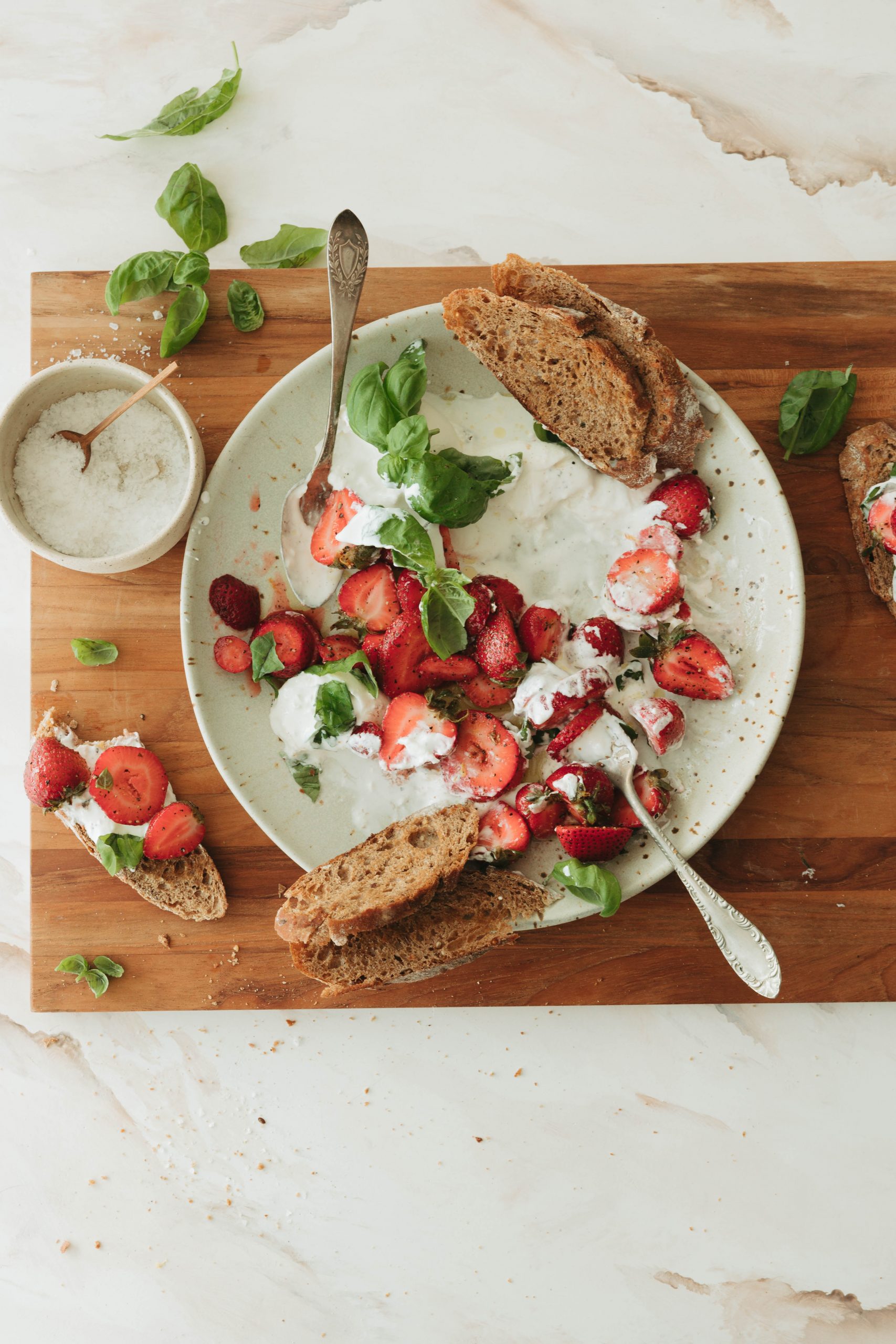 clock clock iconcutlery cutlery iconflag flag iconfolder folder iconinstagram instagram iconpinterest pinterest iconfacebook facebook iconprint print iconsquares squares iconheart heart iconheart solid heart solid icon
Description
An easy summer salad, upgraded with the season's best: strawberries.
1 carton strawberries, halved and/or sliced
1–2 tablespoons of honey
1 big pinch of salt
1/2 tablespoon of fresh ground black pepper
zest of 1 lemon
2 burrata, halved
1 bunch of basil, chopped
olive oil for drizzling
Prepare the strawberries. Slice or halve strawberries and add to a bowl. Top with honey, salt, pepper, and lemon zest. Toss to coat. Let sit in fridge for ten minutes, toss again, then sit for another 10-15 minutes until juice of the strawberries has started to release and strawberries have slightly darkened in color.
Prepare the salad. Add the burrata, basil, and strawberries to a serving bowl. Top with olive oil, salt and pepper. Enjoy!
Prep Time: 20Category: salad
Keywords: strawberry, caprese, salad