The Best Low Carb Cranberry Sauce (Keto, Paleo, Diabetic Friendly)
You can't have a proper Thanksgiving dinner without a beautiful, ruby-colored cranberry sauce on the table. And while the canned versions are what I grew up on, nothing compares to making your own. Once I realized how quick and easy it is I never turned back. And now that I can make it low-carb it's even better! 
Watch The Best Ever Low Carb Cranberry Sauce How-To Video Below!
It may be hard to believe, but traditional cranberry sauce recipes usually have quite a bit of added sugar. And for good reason. Cranberries have only 4 grams of natural sugar per cup and desperately need something to balance out their extreme mouth-puckering tartness. Sugar, or rather the sweetness of sugar, is what turns those beautiful little tart red berries into something edible. But for this recipe, we're kicking sugar and it's empty calories and carbs to the curb.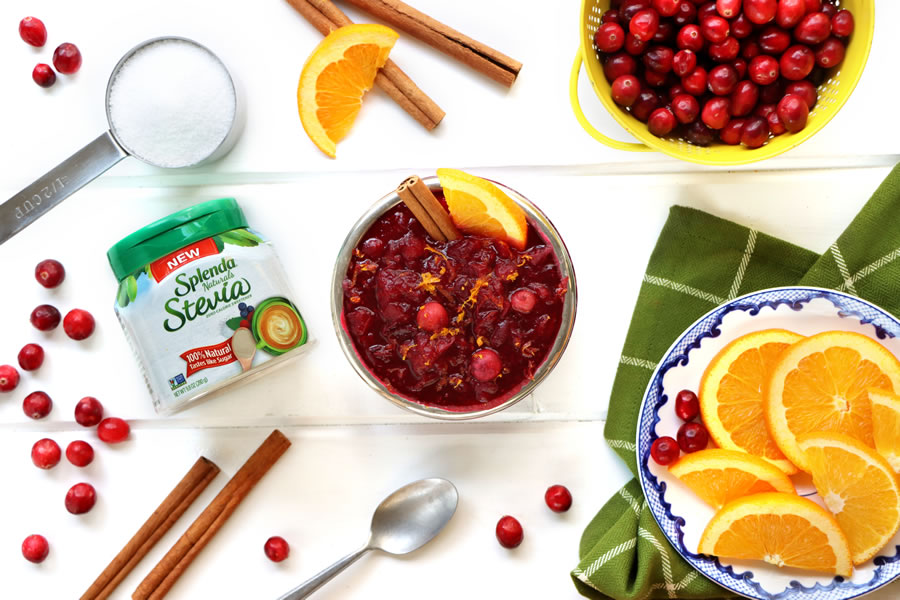 Instead, we're substituting with our favorite zero-calorie, sugar-free sweetener – SPLENDA® Stevia Sweetener. It's 100% all-natural and 100% tastes just like real sugar. It's made with a stevia leaf extract that is rich in something called Rebaudioside (Reb D). This extract is what gives the stevia leaf its sweet and tasty flavor. Most other stevia products today are made with the extract Rebaudioside (Reb-A), which can give a strange bitter and unpleasant aftertaste. SPLENDA Stevia is also non-GMO and free of any artificial flavors, colors or preservatives. It's perfect if you're low-carb, Keto, Paleo, or diabetic but want a little sweetness in your life. It's also just a healthier everyday option for sweetening up things like your coffee, tea, ice-tea or lemonade. We have details down below on where to find it and the different sizes available. Now onto the sauce.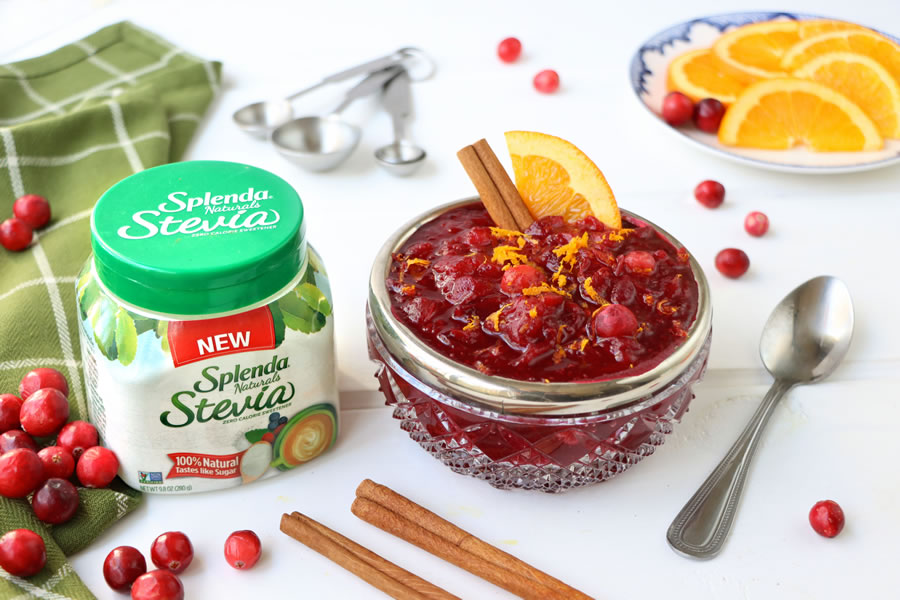 Making cranberry sauce is a one-pot deal.
Here's How Make Low Carb Cranberry Sauce!
Start by rinsing the contents of a 12-ounce bag of fresh cranberries discarding any that feel soft or look bruised. You can find them in the produce section of your grocery store. We then add a cup of water to a small pot with two cinnamon sticks (approximately 3 inches long) and begin heating to a low boil. We follow with ½ cup of SPLENDA® Stevia Sweetener, which is equal to the sweetness of 1 cup of white sugar. If you don't have cinnamon sticks, no need to run to the store, just add 1 teaspoon of ground cinnamon instead.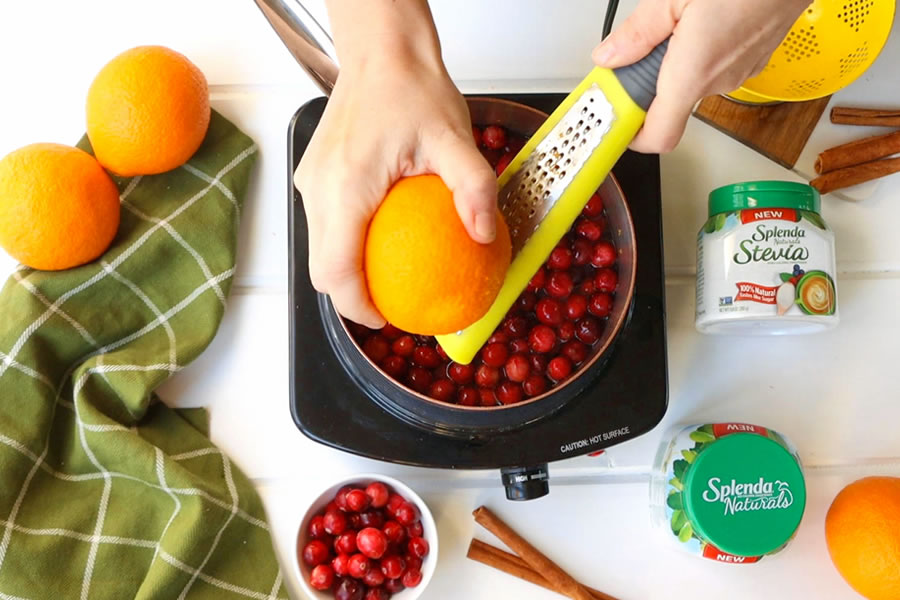 Give it a quick stir to dissolve and once you see the water start to bubble up add the rest of the ingredients to the pot including the cranberries, orange zest, and vanilla extract. Adding the zest of a fresh orange gives us the essence of orange without any of its sugar, carbs or calories, while the vanilla extract adds a warm floral flavor that really balances the tart and sweet flavors in this sauce.
Bring this little cranberry concoction to a low simmer and cook for about 8-10 minutes. You'll start to notice that the individual cranberries will start to pop as they cook down. When the cranberry sauce is done remove it from the heat and allow it to cool to room temperature before transferring to a serving bowl. Keep the cranberry sauce chilling in the refrigerator until you're ready to serve. If you don't like your sauce too cold, allow it to stand at room temperature for about 30 minutes before serving. We suggest making this cranberry sauce the night before. It will really allow the flavors to develop and give you more time to relax and spend with your family.
We calculated the nutritional profile for 8 servings of this low carb cranberry sauce recipe. Each serving is based on a ¼ cup serving equal to 4 tablespoons or 2 ounces. 
8 Servings (¼ cup each) =  2.5 Net Carbs Per Serving
Total Carbohydrate 4.2g
Dietary Fiber 1.7g
Total Sugars 1.6g
4.2 grams (Total Carbs) – 1.7 grams (Dietary Fiber) = 2.5 Net Carbs Per Serving
** If you look on the side of the Splenda Naturals Stevia label you'll see 3 grams of carbs from erythritol per teaspoon. But don't be concerned. Erythritol is a type of sugar alcohol that the body does not digest and is passed out by the body in your urine. It has no effect on blood sugar so the net carbs of Stevia Naturals is zero and it is zero calories. 
GET THE RECIPE!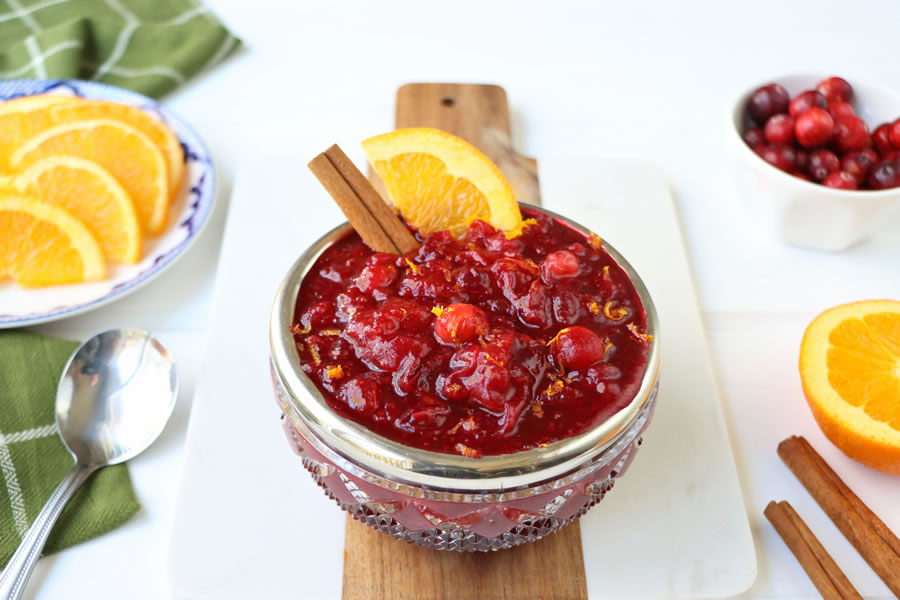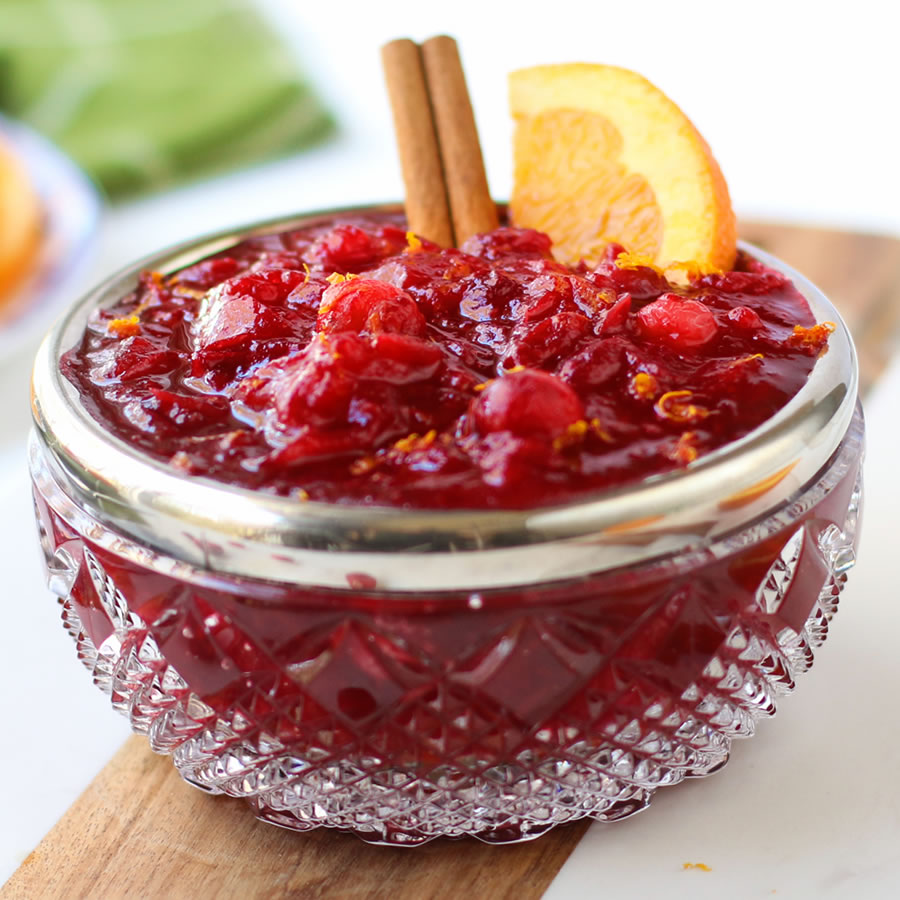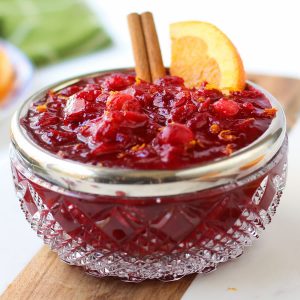 Best Ever Low Carb Sugar-Free Cranberry Sauce (Keto, Paleo, Diabetic Friendly)
Heather LaCorte
Tart, sweet, and gently spiced this super easy low-carb sugar-free cranberry sauce is flavored with orange zest, cinnamon, and vanilla and then sweetened with our favorite sweetener, Splenda Stevia. Perfect for your holiday table, you'll never miss the sugar!
Prep Time 5 minutes mins
Cook Time 10 minutes mins
Course Sauce, Side Dish
Cuisine American
Equipment
Citrus Zester or Grater
Spoon
Small Saucepan
Measuring Spoons
Serving Bowl
Ingredients 
1x2x3x
1 cup water2 3-inch cinnamon sticks or 1/2-1 tsp ground cinnamon * if using ground start with 1/2 tsp and add more to taste1/2 cup Splenda Naturals Stevia (same sweetness as 1 cup of sugar)1 12 ounce bag of fresh cranberries, rinsed and picked through1 orange, zested1 tsp vanilla extract
DIRECTIONS 
Add the water and cinnamon sticks to a small pot on medium-high heat. When you see the water begin to bubble add the Splenda Stevia and stir to dissolve.
Add the cranberries, orange zest, stir and simmer for about 8 minutes if you like more whole berries in your sauce, or 12 if you like it smoother.
Stir in vanilla extract then, remove the pot from heat and allow to cool to room temperature. The sauce will thicken as it cools.
Transfer to a serving bowl and keep chilled in the refrigerator until you're ready to serve. If you prefer your cranberry sauce at room temperature, take it out of the refrigerator about 30 minutes prior to serving.Makes about 2 cups. Enjoy!
Notes
♥  If using ground cinnamon start with 1/2 tsp and add more to taste if you like. Other spices that work well in this recipe include star anise (use 1 whole), allspice (try 1/4 teaspoon ground) or cloves ( 2-4 whole).
♥ If you're cutting out sugar, but don't want to waste the orange, try an Orange-Cinnamon hotpot to add a natural fragrance to your home. Slice up the orange and add it to a large pot or slow-cooker (lid off) filled with water.  Next, add a 1/4 cup of cloves along with 2 cinnamon sticks (you can reuse the ones from the cranberry sauce), and a splash of vanilla extract. Simmer on low and your house will smell divine!
Keyword cranberry, easy, keto-friendly, low-carb, paleo, sauce, Sugar Free
Happy Holidays!