Thin and Crispy Air Fried Eggplant Slices
One of the best ways to enjoy eggplant is air fried! These crispy eggplant slices are super easy to assemble and "air fry" up and have way less oil and calories than traditionally cooked deep-fried eggplant. Plus there are so many ways to use them! Enjoy them alone as a delicious appetizer with a sauce, serve them over salads and pasta dishes, or add them to sandwiches, pizzas, or even use them as the base for an eggplant parmigiana.
We used the air crisper (air fry) function in our Ninja Foodi Grill, but this recipe will work with any air fryer. You can read our original review for the Ninja Foodi Grill linked here.
Before cooking, double-check the recommended temperature for cooking veggies in your air fryer's manual.
BUY → Ninja Foodi 5-in-1 4-Qt. Air Fryer, Roast, Bake, Dehydrate Indoor Electric Grill, 10″ x 10″, Black and Silver
You can also simply bake these slices on a baking sheet in the oven if you don't have an air fryer.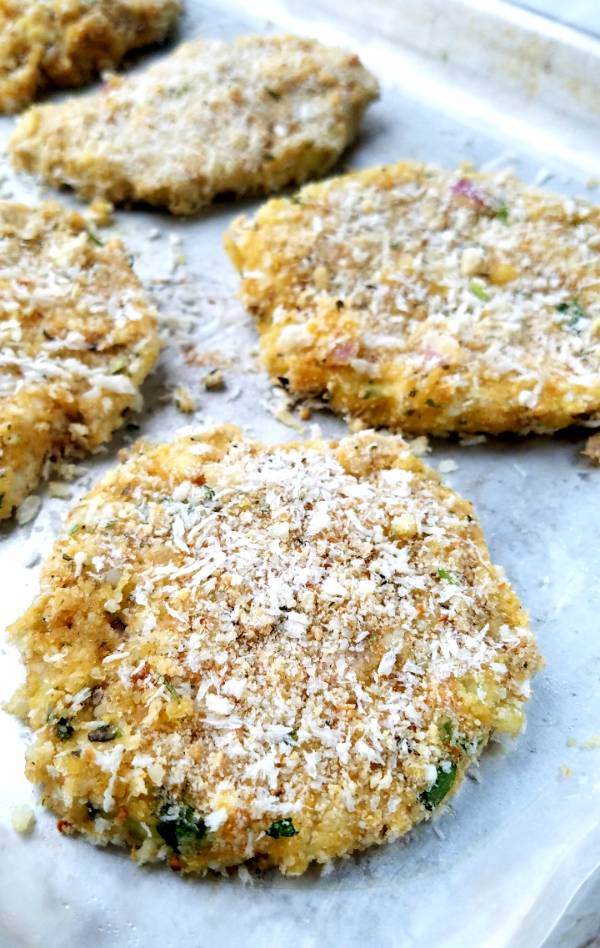 Ingredients for the Air-Fried Eggplant
Eggplant:  We used medium-sized eggplants for this recipe but in this case, size doesn't matter too much. Mini eggplants would be great for serving over salads or pizzas. Cut them into 1/2 inch slices.
Breadcrumbs: Italian seasoned breadcrumbs work great for this recipe. You can also use plain if you're thinking of serving these crispy eggplant slices with a different style dipping sauce.
Parmesan Cheese – If you're dairy-free this one is optional, but it does add that nice cheesy umami flavor we all love. You can also substitute other Italian hard cheeses like Pecorino-Romano, Piave, or Grana Padano instead. If you have more than one on hand, try making a blend.
Flour & Eggs – This is for dredging and dipping so the breadcrumb sticks to the eggplant.
Herbs & Spices –  Salt and pepper is obviously a must, but I love to add finely chopped fresh parsley as well (dried is just fine too). If you're a garlic lover, add a little garlic powder to the breading mix.
Olive Oil – Drizzling the eggplant slices with olive oil before air frying helps keep the breadcrumb crispy yet moist while cooking. You can also use another neutral healthy oil good for high heat cooking. Avocado oil would be another great choice. While assembling these eggplant slices I originally drizzled the oil. But for a more evenly distributed coating of oil without much waste using a spray bottle is best.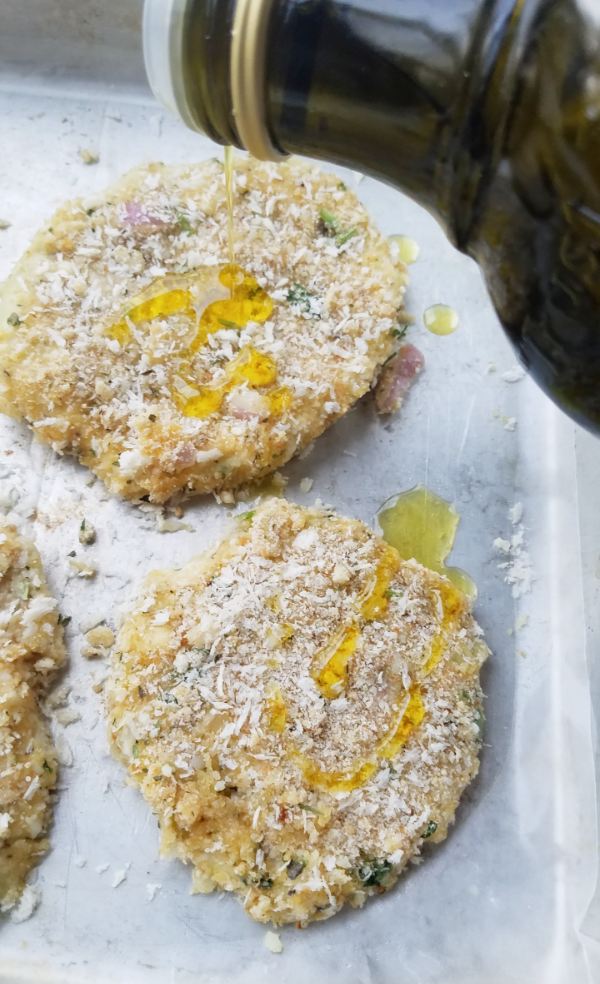 A glass spray bottle filled with olive oil like this one linked here and pictured down below is a great tool to have in the kitchen especially if you prefer cooking with a specific brand or type of oil. It allows you to more easily control the amount your using.

BUY →
Non-Aerosol Evo Oil Sprayer Bottle for Olive Oil
You can also check the grocery store or online retailers for olive oil, avocado oil or grapeseed oil in the non-aerosol spray cans similar to the non-stick sprays like Pam come in. I've linked to a few you can get delivered from Amazon below.
BUY →  Chosen Foods 100% Avocado Oil Spray
BUY → La Tourangelle Artisanal Cold-Pressed Extra Virgin Olive Oil Spray
BUY → Mantova 100% Grapeseed Oil Spray
For Best Flavor Salt the Eggplant Before Breading
Many cooks swear that you get a creamier and richer tasting eggplant when you "salt" the eggplant before cooking. This step draws water out of the eggplant and can reduce any bitterness. It's very easy to do.
Sprinkle salt on both cut sides of the sliced eggplant and then lay on a rack over a baking sheet to collect the water.  You can also set them sideways in a large enough colander over the sink. After 30 minutes you should see water droplets on the surface of the eggplant. Rinse the eggplant slices underwater and then pat completely dry. Your eggplant is now ready to dredge!
This step can be skipped if you are short on time. I've had great eggplant with and without salting beforehand.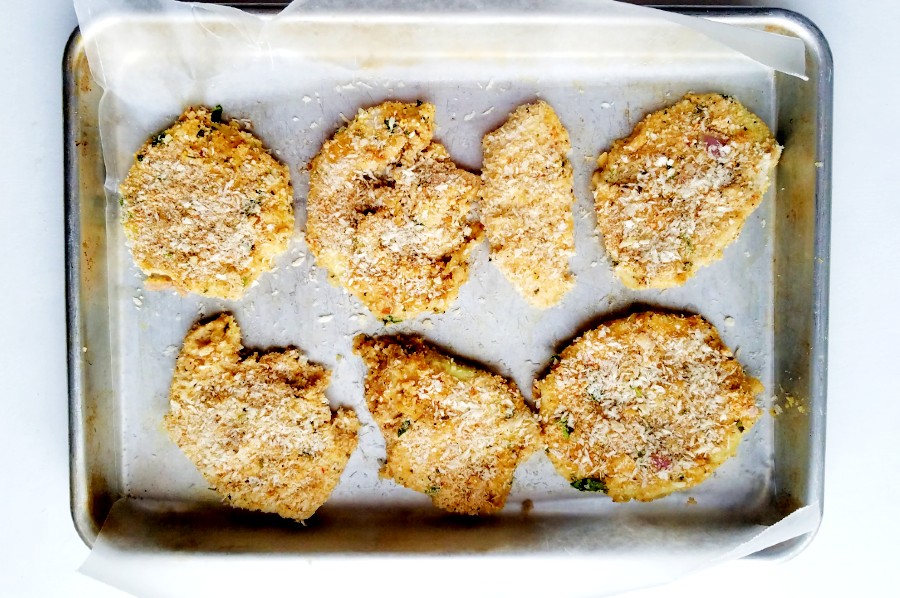 Breading and Cooking The Eggplant Slices
In a flat bowl or large dish, mix together your Italian seasoned breadcrumb, panko, Parmesan cheese, pepper, garlic powder, and dried parsley. Then set up a dredging station to bread the eggplant. The order should be flour, then egg, and then breadcrumbs. Once the slices are breaded lay them on a baking sheet or rack and drizzle or spray them with oil before air frying.
Cooking the eggplant in batches, we air-fried them at 375 degrees F for about 10 minutes total, turning them over after about 5 so they brown evenly on both sides. Please note all air-fryers cook slightly differently so you may have to adjust the temperature for your machine. Check your manual for recommendations, or cook one batch at the temperature recommended here and adjust if needed.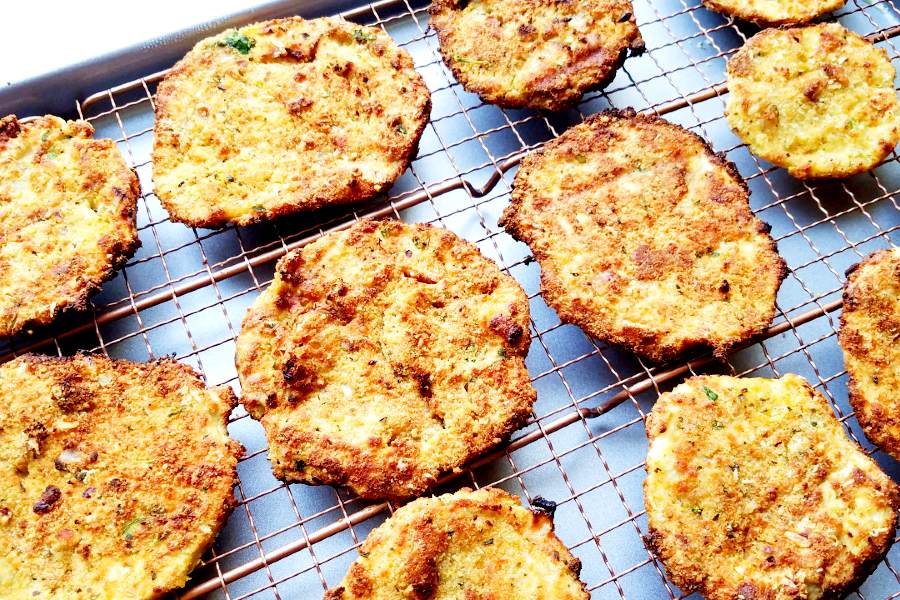 Dairy-Free and Vegan-Friendly Tip!
To make these eggplant slices vegan friendly, substitute the Parmesan cheese with nutritional yeast and coat the eggplant slices in olive oil (or another oil of your choice) or vegan mayo instead of beaten egg before dipping in the bread crumb. Then cook as directed.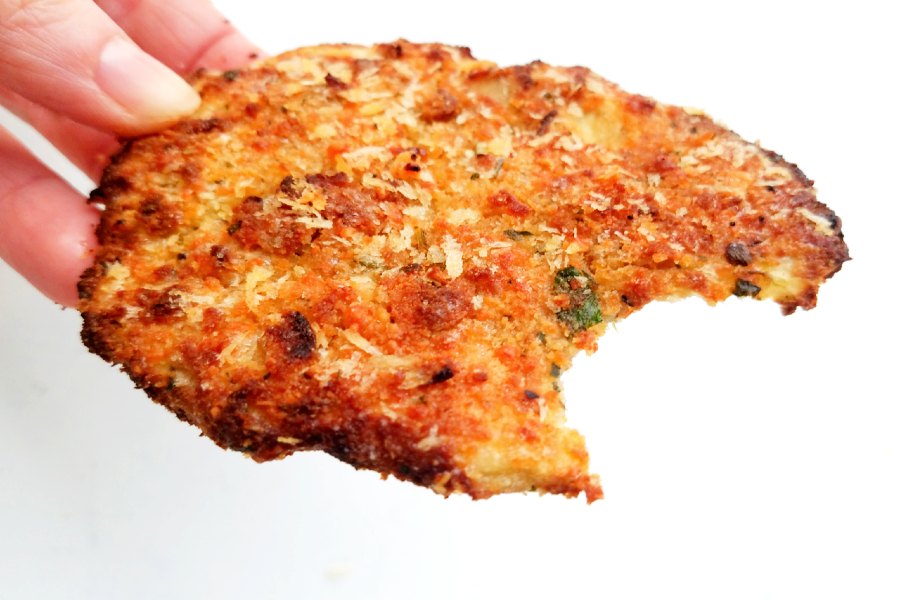 GET THE RECIPE!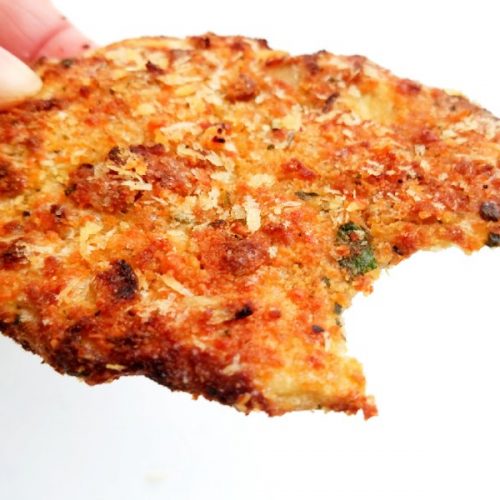 Thin & Crispy Italian Air Fried Eggplant Slices
Heather LaCorte
This recipe makes some for delicious eggplant slices that are thin, crispy and taste just like they're deep fried, but without all the extra oil and calories. Super versatile you can serve these eggplant slices as a tasty appetizer, over salad or even used as a base for eggplant parmigiana.
Prep Time 15 minutes mins
Cook Time 10 minutes mins
15 minutes mins
Total Time 20 minutes mins
Course Appetizer, Side Dish
Ingredients 
1x2x3x
eggplant, sliced into 1/4 inch roundssaltolive oil1/2 cup Italian seasoned bread crumb1/2 cup panko1/2 cup Parmesan cheese, grated (Romano may be substituted or combined for a blend)1/4 cup parsley, finely chopped2 teaspoons Italian seasoning1/2 teaspoon pepper1 teaspoon garlic powder (optional)1/2 cup flour2 eggs, beaten
DIRECTIONS 
Preheat air fryer to 375 degrees F.
Cut eggplant into 1/4-1/2 inch slices. 1/4 inch for super thin eggplant slices or 1/2 for slightly thicker slices perfect for eggplant parmigiana.
OPTIONAL STEP: Some report a creamy richer tasting eggplant when salting eggplant before cooking. Lay the eggplant on a rack over a baking sheet. Sprinkle salt on the cut sides. This will draw water out of the eggplant and reduce bitterness. After 30 minutes rinse the eggplant slices and then pat completely dry.
In a flat bowl or large dish, mix together the Italian seasoned breadcrumb, panko, Parmesan cheese, parsley, pepper and garlic powder (optional). Set next to your flour and beaten egg bowls. The dredging station order should be flour, then egg then breadcrumb.
Dip eggplant slices into flour, shaking off excess. Then dip into egg, coating both sides allowing excess to drip off. Then press the eggplant slices into the breadcrumb mixture, coating both sides. Set on a plate or rack and repeat until all the slices are coated.
Cooking in batches, spray or drizzle olive oil on both sides of the eggplant slices before adding to the air-fryer basket.
Cook for 10 minutes total, 5 minutes on each side, until golden brown. Set on a baking sheet or rack and continue cooking the rest. You may keep them in a warm oven if you like.NOTE: All Air-Fryers cook differently. You may want to adjust your cooking time or temperature after the first batch.
SERVING SUGGESTIONS: Season with a little salt if desired. Serve alongside your favorite dipping sauce like marinara, harissa, tzatziki or serve over salad or pasta. These eggplant slices can also be used to for eggplant parmigiana. Enjoy!
Keyword air-fried, eggplant