What to Wear for Each Subset Palette
You know when you wear a certain outfit and the compliments begin to roll in? People might remark on the way your eyes pop, how great your skin looks, or maybe it's a flat-out, "That top is your color!" These are all signs that the color you're wearing is working in harmony with your natural features. Your skin appears more even, your eyes sparkle, and there's a general sense of ease to your appearance. This is the magic of dressing for your season.
Of the four seasons, there are two over-arching types: warm (Springs and Autumns) and cool (Winters and Summers). If you're in the warmer seasons, you'll favor more yellow tones whereas cool seasons favor more blues. If you want to find out your color type, we did a deep dive on each season right here.
1 of 43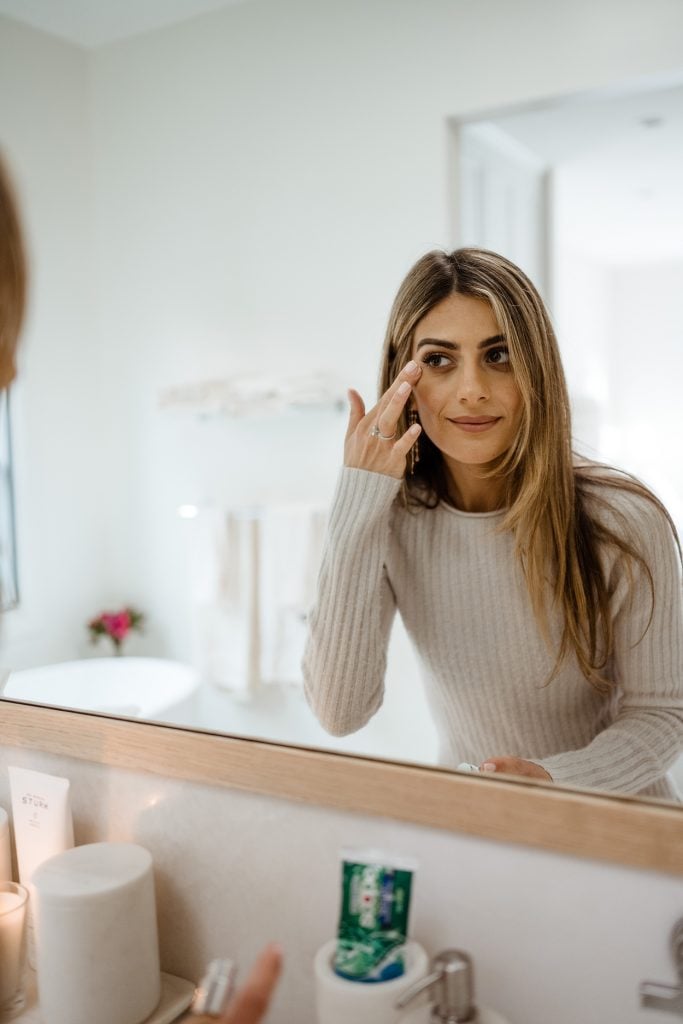 Image by Teal Thomsen
Now, it's important to remember that these characteristics aren't strict, set-in-stone rules to determine your seasonal category. They're more like friendly guideposts commonly linked to each season. This especially holds true for individuals with diverse skin tones, where traditional seasonal color advice often leans toward those with lighter complexions. Ultimately, your color journey is all about what makes you feel fantastic and authentic.
Today, we're taking a deep dive into what it means to embody Autumn—that magical season when the earth takes on a golden hue and we reach for cozy books and warm drinks. I'll unpack the three sub-categories of Autumn color analysis and show you exactly what to wear to dress in harmony with your season. But first, let's recap Autumn as a whole.
2 of 43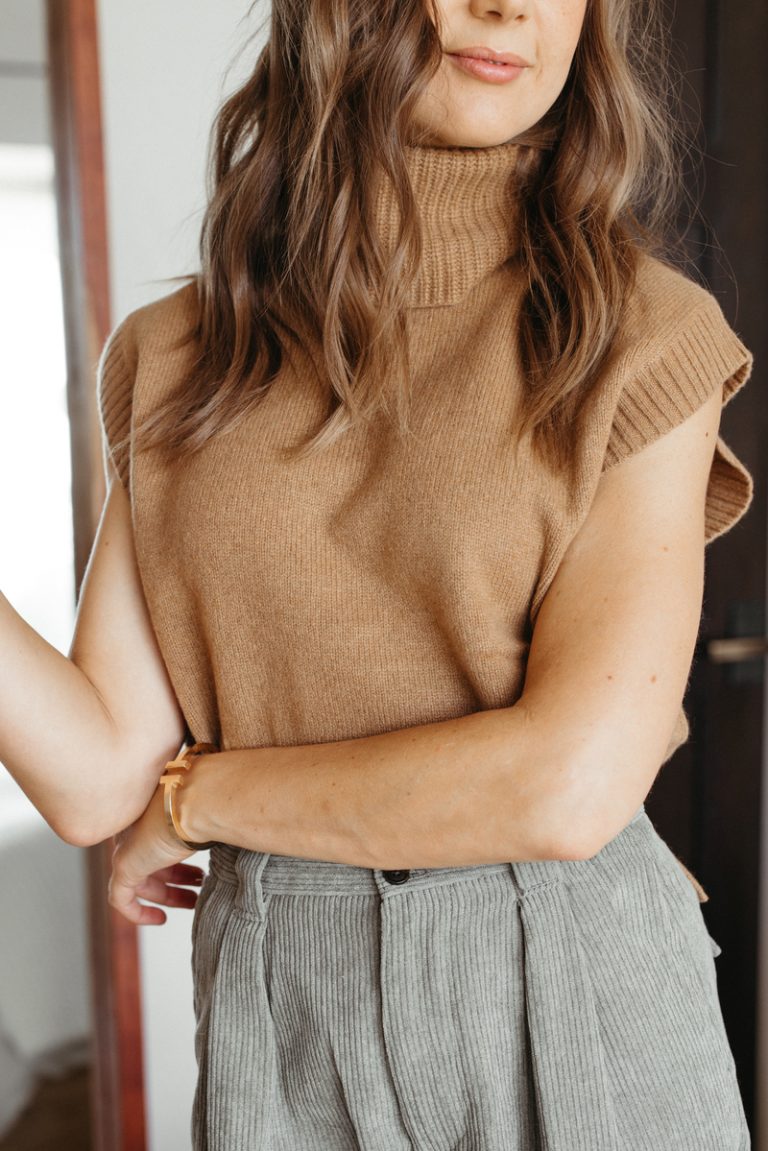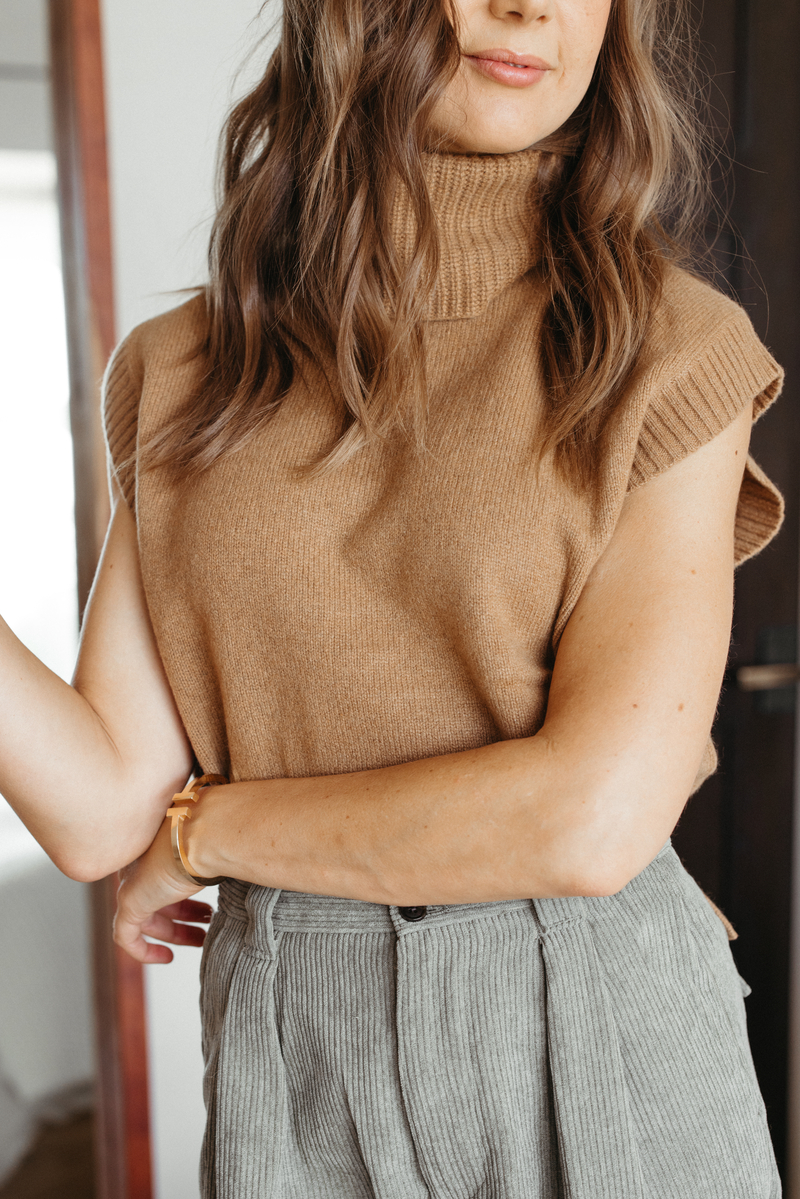 Autumn Color Analysis
Autumns have low contrast but with warm undertones. They often have warm hair colors, warm-toned eyes, and medium to dark skin. Autumns thrive in rich, earthy color combinations like deep rust and olive green.
Signs you might be an Autumn:
Vein Test: If your veins appear more greenish, it suggests you have warm undertones, which align with the Autumn season.
Eye and Hair Color: Autumns often have warm, earthy tones in their natural eye and hair colors. This includes shades like deep brown, auburn, red, or warm blonde. If your natural eye and hair colors fall within these warm, earthy categories, it's another sign of being an Autumn.
How Colors Make You Feel: Pay attention to how you feel when you wear certain colors. Autumns typically look best in warm, earthy, rich colors like deep oranges, browns, olive greens, and mustard yellows. If these colors make your complexion appear more vibrant and healthy, you're likely an Autumn.
Jewelry Metals: Autumns tend to look better in warm metals like gold and bronze due to their warm undertones. If gold jewelry enhances your skin tone more than silver, it's another clue that you might be an Autumn.
3 of 43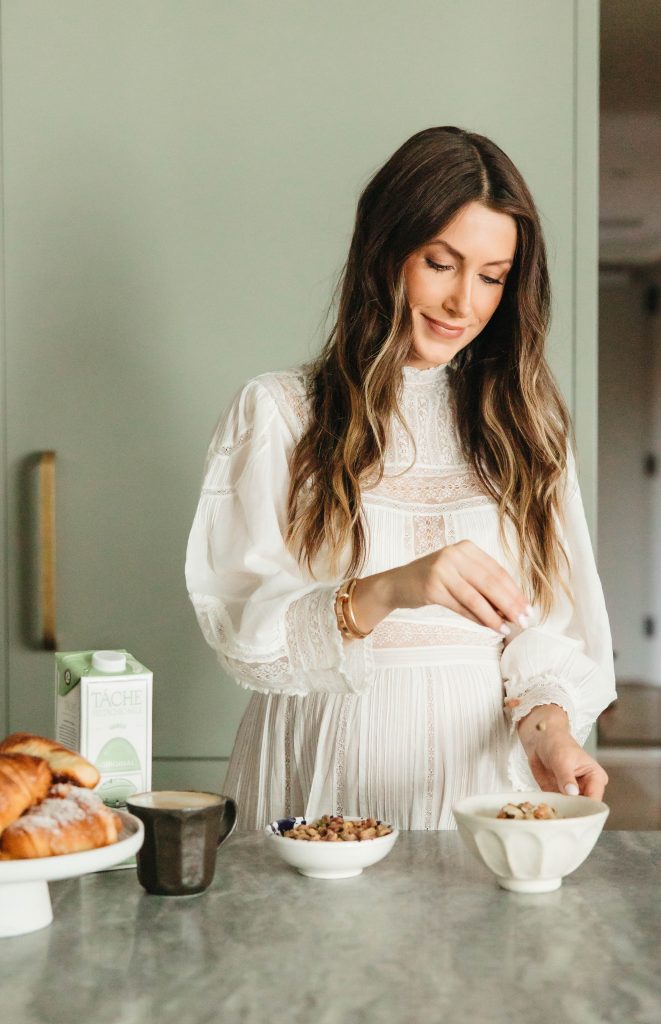 Image by Suruchi Avasthi
The 3 Sub-Categories of the Autumn Color Analysis Palette
There are three sub-categories within the Autumn color palette: Soft Autumn, True Autumn, and Dark Autumn. Determining your specific sub-category within the Autumn palette involves a deeper analysis of your skin, hair, and eye tones and understanding your overall color harmony and contrast levels. Here's how you can distinguish between these sub-categories:
Skin Undertones and Depth:
Soft Autumn: If your skin has neutral or golden undertones, but they are softer and more muted in intensity compared to Dark Autumn, you might fall into the Soft Autumn category.
True Autumn: If your skin has warm undertones that are moderate in intensity with either neutral or golden undertones, you could be a True Autumn.
Dark Autumn: If your skin has neutral, slightly warm undertones and has a richer, deeper hue, leaning toward olive or golden, you may align with Dark Autumn.
Hair Color and Depth:
Soft Autumn: Hair for Soft Autumns is warm and rich in color, often a mix of medium to dark browns, auburn, or warm shades of chestnut.
True Autumn: Hair for True Autumns is warm and falls within the medium to dark brown range, exhibiting a natural warmth and richness without being too deep.
Dark Autumn: Hair in the Dark Autumn category is typically deep and rich, ranging from dark brown to black, with warm undertones.
Eye Color:
Soft Autumn: Eyes tend to be dark yet warm in hue (rather than cool or bright) with colors like softer brown, light hazel, or light green with warm undertones.
True Autumn: Eye colors are moderate in intensity and warmth, often featuring shades of medium to warm brown, amber, or green.
Dark Autumn: Eyes in this category often have warm, deep tones like rich brown, hazel, warm green, or warm hazel.
Contrast Level:
Soft Autumn: Soft Autumns have a soft level of contrast between hair, skin, and eye color.
True Autumn: True Autumns also have a moderate level of contrast, providing a balanced and natural appearance.
Dark Autumn: Dark Autumns have a higher level of contrast between their hair, skin, and eyes, creating a striking and vibrant look.
4 of 43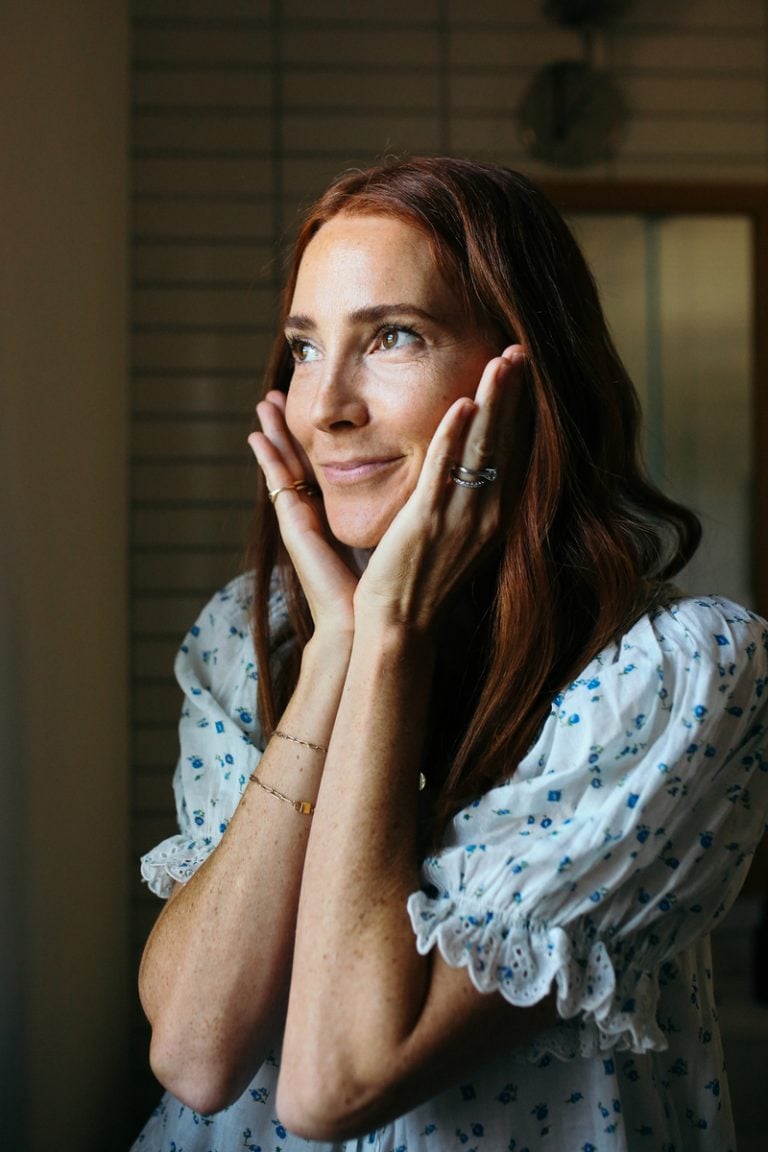 Image by Sara Prince
The Soft Autumn Color Palette
Picture the Soft Autumn palette as a canvas mirroring the gentle transition from summer to autumn. It's that magical moment when nature begins to shift its colors and autumn gracefully steps into the spotlight after the vibrant days of summer.
Soft Autumn celebrities include Kate Winslet, Thandiwe Newton, Elizabeth Olsen, and Drew Barrymore.
5 of 43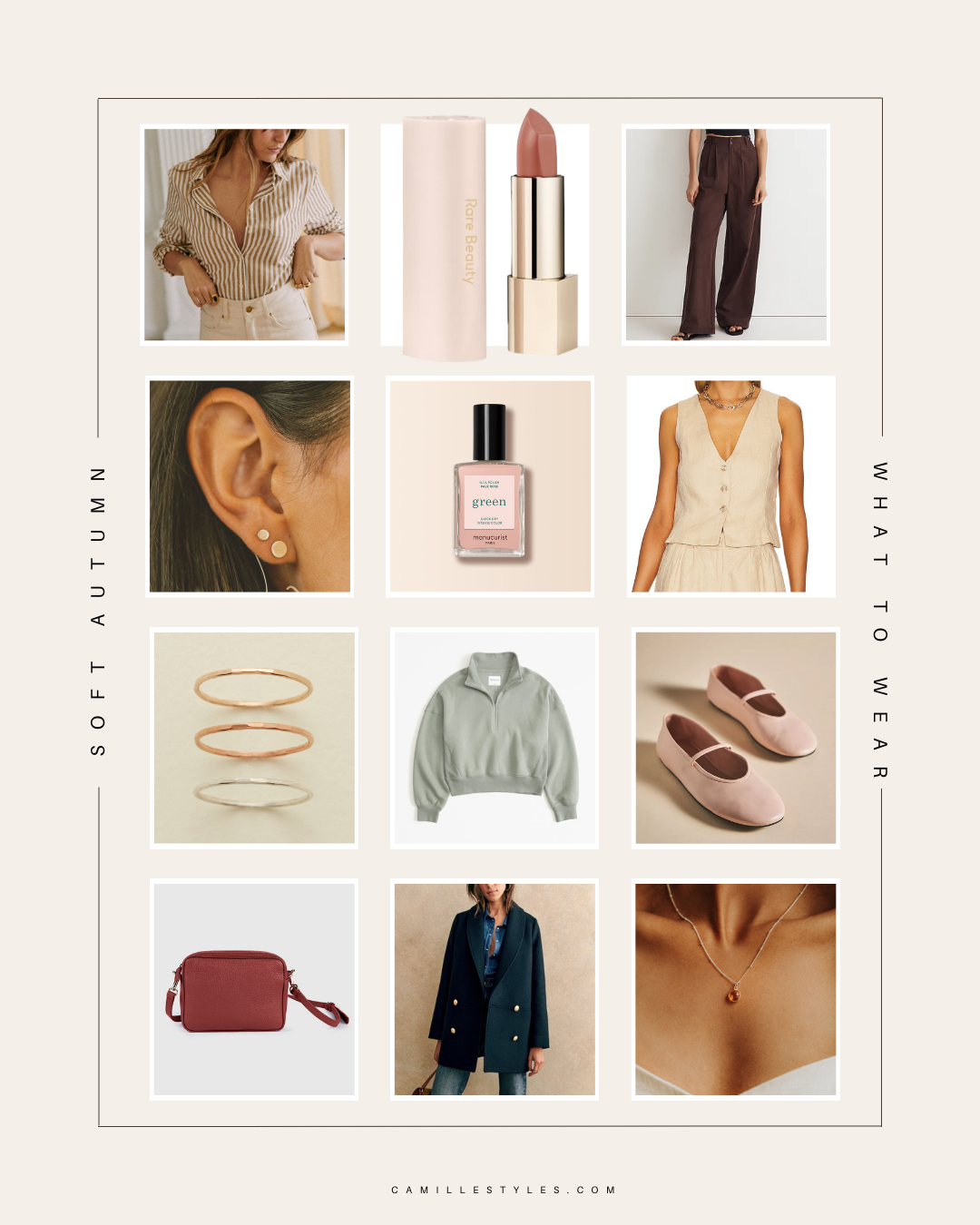 Best Jewelry Metals for Soft Autumns
Soft Autumns can have it both ways—with a neutral yet slightly warm undertone, your skin is harmonious with both gold and silver. But when it comes to texture, opt for brushed or matte metal over polished so your dark features shine. Opt for shades like soft yellow gold, peach gold, or rose gold, which add a soft and complementary warmth to your skin tone. Copper and bronze are also excellent choices for Soft Autumns as they align with the warm, earthy hues of this palette.
Consider incorporating gemstones that align with the Soft Autumn color spectrum, like amber, citrine, peridot, or carnelian. These gemstones harmonize well with the warm and earthy tones of the Soft Autumn palette.
Every product is curated with care by our editors and we'll always give an honest opinion, whether gifted or purchased ourselves. If you buy something through our links, we may earn a small commission at no cost to you.
Best Makeup & Nail Color for Soft Autumns
Muted colors are favored across the board for Soft Autumns. Makeup should be neutral, slightly warm-toned rather than either cool (blue-based) or super warm (yellow or orange-based) to complement your gentle contrast. Since your features are soft, bright and bold colors can easily throw you off balance. Instead, look for muted colors—but don't be afraid of a little shimmer. For a neutral mani, consider muted rose pinks or go bolder with muted reds.
Best Colors For a Soft Autumn Wardrobe
Neutrals are shades of beige, navy blue, off-white, and shades of brown. Black, white, and grey may be your go-to's, but they're less harmonious with your skin tone, draining you of color and more likely to bring out the darkness under your eyes. Warm, earthy, muted with a vintage feel. Accents colors are muted, warm-toned shades.
Since your colors are low-contrast, low-contrast outfits complement your features best. Combinations of linen, nudes, and soft off-whites are always a hit, but consider adding in a muted blue, green, or rose accent when you're feeling adventurous.
6 of 43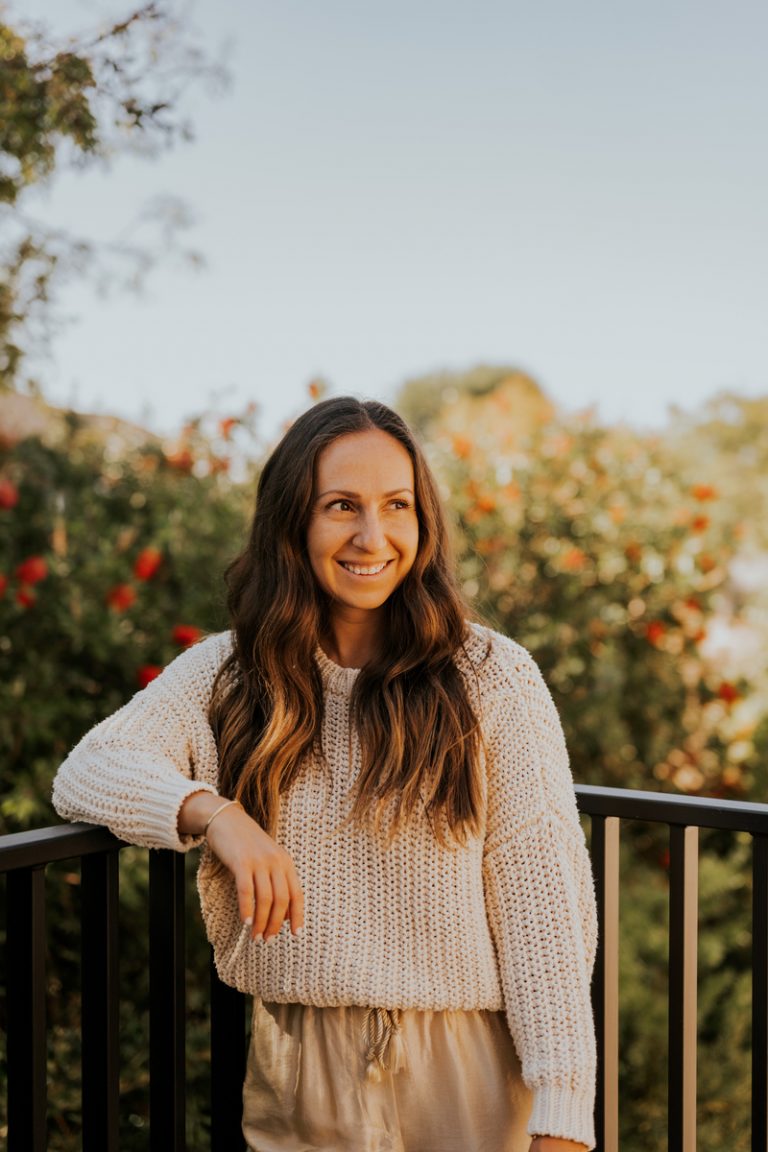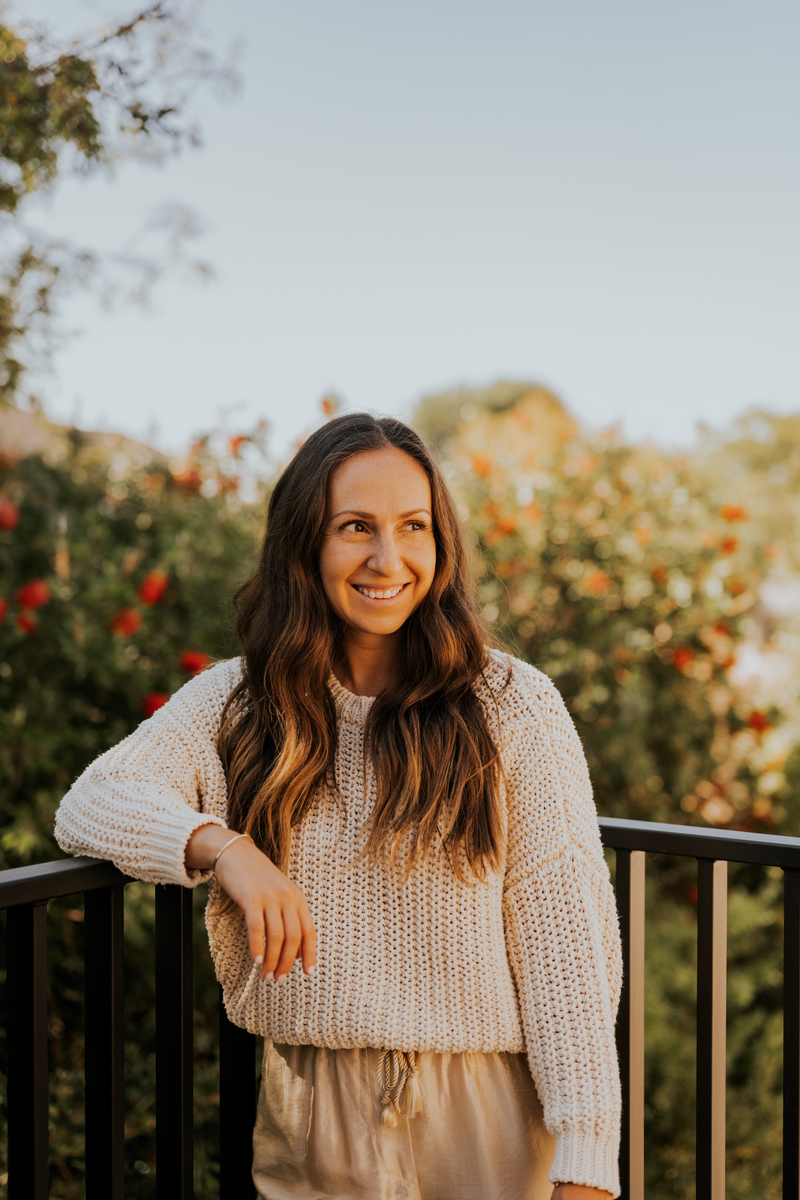 Image by Teal Thomsen
The True Autumn Color Palette
The True Autumn palette lands right in the middle of autumn's peak richness. The leaves are fully transitioned to orange and yellow, and a warm tone is in full effect with no hint of blue or cool tones in sight.
True Autumn celebrities include Julianne Moore, Shailene Woodley, Jennifer Lopez, Ana de Armas, and Beyoncé.
7 of 43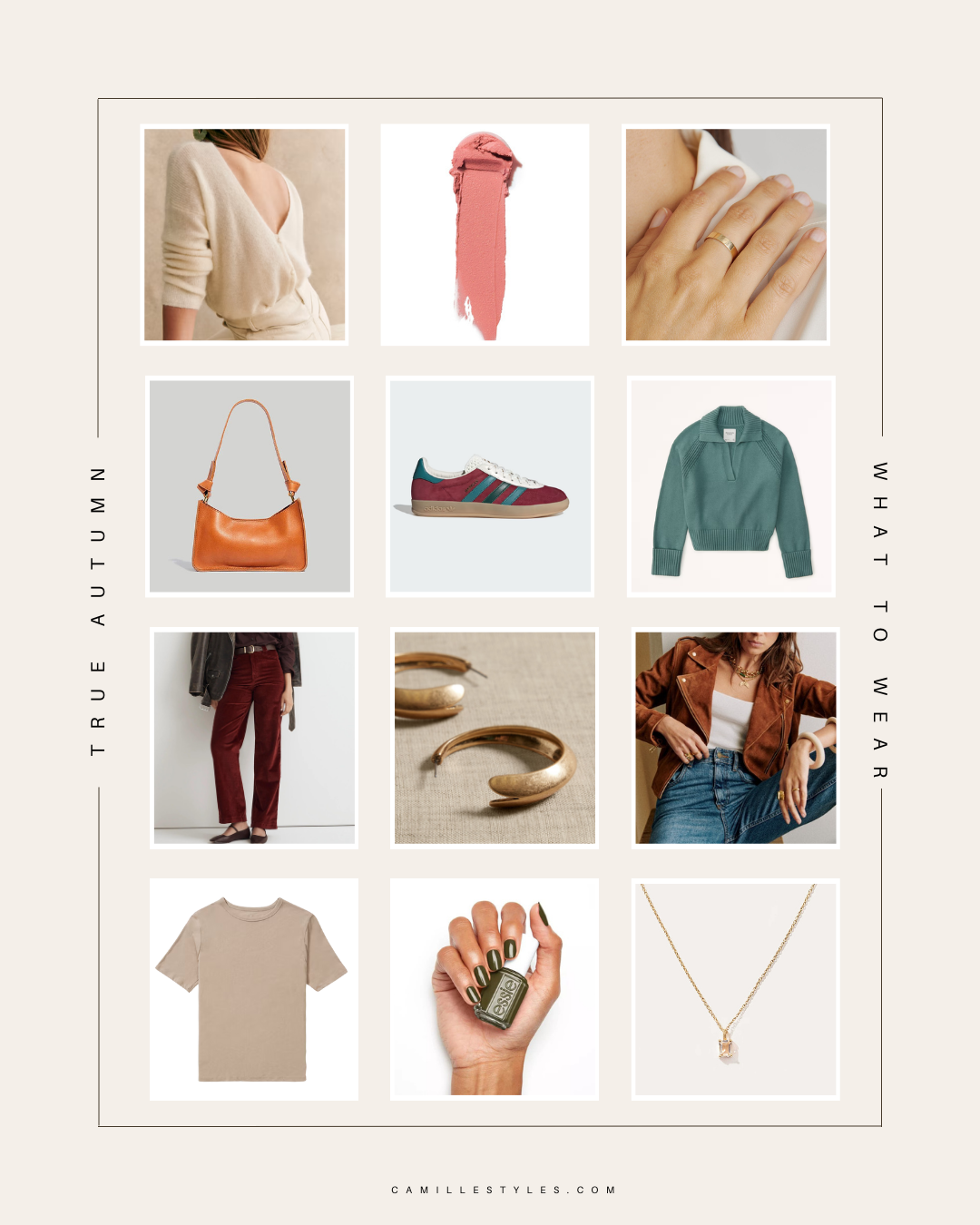 Best Jewelry Metals for True Autumns
True Autumns have a very warm undertone, meaning you align best with warm-toned metals like gold, brass, bronze, and copper.
Consider incorporating gemstones that align with the True Autumn color spectrum like amber, tiger's eye, topaz, and jasper. These gemstones add a touch of warmth and elegance, accentuating the beauty of the True Autumn color palette.
Best Makeup & Nail Color for True Autumns
Similar to Dark and Soft Autumn, True Autumns should avoid makeup with blue or cool undertones and opt for warm colors that enhance (rather than hide) your features. Think muted neutrals like peach and rose. Try a muted blush pink on your nails for a neutral look or make it fun with an olive green.
Best Colors For a True Autumn Wardrobe
For True Autumns, neutrals include off-white and cream, with the addition of warm browns and navy rather than black. Your accent colors are very warm but with a muted tone. No one wears mustard like you, but you can also pull off a rest-toned red or deep burgundy. And you're a rarity in that you can even pull off orange!
8 of 43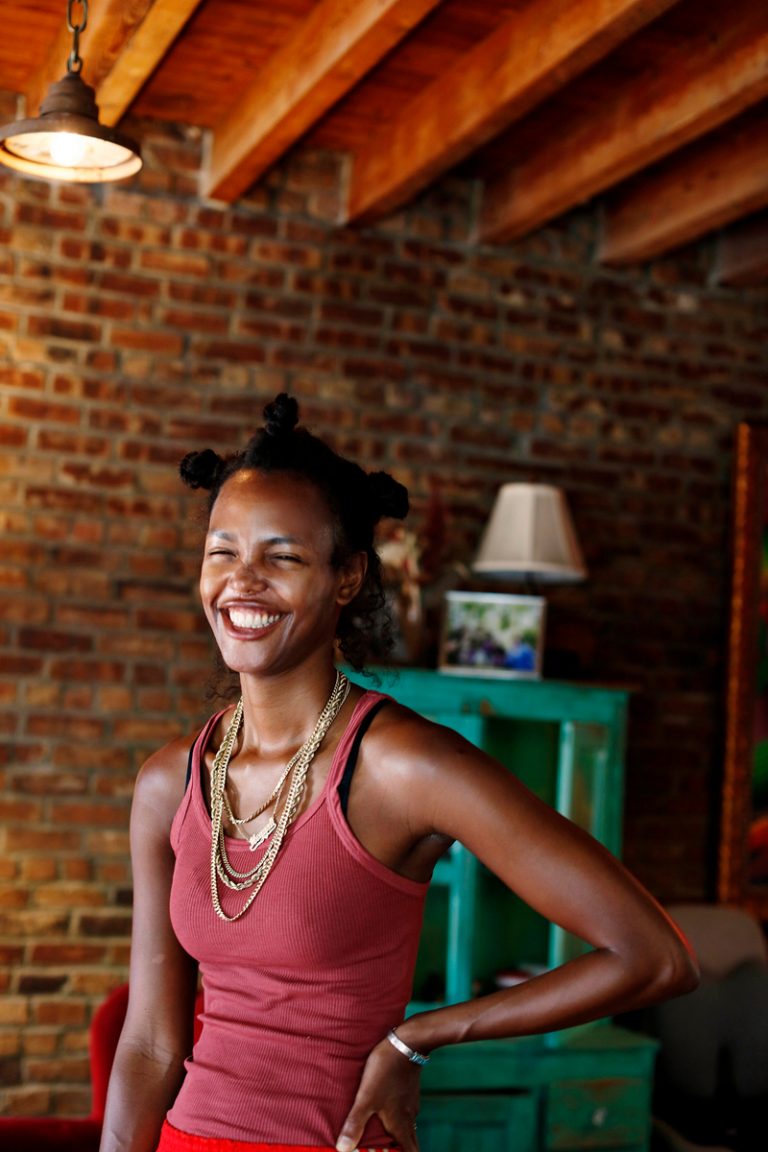 Image by Belathée Photography
The Dark Autumn Color Palette
Imagine the Dark Autumn palette as a canvas reflecting the deep, rich hues at the end of autumn—the moment when nature flaunts intense colors just before the transition to winter.
Dark Autumn celebrities include Natalie Portman, Julia Roberts, Meghan Markle, Halle Berry, and Rashida Jones.
9 of 43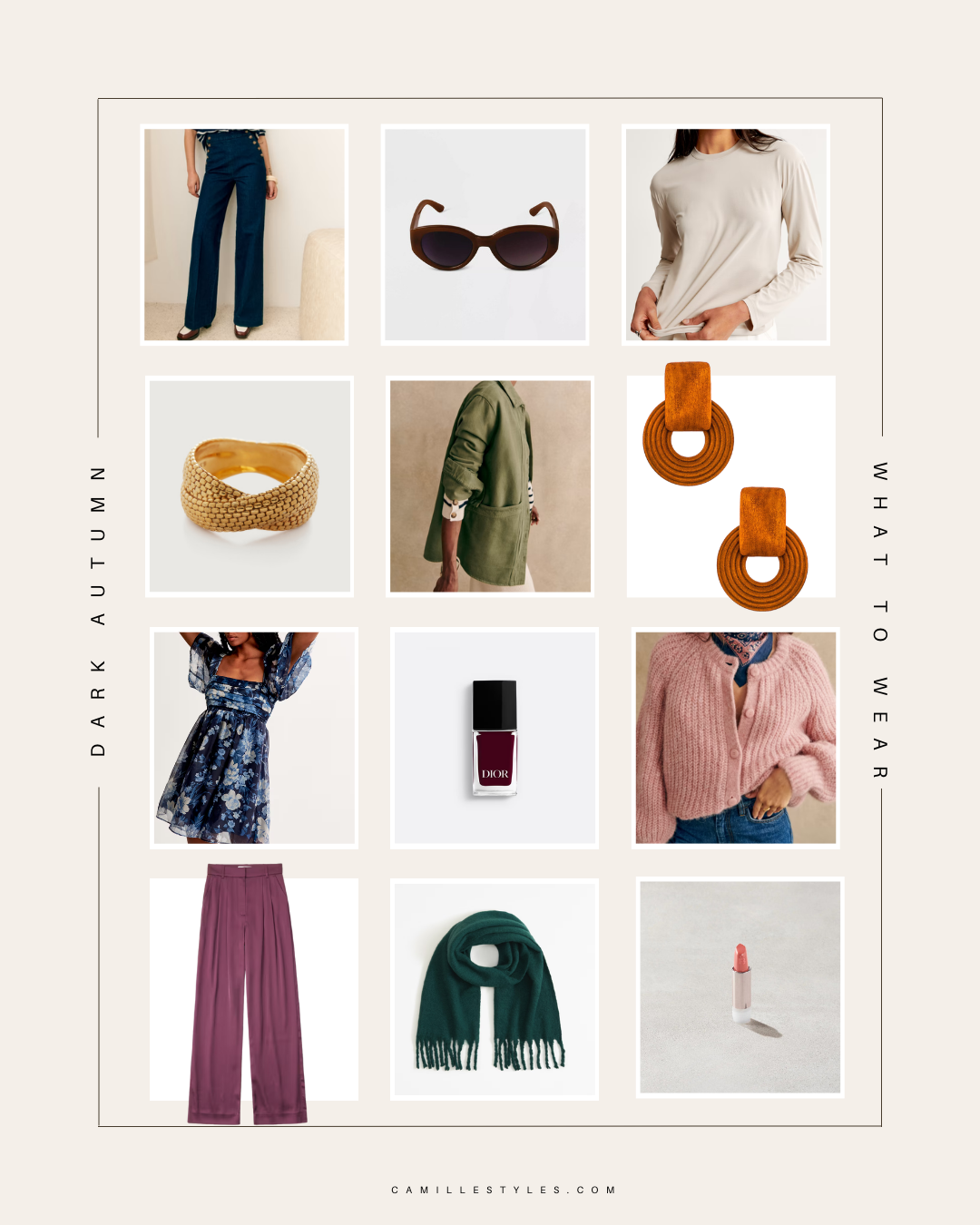 Best Jewelry Metals for Dark Autumns
Dark Autumns, with their warm and neutral undertones, radiate with both gold and silver jewelry, but the metal matters. Embrace the rich shades of gold and brass with vintage-style finishes to amplify your dark features.
Copper, akin to the burnished leaves of autumn, is a perfect metal choice for Dark Autumns. Its reddish-brown tones complement the warmth of this palette and add a touch of opulence to your jewelry. Bronze, with its luxurious warmth, is also an excellent option that resonates with the deep, earthy hues of Dark Autumn.
When it comes to gemstones, opt for amber, citrine, garnet, peridot, or smoky quartz—gemstones that perfectly harmonize with the deep, warm tones of the Dark Autumn palette.
Best Makeup & Nail Color for Dark Autumns
Dark Autumns should opt for colors that embrace your neutral warmth rather than either cool (blue-based) or super warm (yellow or orange-based). Your coloring is prime for more intense neutrals but bright and bold colors can easily throw you off balance. However, a deep red lip that complements your golden undertones is a must. Same for nail color—embrace the mystery of deep, rich tones.
Best Colors For a Dark Autumn Wardrobe
Think of Dark Autumn as the end of the season—you can handle deep, bold colors. And while jet blacks are not harmonious with your complexion, charcoals and dark browns make you shine. Your neutrals are warm, with more yellow in them than grey. Think ecru, caramel, and cappuccino. Your accents are beautifully rich—deep plums, magentas, forest greens, and warm pinks.