What You Need To Get Ready Before The First Season
Diablo IV's first season arrives on July 20, and with it a new era for Blizzard's latest ARPG. Each new season will demand a brand new character, with tons of new challenges and enemies. Seasons are nothing new to the franchise, but the way they're implemented as part of Diablo IV's live-service elements makes them quite different here.
Diablo IV – Bear Bender Build
The latest in the ongoing series of legendary action-RPG games, Diablo IV is an always-online game with many of the features we expect from modern live-service games, like battle passes and a cosmetics shop. Those monetized features haven't been without controversy, and time will tell whether or not they truly enrich the Diablo experience. For now, this is what we know about Diablo IV's first season: Season of the Malignant.
Seasonal characters
In a quick video, Blizzard has explained just how the seasonal structure of Diablo IV and the new characters you make for each season will work.
Blizzard / Diablo
As mentioned in the video, you'll need to make new characters to tackle each new season (your existing ones will remain untouched and perfectly playable in the main game). Non-seasonal characters exist in the "Eternal Realm," while the escapades of seasonal characters take place in the appropriately named "Seasonal Realm." As Blizzard notes, come the end of the season, your seasonal character will migrate over to the Eternal Realm, where you can continue to play them to your heart's content.
Also seen in the quick rundown are some gameplay options. As in normal play, you'll get a choice of *** (permadeath) and whether or not you want to skip the campaign. As the video advises, you should complete the campaign with any character in the Eternal Realm once before rolling up a Seasonal character. It seems you can play through the campaign with a Seasonal character if you want to, but you won't start accessing the actual seasonal content until you've put Lilith away at least once.
One possible complication: there are only 10 character slots in the game. This might not be much of an issue right now during the early days of Diablo IV, but it does make us wonder what'll happen when these seasons start to add up.
Kotaku has reached out to Blizzard for information on character slots.
Just like with creating a new Eternal character, progress made in terms of potion capacity, bonuses from Lilith statues, and other such persistent unlocks carry over to the new character, so you won't be playing catch-up each season.
But what exactly is in this specific season and what kinds of stuff is Blizzard tossing in here for you to play through?
Diablo IV: Season of the Malignant 101
Let's get narrative. And what better way to do that than to check out Diablo IV's season trailer right here:
Blizzard / Diablo
Diablo IV's first season will introduce all-new corrupted bad guys for you to do battle with. They're called Malignant Monsters and you'll take them head-on with a new questline.
The Malignant break down into two forms: Partially Corrupted and Fully Corrupted. You'll collect Malignant Hearts from the Partially Corrupted and use them in a ritual with an item you'll get from the season's main quest. The ritual will see the slain creature reemerge as a Fully Corrupted enemy, who you'll take down to earn a new Malignant drop that you can slot into sockets similar to gems. It seems like a straightforward kill this, collect that, equip this kinda pattern and you can be sure we'll break down the particulars when Season of the Malignant launches later this month.
But there aren't just new enemies. Malignant Tunnels are replayable dungeons filled with Malignant Monsters to chew through and there's even a new boss battle: Varshan the Consumed.
What's in that battle pass?
If you've played just about any live-service game with a battle pass these days, Diablo IV's is going to look very similar. There are both free rewards for those who don't opt into the premium battle pass, and much cooler stuff for those who've shelled out some cash.
Okay, what does this thing cost?

While there are 27 free Tiers for you to play through, there are over 60 for which you'll need to spend money to reap the rewards. Naturally, you'll need to purchase a premium currency to buy the battle pass. Let's all take a moment to sigh. It's never straightforward, is it? Well here's the cost breakdown. You have two options: Premium, which costs 1,000 platinum ($10 USD) and Accelerated for 2,800 USD ($24.99). As you might expect, Accelerated lets you skip up to 20 tiers in the battle pass and you get an exclusive emote. Individual tier skips cost 200 platinum.
Platinum is offered in the following bundles:
200 Platinum: $2500 Platinum: $51,000 Platinum: $102,800 Platinum: $255,700 Platinum: $5011,500 Platinum: $100
Note: If you happen to have purchased the Digital Deluxe or Ultimate Edition, you already have the pass, but will need to redeem it in the shop under "Seasons."
How do you progress through the battle pass?
As you play through the season, you'll earn "Favor" from doing standard Diablo stuff: Killing crap and questing. The season also contains objectives listed in the "Season Journey."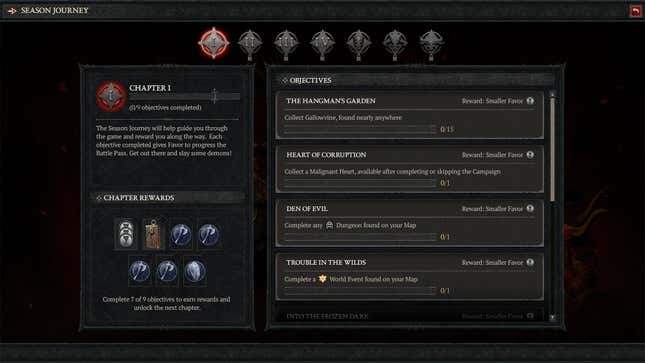 Image: Blizzard
And as you progress through the battle pass you'll earn "Smoldering Ashes," which will grant bonuses to seasonal characters (and only seasonal characters).
Everything you should do before Diablo IV: Season of the Malignant
Okay, so you're ready to tackle these new threats going live on July 20. What should you do?
First, as I mentioned earlier: Finish that campaign! This will let you skip the whole story of Lilith's defeat and cut straight to the new content with your new character.
Second, get to work unlocking your additional potion slots and extra skill points. This will carry over to your new Seasonal Character.
Read More: Diablo IV: Three Go-To Druid Builds That'll Crush Everything
Third, think about who your first seasonal character will be. You may want to check out our level 1-50 Druid guide with three distinct builds. Or you can check out this video detailing our "Bearbender" build if you want to try out something a little different:
Diablo IV – Bear Bender Build
Diablo IV – Bear Bender Build
The clock is ticking when the season starts, so the better your leveling plan is and the more you understand Diablo IV's intricate systems, the better. For that, check out our guide on the 16 things Diablo IV doesn't tell you, our 29 tips for becoming a better Diablo player, and what settings you should consider tweaking.
Diablo IV: Season of the Malignant launches on July 20. Finish that campaign already! (That's me yelling at myself, by the way).