Why Video Game Voice Actors Are Ready To Strike Over AI
Sarah Elmaleh didn't expect to find herself on the frontlines of a medium-defining fight over the use of AI in game development when she entered the video game industry over a decade ago. The voice of Katie in 2012's seminal indie hit Gone Home, Elmaleh arrived in California just in time for the 2016 voice actors' strike, an arduous fight between Screen Actors Guild-American Federation of Television and Radio Artists (SAG-AFTRA) and video game companies over residual checks that lasted almost a year and ended with imperfect but meaningful improvements to pay. Now she's the committee chair for bargaining the next contract which could completely change how games are made—a contract performers are once again prepared to strike over.
Why video game voice actors might go on strike
"There was a seed planted in my history," Elmaleh told Kotaku in a Zoom call when reflecting on her journey from indie games to providing voices for blockbusters ranging from Gears 5 to Spider-Man: Miles Morales. "My mom passed away in 2013 but she was actually a flight attendant with American Airlines. They also have a strike authorization vote out now and I was like, oh my god, the synchronicity."
Elmaleh sees a parallel between how flight attendants fought to be treated as people within the airline industry and how performers are doing the same in gaming. "What I do is so different from what my mom did but contracts from employers are mainly interested in the material you produce." While flight attendants were treated like objects with strict requirements for employment (no children, no husbands), game performances can be seen merely as assets to be extracted and inserted into the game as needed.
"Union contracts are about your quality of life, what it takes to work safely and sustainably," Elmaleh said. "They are a way to insert humanity into this contract process and protect it with enforceable terms.
The current Interactive Media Agreement with companies like Activision, Electronic Arts, Warner Bros., and Epic Games expired last November. Despite repeatedly meeting throughout the year, the two sides haven't been able to hammer out a new contract, which in addition to safety concerns, hinges on two major issues: pay raises and the use of AI to alter actors' performances or generate entirely new ones. SAG-AFTRA wants an 11 percent increase for pay beginning last year, with a 4 percent increase coming in the second and third year of the contract. The companies have so far countered with 5 percent, 4 percent, and 3 percent, respectively. But the bigger issue right now is the role of AI.
"There is a difference in stakes here," Ray Rodriguez, SAG-AFTRA's chief contracts officer, told Kotaku in a Zoom call, comparing the current negotiations to the 2016 fight. "I mean, you know, secondary payments or residuals—they're irrelevant if you've been replaced by a machine."
A fight over AI could shape the future of games
Similar to the concerns of screen and television actors, who have been on strike since the summer began, game performers are worried about how companies will use advances in generative AI to steal their work or put them out of a job. SAG-AFTRA wants to establish protections for its members that can't be signed away on the day they show up to work. Without them, performers could be coerced into signing secondary contract agreements called riders, which would effectively give studios carte blanche to do whatever they want with performances once they are captured and digitized.
"Our proposal is really built around transparency, consent, and compensation." Elmaleh told Kotaku in a Zoom call. "As we figure out what what safe and exciting uses [for AI] could be possible, that what you you don't have is folks presuming those rights, or extracting them in a really nefarious way by burying that language in a rider, that's difficult to understand or difficult to catch, that you're not being tricked or cheated around the use of this technology that can make you say things that you didn't say and maybe wouldn't say."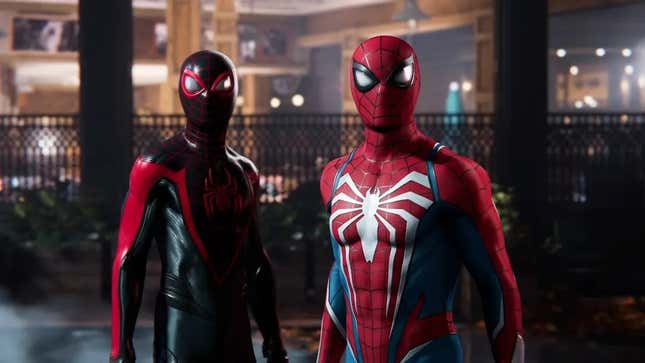 Image: Insomniac Games / Sony
On September 25, members voted 98 percent in favor of authorizing a strike, meaning voice actors, stunt artists, and motion capture performers could potentially join the pickett line any day now if negotiations don't progress. SAG-AFTRA members include big names like Yuri Lowenthal, the voice of Peter Parker in the upcoming Spider-Man 2 (a strike would prohibit him from promoting the game), as well as thousands of performers whose contributions are rarely publicized but provide the character models and additional voice work for tons of characters across countless games. The work stoppage could lead to big delays in upcoming game releases (Insomniac's new Wolverine, Respawns' Jedi Survivor sequel) or beloved performers being recast with voice actors not in the guild if if companies refuse to budge on the unions demands.
"It's an existential fight to make sure that they hang on to the rights to their own voices, their own images"
"From the perspective of our performers, it's an existential fight to make sure that they hang on to the rights to their own voices, their own images, because that is what they make their living with, as well as achieve wages that will keep up with inflation so that they can continue to be professionals in this space economically," Rodriguez said.
Not that long ago, voice acting in video games was mostly unheard of, used sparingly, if at all. Now it's effectively a prerequisite to compete in an ever more crowded marketplace, with many big budget blockbusters betting big on Hollywood names—Giancarlo Esposito in Far Cry 6, Keanu Reeves in Cyberpunk 2077—to win over audiences. Some voice actors who started as relative unknowns have become stars in their own right like The Last of Us' Troy Baker (Joel), Ashley Johnson (Ellie), and Laura Bailey (Abby). In addition to more processing power and better graphics, the biggest games now also rely on the talents of human performers who can be sturdy companions, trusted confidants, and emotional anchors for players as they journey through increasingly detailed, complex, and overwhelming game worlds.
Unions are changing the game indusry
Even so, in-game performances, including voice acting, stunts, and motion capture, are often low on the list when companies manage the ballooning costs and general messiness of triple A game production. Actors will be asked to help create characters that players will end up interacting with for dozens of hours with only a handful of recording sessions and barely any context for the scenes. Developers will then take what they've captured and try to work it into the constantly shifting project scope as best they can, with new recordings for script rewrites and other changes usually reserved for only the most expensive (or smartly managed) games.
Amid a flurry of union activity across the game industry, from quality assurance testers at Starfield maker Bethesda to community managers at Sonic publisher Sega of America, some of the old ways of doing things are being challenged. Heightened fan concerns around game developer treatment, including extended periods of haphazard overtime associated with crunch culture, have also made it harder for companies to simply continue doing business as usual.
In one possible future, publishers, which have been busy talking up the prospects of generative AI to their shareholders along with everyone else, use advances in technology to re-assert their dominance. In another, workers from the studio floor to the recording booth manage to leverage the threat of strikes and a new groundswell in labor organizing interest and awareness to force companies to collaborate with them on crafting the future of the video game industry together.
"We will continue to negotiate in good faith to reach an agreement that reflects the important contributions of SAG-AFTRA-represented performers in video games," a spokesperson for the companies told Kotaku in a statement. "We have reached tentative agreements on over half of the proposals and are optimistic we can find a resolution at the bargaining table."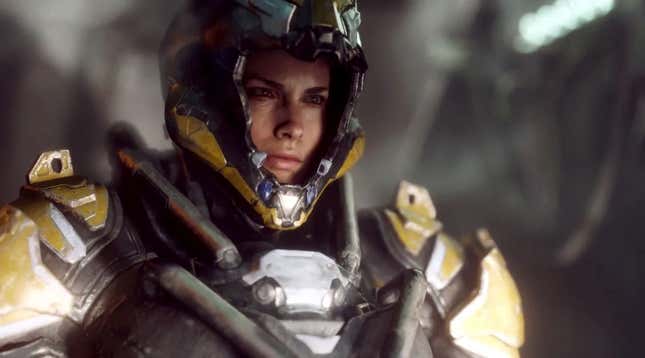 Image: BioWare / EA
A lifelong gamer, one of Elmaleh's inspirations for joining the industry was Jennifer Hale, the voice of the female Commander Shepard in the hit sci-fi trilogy Mass Effect. It was a referral from Hale that helped Elmaleh land an agent in California and take on more triple A work, including the role of the freelancer in Anthem, BioWare's ambitious but ill-fated sci-fi successor to Mass Effect, which she said wa a dream come true as a longtime fan of the studio.
"It was a wonderful working process doing performance capture with that cast," she said. "It was really the most sessions I've had on a single project and it was a real pleasure." One of her favorite lines she's ever recorded is from the game, an open world shooter where players pilot Iron Man-like suits to fend off giant aliens and unravel the mystery behind forces of nature that threaten to annihilate the planet. "The Freelancer motto is 'strong alone, stronger together," she said.
It's how she views her union work and also the benefits of closer collaboration between studios and performers. Anthem turns out to be a revealing metaphor for the current challenge posed by AI, too. Though its box art sports what looks like a cast of colorful cyborgs, it's the people inside the suits, including the player, who ultimately drive the action in the game.
"There is a line of thinking around technology that it is so inevitable, that how it's going to be used is inevitable, that once we figure out that we can do something that we're going to just do it," Elmaleh said. "It's not a passive thing that's just going to happen to us inevitably. That's what the union is for, it's to say, we have a chance to dictate what our society looks like, what just work looks like, what just entertainment objects look like."