World Of Warcraft's Next Three Expansions Announced At BlizzCon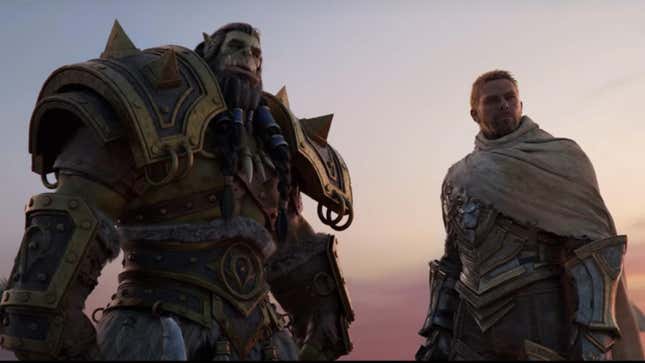 Screenshot: Blizzard Entertainment / Kotaku
At BlizzCon 2023, Blizzard announced it's preparing to enter what it's calling World of Warcraft's "Worldsoul Saga," a multi-expansion story arc in the MMORPG that it plans to roll out over the course of the next three expansions.
Diablo IV's Strongholds Are A Great Way To Level Up This Season
During the convention's opening ceremony, Warcraft Executive Creative Director Chris Metzen explained that the Worldsoul Saga will bridge the gap between the first 20 years of World of Warcraft and whatever Blizzard has planned next for the long-running MMORPG. The tenth expansion, titled The War Within, will kick things off and will be followed by the eleventh and twelfth expansions, called Midnight and The Last Titan, respectively. The next three expansions form a trilogy that will usher in the next era of World of Warcraft storytelling.
After Metzen outlined the next three expansions, Blizzard showed a cinematic trailer for The War Within, which featured long-time World of Warcraft figures Anduin and Thrall getting into a heated discussion before the camera panned to the Sword of Sargeras, a giant sword that was stabbed into the surface of Azeroth during the events of the Legion expansion.
Blizzard Entertainment
Following this, Blizzard showed a trailer running down new features, including new zones to travel around in Azj-Kahet, Isle of Dorn, The Ringing Deeps, and Hallowfall. Players will also be able to take part in cooperative PvE instances called Delves, transfer progression between multiple characters through Warbands, and take advantage of expanded Hero Talents. Check out the trailer below:
Blizzard Entertainment
The War Within will launch in fall 2024. While past World of Warcraft expansions have launched around two years apart for years, Metzen says Blizzard is looking to release Midnight and The Last Titan with less downtime between. However, he didn't give a specific timeline. It's possible World of Warcraft's next three expansions could launch annually, and that the next era of the MMO could be a reality in the next few years. Before that, however, World of Warcraft now have three more expansions to look forward to.